Its been awhile since anyone posted here! I never fished here prior to this day and was hoping someone on here had some info on the current bite. No luck so I headed out on my own.
Arrived at the lake around 10:30. Waited for a friend awhile so I set up shop on the south fishing pier on the east side for awhile. Saw a healthy amount of good sized bass swimming around and got a few chases, but they remained tight lipped throughout the morning. Met the guy that oversees the lake and he talked about stocking and whatnot, saying that outside of what's listed on their board that last year Walleye and Trout were stocked in here. Friend finally showed up so we played around that pier awhile and moved to the northern pier. Northern pier had some fish that I couldn't identify swimming around under the docks, not sure but I believe they may have been trout. Couldn't get them to chase a variety of baits. After a couple hours here and being tired of the sun burning my calves and the back of my neck, we moved to the West side to the only pier on that side. My friend and I had a hard time gauging how deep the water at this spot was (by my archaic methods, we determined the east side was about 15'). I dropped my lure to the bottom, reeled 'til my rod tip touched the water, then began pulling the bait back up and BOOM. I couldn't see anything so I set the hook just in case and suddenly I saw the unmistakable open mouth of a largemouth, a large largemouth. I had a mini meltdown because I knew it was going to be my personal best. My friend didn't believe me until he saw my rod tip bending. Got her on the pier and confirmed, personal best!
Now, I know it doesn't hold a candle to a lot of your guys' every day catches, but I was using Shakespeare rod/reels until this year and never took anything too seriously. Weight came in at 2 lbs and a hair under 11 ounces! During my meltdown I totally spaced on getting the length down but pictures work just as well.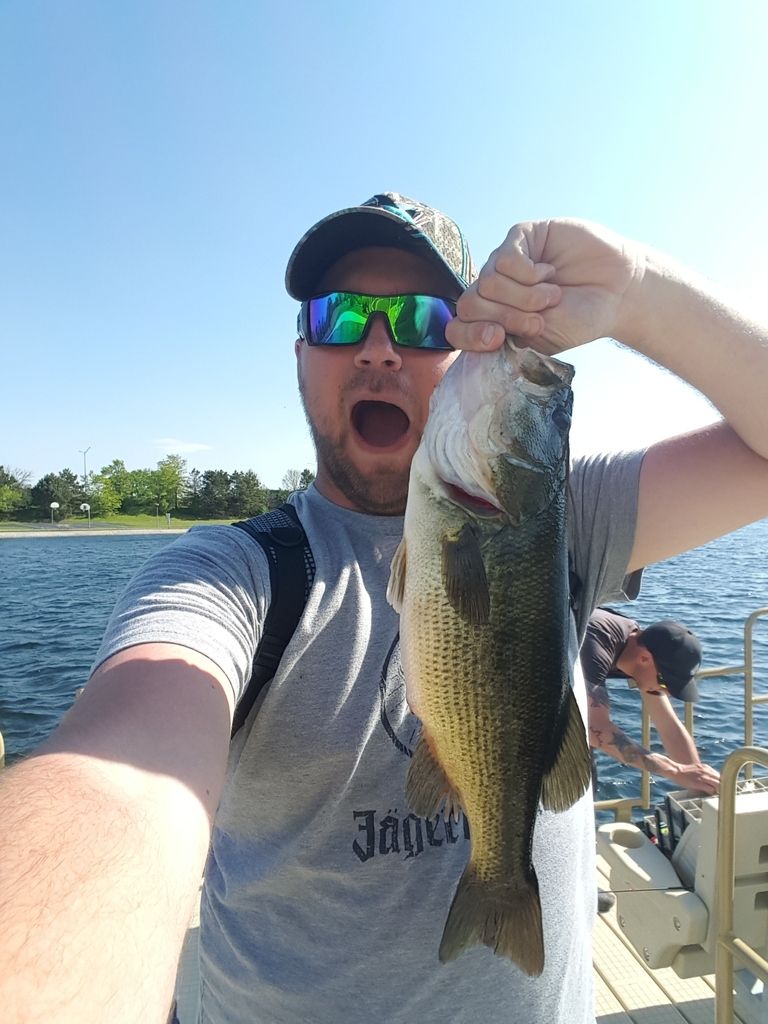 That catch came at about 16:20, 6 hours after my arrival at the lake. One cast later, I casted north along the weed line and got some resistance. I was assuming weeds so I began quickly retrieving only to see a little half pounder on the hook
I was still geeked on the PB breaker, failed to take a picture but y'all have seen plenty of half pounders in your life.
Stayed until about 18:00 and called it quits due to exhaustion and sunburn. It was an extremely windy day and it was fun watching kids pedal for their lives on those paddle boats and getting nowhere. According to Accuweather, it was 88 degrees outside and I felt it for sure, refilled my camelback 3 times and only used the facilities once
Another fun thing the lake guy told me, on the 31st they'll be doing a shock to check the census of the lake. I will probably be there to check out what its all about.