Back at it again here.
I've had some crummy luck. Had a staycation last week and it rained and/or was windy so I only got out a couple times and caught a dink smallmouth at Lake Carina's little pond. Then after seeing that one guy with the nice Wipers at lake Arlington left after only catching a 3 ounce bass and a bluegill that fit in my palm. All that and in between fit in a 3.5 hour drive to Lake Shelbyville only to get absolutely skunked. So I decided to return to the lake that turned up my last success. Started around 1800 hours, worked from South side clockwise. Got between the volleyball courts and playground when a group of little kids accidentally got their baseball in the lake about 6' out. Since I wasn't having any luck, decided to use my 6'6" rod to get the karma gods on my side. Returned the ball and went on my way.
Got a little closer to the playground and spotted a small bass that appeared to be on a bed. I personally don't mess with bedding bass because A.) I suck at it and B.) I just flat out don't feel right about it (Absolutely not hating on anyone that does it, I just choose not to). Threw and underspin with a Keitech hoping that the other half would be nearby and on the very first cast near shore I just see a mouth open up and grab the bait. Quick retrieve to shore and I got the attention of the aforementioned kids. I just wanted to get my pic, get a weight (failed on length, I forget my scale has one built in), and get her back in the water. Came in at 1 Lb. 2 oz. Not bad, good slump buster. Should have weighed more by that length but the spawn made her more lean.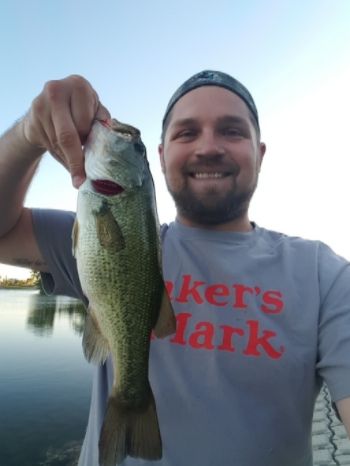 I'm officially $10 into this place and its only June. Don't know why I didn't just jump on the season pass, might as well at this point (I live a few miles away in Schaumburg). I really want to love this place and would love to see what others are hitting here.
OH I know this was a long post for 1 fish but here's a fun story...So when I brought her in, she wasn't happy AT ALL. Wiggled out of my hands and spiked me a couple times. the tiny cuts never really hurt or burned or anything so I shrugged it off. Got home and my middle finger started to become difficult to bend. Washed it thoroughly, slapped on some Neo and a band aid and went to bed. Woke up the next morning and the band aid was practically cutting off my circulation. Finger swelled up and had an infection...wtf thought Neosporin was supposed to prevent that!? Rubbed my finger over it and one spot hurt particularly badly. I remembered a video Jon B. of Youtube fame posted about how he had a bone from a bass spike embedded in his hand for years without knowing it. so I pulled a pair of tweezers out and fished around the wound (no pun intended) and sure enough pulled a thin piece of bone out of my finger. Pain subsided almost immediately and the swelling eventually went down. Be careful with those spikes!
**Edit** After posting this I noticed my avatar (same lake) I have a Jagermeister shirt on. Should probably continue wearing liquor shirts when fishing