Got to the grove around 12 and started throwing a redeye shad the south west pool. The wind was around 15 mph and even though it was 43 degrees it still felt cold. Nothing was biting, I thought the water current being pushed into the pool from the wind would have triggered some kind of bite.
I moved over to the Northwest pool with no luck so I headed east to the bridge where the wind was pushing the water under the bridge. I was positive that the current was going to be key today but with no fish biting there either I was starting to doubt myself. I packed my stuff up again and began heading back to the car but before I tried the pier I wanted to try one of the spots I had been to earlier.
It was a pool that had wind pushing water from another pool through it and out. I still had the Redeye shad tied on and I started tossing it and ticking it through and over the weed beds and still nothing. Then all of a sudden bam! A really fat 13" bass. Finally my theory is starting to prove true. A few casts later and whack! I've never felt anything this big on the other end of my line and my rod was bent in half. It took awhile to reel this thing in but when I finally brought it to shore, I see this monster on the other end of my line.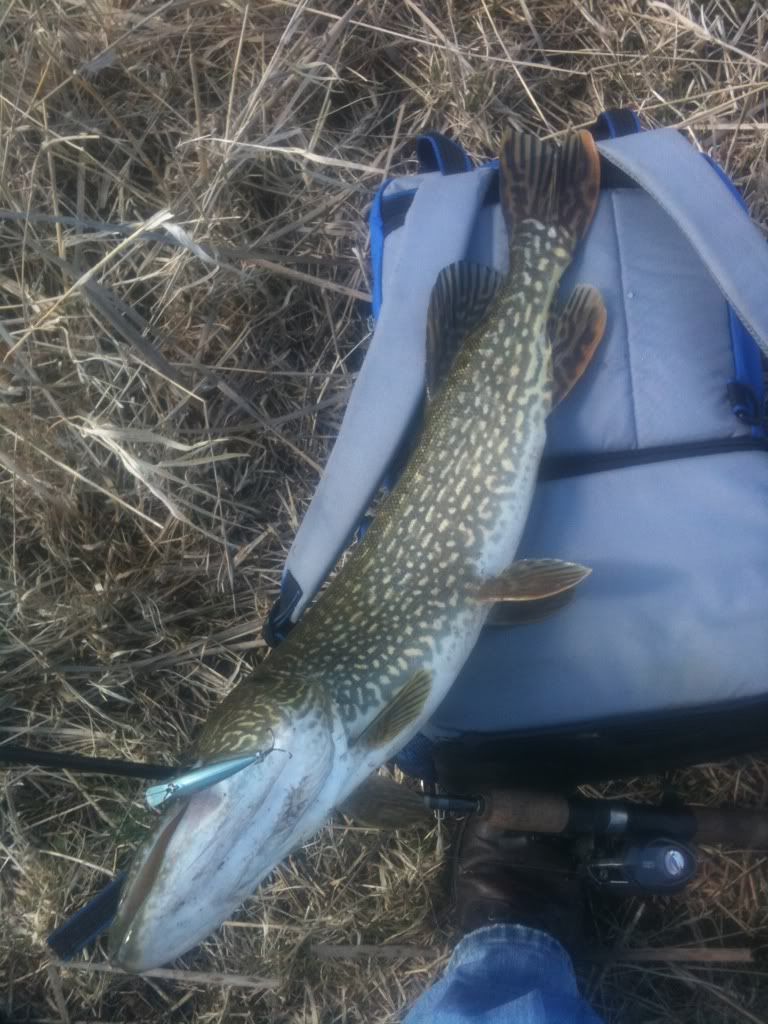 I was amazed, it was 30" and thick! I'm really sad to say that after I measured it he snapped the line and fell in the water and swam off with Redeye still in his mouth. It was bitter sweet, I was pumped that I caught my biggest northern but bummed out because I couldn't get the damn lure out of him before he got away. Hopefully he'll be able to work it out and regardless I've learned a valuable lesson on handling these amazing creatures.
Luckily I had more than one of those Redeye Shads and shortly began throwing it out again. I used the same retrieve reeling in medium and letting it drop and reeling in the slack. After a few short casts my lure gets slammed again and I'm just thinking there's no way that pike came after another lure! Again my rod is bent in half and after a minute or two it's another PB. This time the biggest god damn bass I've caught or seen in person. Mind you I just started fishing last year.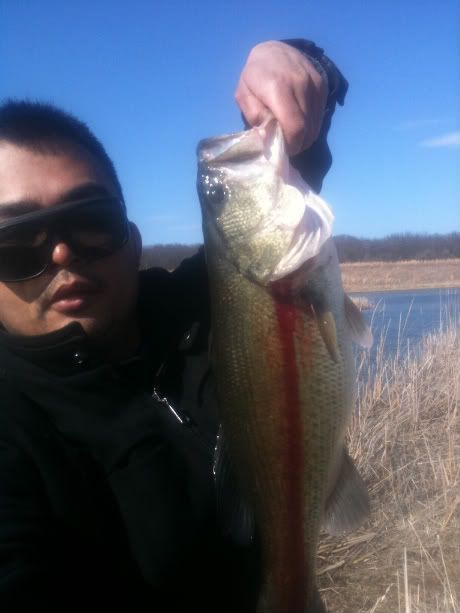 She measured 20" and must have been at least 5-6lbs. She just swallowed the crank bait and unfortunately the back treble was in a gill. Not bad, it came out easily and she swam off just fine.
I'm gonna just shorten this up cause its late and this could take forever. I caught two more fish, another bass that measured 19".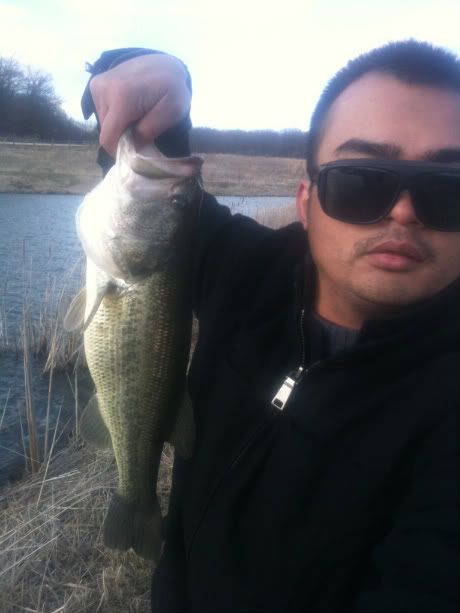 And my last fish of the day was this 27" pike.
That was my best day of fishing ever! I don't think I'll land that many big fish of 2 different species anytime soon. It was one of those days that helps you get through the terrible days where everything should be working but just doesn't.
Oh and I wanted to thanks to Jaypee for the heads up on IG this week!