First Opeka bass of the year 5/9/18
I work across the street from Opeka Lake, so it's real easy for me hit it in the evening after work. Since April (on days when Old Man Winter wasn't insisting on snowing...), this was probably bout my 6th trip to Opeka. In previous years at this time, crank baits and lipless cranks seemed to work for me.
It was cool, low to mid-60's. I went to the large semi-circle that juts out into the lake on the southern half. I've often been successful along that stretch and also down on the south end near the fence to the golf course.
I worked different lures but nothing worked until I tied on a texas rigged trick worm (black and purple) with a bullethead weight with a bead behind it. I was casting almost lateral to the shoreline to the south. Water was fairly clear. As I brought the worm in, I saw a bass following it about 6 feet from shore. He didn't strike so I cast out about 15 feet from where I saw him and slowly brought the worm back. Within a few seconds I felt the tap, set the hook and brought him in. Not huge, but it was nice to get the first Opeka bass of 2018 under my belt.
There were a number of fisherman around me, mostly using bait and bobbers. Nobody seemed to be catching anything. I did see some guys in a canoe and a boat, but they were working the southern end and the golf course side and I couldn't see if they were bringing anything in. I decided to work my way up to the north end. I went up to a point just south of the wooden deck on the north end near the church. There's an overhanging tree there and I thought I'd try that spot. I made a looping cast a little too high and ended up with the lure in a branch of the tree. Idiot. The lure didn't make it back. Opeka giveth and Opeka taketh away, I guess. Usually I lose my gear down in the rocks. Given the few trees along the shoreline you have to work pretty hard to lose gear in the branches of one of the few trees around the lake! Fishing is always a lesson in humility.
Opeka bass: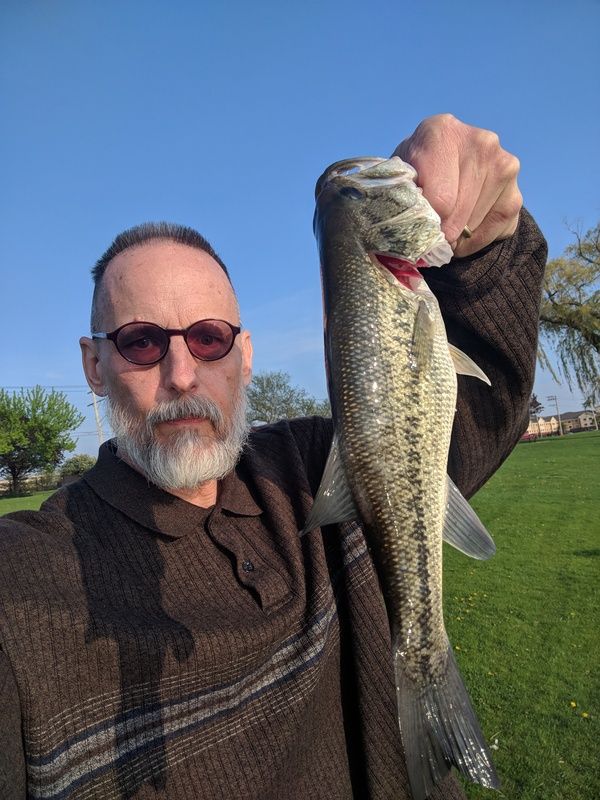 These were the lures I tried. Only the Texas rigged worm with the bullet head and the bead worked for me. Ironic because that was the same setup I used to catch my last bass at Opeka in 2017 on August 2nd: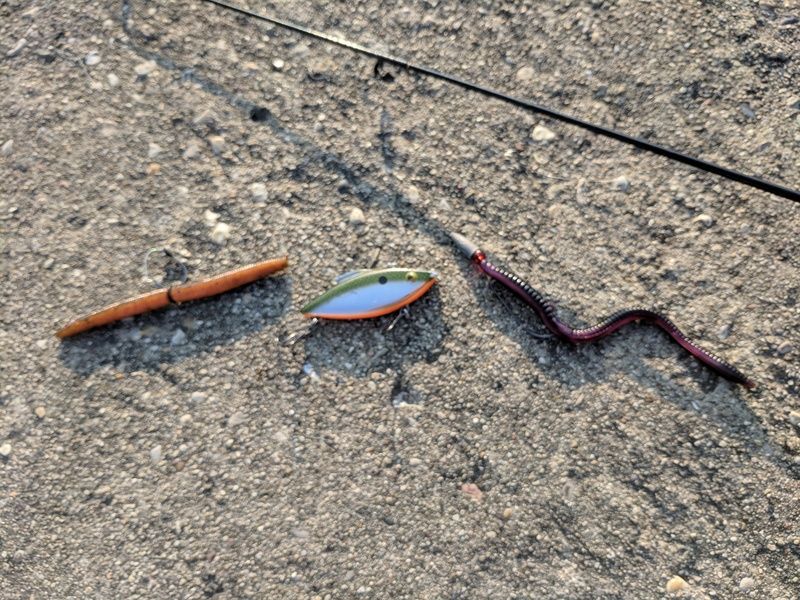 Sunset over Opeka: