Surprise at Lake Arlington (no fish)
Posted:
Apr Tue 10, 2012 9:40 pm
Was fishing at LA couple weeks ago, and almost stepped on this guy. Wasn't afraid of humans at all, just flicked his tail at me and went back to sleep.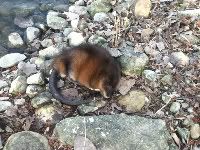 After much searching on the internet, I discovered that it's a muskrat. I've seen them before, but never gotten this close to one before. Just thought I'd share.