Discussion Starter
·
#1
·
OK had a gameplan this afternoon, to scout out a new pond, then go to another pond which always produces, well things changed.......
I don't really expect anyone to believe me on this, but I know, and saw it with me own eyes..... I hooked and lost the biggest LMB that I have ever seen in IL. This thing had to be pushing 8lbs. if not more. I cant even comprehend the size of this behemoth. It was huge! I saw this mass heading right for me, then hitting my spinnerbait with force, I set the hook, he shakes off and gone!
WTF? The thing that really burns me is, the fact that I actually debated putting on a trailer hook and didnt. :evil: After I stopped shaking, I fished there awhile without even a hit then headed home.
Sitting at home mulling over this loss I decided to get the evening bite. Maybe to have lightning strike twice? No such luck on the bass, but I picked up a small cat, then upon getting ready to pack up.....it happened. My bobber slams down, rod heads into the water, grab it, set the hook! Holy crap! I thought My rod was going to break! Start getting him closer in and it turns out to be a big cat!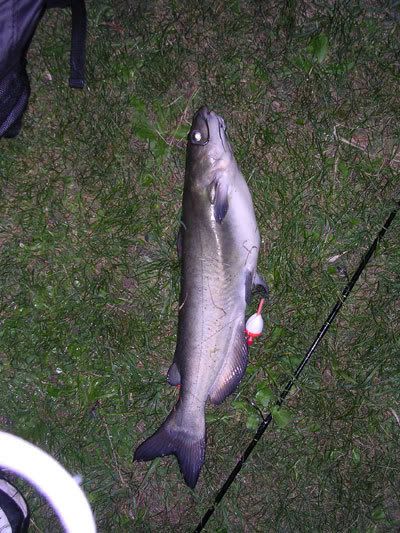 Just under 5lbs(PB) and roughly 21" I ended up leaving on that note.
Can't wait to hit this new found honeyhole tomorrow morning.