Discussion Starter
·
#1
·
Starting temperature was 36 degrees. Obviously a tough day and even more a tough bite. Winds From the North At about 17 MPH And Mostly Cloudy with our high for the tournament being 38 Degrees. Fishing was Great with these Fantastic Anglers! fish thoughts, Nonboater, Jaypee And john are all a very great group of guys and cant wait to fish with them a lot more. All Fish caught looked to be males, There bottoms scraped up probably due to building nest along the shoreline. Jaypee Took The Tournament pot of 100 Kisses and hugs With a total of 2 fish weighing in at 1lb 11oz And Fishthoughts following in a close second with 1lb 3oz Also with big fish of the day. Myself as well as john and nonboater unfortunately landed no bass just crappie. Here's The Standings for our tournament.
1. Jaypee 2 Fish 1lb 11oz 100pts
2. Fishthoughts 1 fish 1lb 3oz *BIG FISH 95pts + 5big fish points = 100pts
3. John 80pts ** For showing up 80pts for 5th place out of 5 anglers
4. nonboater 80pts
5. George 80pts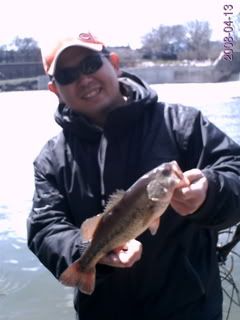 Nice Bass Fishthoughts!
And Great fun out there today guys even with the tough bite and cold conditions.