Discussion Starter
·
#1
·
It's 3a.m.
And The alarm on my Cell Phone goes Crazy with piercing vibes of some Techno mix :shock:
I open my phone and Get ready to shut it off, Sleep for a few more minutes :mrgreen: But Displayed on the screen was Written
Sallies @ Da Lake. FISH HARDER FISH STRONGER.
A Brief reminder so when woken up still groggy and out of it I'd Quickly remember what it was I was after on my Day of fishing the "Chi".
So I jump up and Get my bike, After arranging my G- loomis Bait caster and St. Croix spinning 1 piece combos on my bike I proceeded to bike on... And that I did my Friends :mrgreen:
20 Minutes Later I'm greeted by a Wonderful summery smell, A quiet lake Front and a Very calm Water. I start at The mouth of the harbor and Move in from there, Jaypee Gave me tons of info. Which I benefited From as always thanks my friend! I didn't Get anything until about halfway into the harbor Using a Red Medium diver Crank bait When my lure was just about to surface I had about an 11" or 12" Trout slam my rear Treble, As I was retrieving my prize :mrgreen: :mrgreen: :wink: :wink: it shook off ...
:x
Shortly After wards I found myself Deep in back of the Harbor pitching Docks with 1/4oz Jigs and Power bait Saber tail's. nothing for awhile I worked Deep Holes near previous year spawning flats. I Didn't bring TONS of gear but had enough to hit most every aspect of these crazy Pre-Spawning fish. I was able to land one, He hit on the Fall Along a small dock 15" in length bronze And Sexy as Hell...
As I proceeded to get it's head in place to assume the make-out position I got these evil eyes From an old couple strolling by, So Unfortunately My affair was cut to just a peck on the lips... And No tongue, to tongue action.
.. Till Next time Sallie!
4a.m.- 7:30a.m spent chasing down some Bassies...
After Leaving the lakefront and 20 minutes later home and Slipping into my waders I was Lucky enough to get a ride to the River To Catch some Bassies, 8:15a.m. to Noon Was my time slot. Throughout that Time God knows how many carp where foul hooked :shock: Not all were landed But All I was doing was bumping carp in the shallow Flat I was fishing. Every Cast with a crank bait seemed to produce a Brief encounter with a Tug-boat Carp. Shortly after I Grab the Loomis And Make my cast towards a drop off The 1/4oz jig head and Power bait saber tail was Being pulled slowly on the bottom, once I bumped the a Rock i held it there Raising it just enough to wiggle it off the rock and WHAM! One huge tap and one quick to the point hook set 8) Right before Releasing it my friend reminded me about my phone being able to take pics.
So I chuckled and Flashed a pic. to add to my new screen saver on da Celly..
After Wards walking the Bank, I run into this small but FAAATT Carp.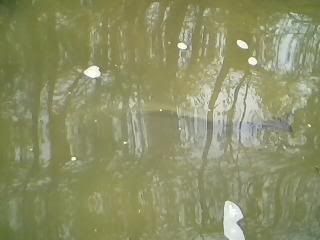 So Perhaps we Definitely Understand the spawning process in in full swing, And vulnerability is a problem. As an Ethical angler KEEP YOUR EYES OPEN for anyone trying to harm any fish, Snagging, Over fishing a certain spawning area. And when Landing your fish Keep the fights short but don't horse 'em in Take a quick pic. and do a quick release. Stress Fish care this spring guys! Lead by example, A lot of un-employed people are picking up rods to pass time. They may not understand angling ethics TEACH PREACH AND AS ALWAYS PROTECT!!
Thanks 4 Readin.
~Conditions~
Temperature: 62
Sky: CLOUDY
Wind Range: Light (0-10mph)
Wind Direction: South West
Weather Trends: Windchill Dropping.
Barometer: Dropping
Water temp: --
Water Color: Stained
Water Visibility: 1 ft.
Current Conditions: Slow
Bottom Conditions: gravel
* Georges Out Come*
Caught: 2
Lost: 1
Released: 2
Fish Health: healthy
*Equipment*
Bait/Lure Presentation: Slow
Rod Used: G-Loomis Classic Crankin. Rod.
Reel used: Dawai TD PRO
Line used: 10lb p-line Co-polymer.
Lure/Hook: 1/4OZ. Lead Head Jig. Power bait Saber tail 4" Plastics.
- GEO
[email protected]
Multi-<((><
CHICAGO
:mrgreen: