Discussion Starter
·
#1
·
Got to fish Deep Lake this morning from 6:30am - 9:30am, Partly Cloudy Skies, Mid-70's to lower-80's and very humid, slight breeze from the South.
First hit up the North-west end of the lake to do some slop fishing in those pads and weeds. We tried to get as far back into the pads as possible, but it's real hard rowing when you have to rip up a lily-pad per every row (on each side...) but I fished a tournament frog and my friend fished a texas rigged plastic worm. I had one big strike on the frog, but I of course set the hook way too early and lost it. That's all the action we got up there.
We then moved to "The Point" on the western side of the lake (well I think we were there... Jason you're just gona have to show me the spot b/c I tried dropping anchor all over the place and I can't seem to find this shallow area). We tried throwing plastic worms, as well as a chug-bug for a while b/c I saw baitfish start jumping in schools for a while. We didn't get a single bite though.
We then went clear cross the lake to the South shoreline and then the action picked up.
First fish caught by my friend using a texas-rigged 6" red plastic worm by some lily pads and a dock. This was the biggest fish of the day, I'm guessing about 15" and probably a little short of 2 lbs.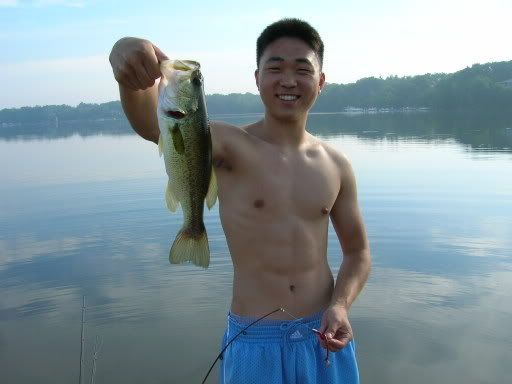 I was fishing my trust-worthy 5" Smoke Pearl Yum Dinger and hooked into a dink. Then I was fishing this rocky shoreline on the South shore and I hooked into 3 fish on 3 casts (only landed 2 of them) They were all about 11-12" and I think the one I lost was a little bit bigger.
So, after fishing for a total of 3 hours (well more like 2 hours b/c we spent a lot of time rowing) we hooked into atleast 7-8 fish but only landed 5 of them. We would have definitely stayed longer but my friend had to get back to take an exam.
The key to catching them on the south-shore this morning was casting towards structure (usually docks, or very close to shore/rock wall) and just letting the Dinger sink (it kinda wobbles). The fish would usually pick them up on the fall, or when the bait had hit bottom and as soon as I saw the line twitch or move outward I just set the hook. If they didn't pick it up on the fall, or after I twitched it a few times I'd just fish it slowly for a while then just re-cast.
I'm still real excited to get back out there this saturday. Hope to hook into some of the biguns in there.