Discussion Starter
·
#1
·
Hey guys thought I would add another to the board. I combined a couple of weekends even tho this last weekend deserves a post of it's own. Last weekend after reading a couple posts about early walleye on the Kank a buddy and me spun on down to Wilmington to see what was poppin'. Since the main dam area was inaccessible due to flooding we headed on down to the broken dam area. The temps were chilling and the bite was less then expected. We put in our time at the broken dam, with little to show other then a stray largemouth and a couple of missed or smaller walleye. The bass below came on a slip bobber and minnow along the sun warmed shores of the outflow. That area shows alot of promise.....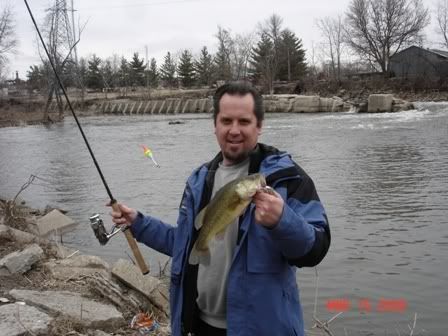 Our expectations were realistic with the cold still pressing down but who's gonna stop some fish crazed fishermen. We thru in the towel earlier then usual due to the lack of response and saved the enthusiasm for a later day.
That being said, I went out the next day to an open pond in the Will County area, that has been good to me at less then optimal times and I made up for the previous day. I brought the left over minnows and absolutely tore into the largemouth. No size to speak of but quantity made up for quality. I giggled like a school girl after nabbing 20 bass in around an hour and a half...all after 545 pm. The subdivision owners must have thought I was half crazed....which isn't off that much off the mark.
Here's a sample:
The following week I ventured out to the river that has been fairly stable with water levels rising a bit with all the runoff and rain further north. Ran into several other fishermen that hadn't had much luck prior to my arrival. The forecast of snow and dropping temps had my optimism peaked....apparently that doesn't mean squat to the fish. I pounded the water like the rest, throwing artificials more then anything. Nada..nothing. zero. I left early...no action....a rarity for this time of year. Headed up river for one last chance. The sun was gone, as were my hopes when I punished the gods a little more by casting a jig and big ole' twister. At the end of day I finally washed the skunk away by catching this guy: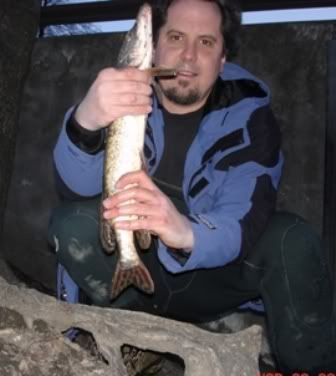 Alright, saving the best for last this weekend I was ready to start fresh. I knew that Friday's freak storm would have an impact on anything swimming. I called a buddy around 830 am and we agreed that it didn't look good since there was fresh snow on the ground and less then 30 degrees in the air. Around noon I said screw it and sped on down to one of many subdivision ponds in the Will County area.
I had minnows...yes still left over from the previous weekend. Given the conditions, I wanted to optimize my outcome by providing a fresh meal to any fish interested. With in half a minute I found some interested spectators. The crappie found this shoreline(north side) partakers in the meal that I provided. After several were taken in quick order, I decided to switch on over to artificial. They liked this offering even more with a cast and catch response that is, in my world, uncommon this early in the season. By the end of the day I had managed on a conservative estimate, 70 crappies(I know, I know....yeah right). Although most fit between the 4-7" range I did manage a few that surpassed it. This guy below is one of those few:
Funny thing is....shortly after placing a call to a friend...he showed up almost instantaneously. In no time he was laying into the crappies and in no time, landed a respectable fish, anywhere. This one measured out to 15.5 inches which I reluctantly noted to be the largest of the day.
A fish like that will keep anyone coming back...which I did. I headed out on Sunday with similar expectations in mind. As I pulled up I expected to have the area to myself and wouldn't ya know it.... my friend's were already there with a noteworthy crappie under their belt. I continued to cast and the crappie were dialed in. We pounded on them almost the same as the day before. Larger ones were few and far between, I suspect due to the bucket brigade. Still a great day had by all. Here's another one that seemed worthy of a pic.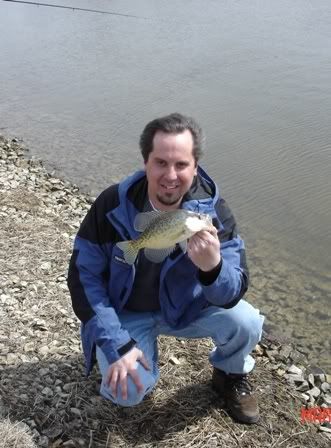 All in all, a GREAT weekend on the water. Hell, similar pics that I have from previous years show that we are a week or two ahead of schedule. Given the weather that we've had the crappie don't listen to reports.
As a side note...I fished a pond close to work today which is still 90% iced over....i got the skunk. I gotta move. I can't wait til April and this bs weather pattern is giving us all the hesitation that it doesn't deserve....
Sorry for the long post but I'm gonna hold out til April when the bottom drops out.
See ya on the water,
JB