Discussion Starter
·
#1
·
Good Afternoon everyone. I'm ecstatic with today's outing, simply due to the fact that I was Stuck inside with the stomach flu the last few days. And it was hell!! But Was able to get out and put some time into fishing large mouth, with the cold front moving in yesterday evening and it being cloudy with cold NE winds coming in today My game plan coming in was, Small Jigs and Light line. I used my St.Croix/pFlueger Spinning combo with 6lb test and light jigs Grubs, tubes, I even drop shotted several lures. Couldn't get them to hit anything so I tried the more aggressive approach threw 5" Swim baits and Diamond shads, But still to no avail. Right before I was a bout to call it quits I threw out one of my Bait casters equip with 12lb Test a 3/4oz jig holding a 5" 13cm Sabor tail tube made by Power Bait. First cast I had one Nail it, Awesome ! that was on a Red, Since it was cloudy made the switch to the black/blue sabor tail and nailed two more. the outing was so great because I was in on some very warm days not able to fish and throwing up all night due to the stomach flu and this outing made it all worth it.
Here's Some screen Shots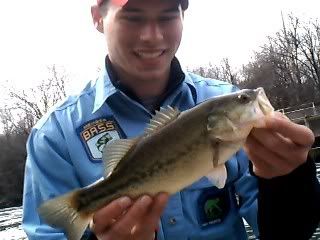 Here's Your Video Gents
~Conditions~
Temperature: 36
Sky: OVERCAST
Wind Range: moderate ( 10-20MPH)
Wind Direction: North East
Weather trends: Cooling Considerably
Barometer: Rising 29.03
Water temp: 52
Water Color: Clear 2 1/2 Feet
Water Visibility: 2 feet
Current Conditions: Moderate
Bottom Conditions: Rocky
* Georges Out Come*
Caught: 3
Lost: 1
Released: 3
Fish Health: healthy
*Equipment/Supplies*
Bait/Lure Presentation: Slow
Rod Used: G. Loomis 7' Med/light
Reel used: Quantom
Line used: 12lb Suffix Camo
Lure/Hook: 5" 13cm Power Bait Sabor Tail Tube
Bait used: ---
Beverage: Gatorade
Snack: David Sunflower Seeds
Repellant: ---
*Season Tally*
Season Skunks: 1
Season Fish: 59
Bass: 45
Season Outings: 9
[email protected]
chicago Il.
_________________