Discussion Starter
·
#1
·
Good Evening Everyone, Neil And I decided to hit an Area Lagoon. It's part of the Chicago Park District and is a very wooded area, It was Beautiful! We were able to see wonderful wildlife here in cook county as well As land Some nice Fish! We started out with cranks until We came up to a flat instead of throwing jerk baits Like most would have, We threw plastics (Conditions suited them better) And knocked them dead first 30 minutes while we were there I landed 4 And Neil landed one later on i landed one more to end the day ! We might head out again there tomorrow with more aggressive tactics but here's our day!
here's a Doe We seen while searching the lagoon

Neil's Bass
My Biggest on the day out of 5 fish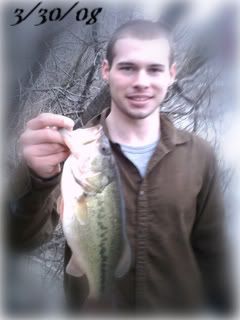 ~Conditions~
Temperature: 43
Sky: Foggy Light Rain
Wind Range: light ( 0-10MPH)
Wind Direction: South East
Weather trends: Fairly stable
Barometer: Lowering 30.14
Water temp: 48
Water Color: Clear
Water Level: Normal
Water Visibility: 2 ft.
Current Conditions: none
Bottom Conditions: Flat
* Georges Out Come*
Caught: 5
Lost: 0
Released: 5
*Neils Outcome*
Caught: 1
Lost: 0
Released: 1
Fish Health: healthy
*Equipment/Supplies*
Bait/Lure Presentation: Slow
Rod Used: St.Croix 7'0
Reel used: pFlueger presidential
Line used: 12lb Suffix
Lure/Hook: Plastics
Bait used:---
Beverage: ---
Snack: ------
Repellant: ---
*Season Tally*
Season Skunks: 1
Season Fish: 83
Bass: 56
Season Outings: 13
[email protected]
Chicago Ill.