Discussion Starter
·
#1
·
After Taking the two dogs to the vet to receive their routinely scheduled shots every year, I decided to take a short trip to hit the Chicago/ Skokie Area north shore channel. The sun already starting to dim over the tree line overlapping the Steep shoreline along the fishing area. I stumbled down slipping and sliding in all the mud caused by all the rain we received the day before, Ground still damp, Moisture still flowing through the air. And all running through my mind is "what to throw" I get set up along the bank taking my rod protecting sleeve off of my 7"0 G-Loomis graphite fishing rod And undoing the hook of the lure i used my last outing. Then I start to plan.. Try and figure out a slight piece of the puzzle to get me on a few late evening fish. Cloudy with clear Water.. something natural I think So I glance threw my bag.. searching for the tool that will land me what i came to accomplish. Ahh A yellow storm package containing pearly shad 3" Swim baits. Perfect lure I decide and start casting towards no specific area Right away pulling in a White crappie. " Good start" I think to myself, Now I know the fish are definitely not lethargic by the way he aggressively attacked my swim bait. So repeatedly cast then start changing up my approach bouncing my swim bait instead of swimming it. Tick ..tick ... BAM Set the hook into a large Mouth After a short fight displayed him for a picture and released him unharmed and good spirited
After a few more cast I then decide to move along the eastern shoreline looking for a lurking bass not schooled up just feeding individually. I make a cast into a pretty good looking area where a variety of differant type of weeds and an old stump that washed up from the previous rain lay. Nothing then Realizing if a fish is feeding under here the habitat looks more suitable for a crayfish then a bait fish, So quickly make a switch to Power baits Saber tail tubes first cast lure slowly sinking along the side of the stump.. BAM! Jumping straight out of the water throws the hook.. I put my head down aggravated and upset of my loss. I then began to think at least I was able to make my short 40min. trip and not only that I had a few fish to boot. But the flip-side this fish will keep me thinking what i did wrong ... Till we meet again :twisted: :twisted:
White Crappie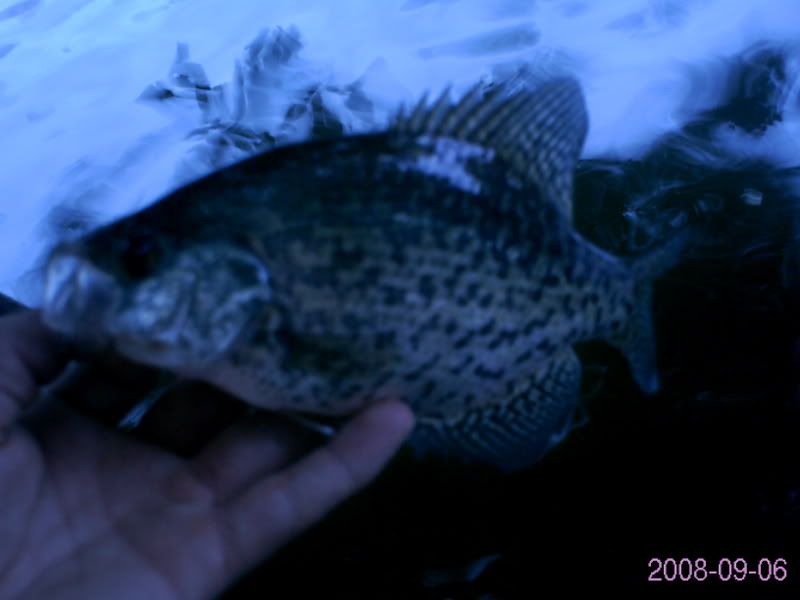 Large Mouth bass
~Conditions~
Temperature: 68
Sky: Over Cast
Wind Range: Light ( 0-10MPH)
Wind Direction: WEST
Weather trends: Stable
Barometer: Rising
Water temp: 71
Water Color: Clear
Water Visibility: 2 Feet
Current Conditions: Moderate
Bottom Conditions: Rock / debris
* Georges Out Come*
Caught: 2
Lost: 1
Released: 2
Fish Health: healthy
*Equipment/Supplies*
Bait/Lure Presentation: Storm shad swim bait 3 1/2"
Rod Used: GLoomis 7'0 Graphite Med/Lite (Bait Casting)
Reel used: daiwiia TD Pro 10 ball bearing (Bait Caster)
Line used: 1olb P-Line Copolymer
Lure/Hook: 1/4oz swim baits. / 1/4oz 5" Sabertail tube
Bait used: --
Beverage: ---
Snack: ---
Repellant: ---
George
Chicago Illinois
[email protected]
Multi-Species Fishing obsession
:!: