Discussion Starter
·
#1
·
Hi All-
I ventured out to Bass Lake for the first time after seeing some decent outings had by others. Let me start by saying that access to that lake for the newcomer made for an interesting adventure. I'm sure those that are a bit more seasoned have their easier access points but I've yet to find them. I drove on out to the forest preserve there trying to find a shortcut and ended up forging the West Branch to get to the desired destination. On the way I found that Deep Lake(I think that's the main lake) was overrun by the Labor Day weekend crowd. Beautiful lake with some interesting shoreline structure....probably decent on a day that doesn't hold so many people.
Worked my way over to Bass Lake and focused on the shoreline. Found myself with about a half dozen others dispersed around the lake. I worked the structure from shore and occasionally standing in a foot of water to increase the angle and reach further structure. I probably walked 3/4 of the shore following the deer path that accompanies it. It took me about 30 minutes to find the first response. Plenty of gills interested in my line but I was more interested in what might connect at the end of it.
This guy inhaled the hook and gave me a couple of surface busting bursts before pulling him ashore.
I kept on working the shoreline and came upon this guy...again closer to shore then you would think.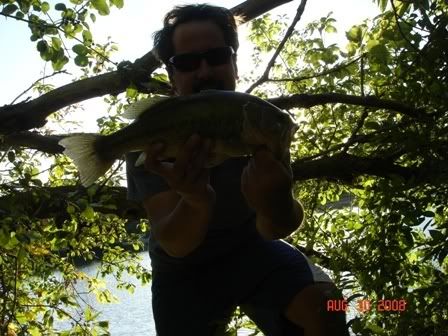 Had a couple of other near misses and smaller bass interested in the offering. I also managed to pull in the equivalent of a small tree's worth of branches. This guy came at the end of my outing. All fish were extremely energetic all of which doing a topwater dance before being landed.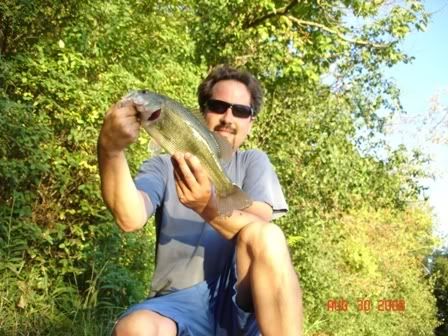 I went three for three on the larger fish and missed a couple of smaller hits. All in all a great first time adventure and happy with the response.
Definately a change up from the usual subdivision ponds and a nice response considering it was a Forest Preserve District lake.....but then again I wasn't in Cook County. :lol:
JB