Discussion Starter
·
#1
·
hit belleau on sat for my very first trout outing. despite all the horrible stories about combat fishing i figured i'd give it a try at least once. got there at 5am with my girlfriend and found a nice spot on the south shore. as we were setting up a couple of douche bags had the balls to move in right in front of us and started casting spoons. i was in utter disbelief! i said something to them but they just ignored me. fine, i thought. i wasn't gonna let them ruin my day so we picked up our stuff and moved a few feet over. within a few minutes of our first cast douche bag#1 crossed both our lines and tangled us all up resulting in me having to cut everything loose. temper rising again... had to re-tie hooks for our lines in the dark (i had everything set the night before). frustration and anger... raced to reset before sun up.
even though this was my first time trout fishing, i felt like i had already done this before. how? reading and learning from WCF forums. the sun came up and the bite was on for us. my girlfriend had the first one. i saw douchbag#1 watching and felt justified - he hadn't caught anything the whole time we were there! i really have to say thanks to augy for posting his tips from previous trout outings. followed his excellent advice: i had 4 lb test, size 14 treble hooks, berkley's trout bait (rainbow with glitter), split shot sinker about 18 in above the hook, casting 15 - 20 from shore. my girlfriend kept getting fish on her line - she was having a blast! with an exception of a few here and there, people around us were not catching a thing. they came to see what we were using. douche bag#1 even switched from his spoon to trout bait. he still couldn't catch anything lol! perhaps his line was too heavy and had too big of a hook or perhaps it was karma haha! the fish completely stopped biting around 7:45. even tho the action died we tried until 9am. ended up going home with 5 (almost six but one got away at the shoreline). the largest was 14 inches. despite the way my morning started, we had a great time and a delicious dinner in the end! my girl also retained bragging rights as she out-fished me.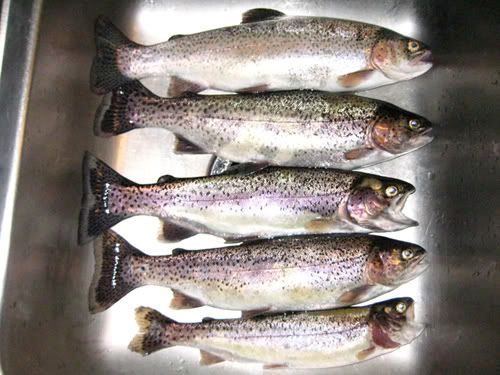 went back out to belleau sunday and fished from 4 till dusk. skunked! oh well... i talked to a few people and they also reported zero action.
i just wanted to say thanks again to everyone who is a part of WCF. this is such a great community. your willingness to share helps me to learn and become a better angler!!!
Now back to bass fishin... or maybe i'll try for those pike in the DPR!