Discussion Starter
·
#1
·
Coming January 1, 2009 My Fishing shows will be broadcasted in 720P HD.
http://www.youtube.com/adeptangling


Got out this evening 4:30p.m. - 5:30p.m.

Fish are there, And surprisingly not as lethargic as I first thought started with a small jig and plastic fishing pan fish to determine My chances at bass in my limited time As they are a member Of the Pan fish Family And closely resemble each others behavior. The water Temp Although I didn't have anything to take it as I usually do I have a hunch it's in the 42-45 degree range
(in previous outings I was usually a degree or two off on my "Hunch"). I started jigging the Shoreline at most in 2 feet of water this will show me that the oxygen levels are Adequate enough to allow the bluegill to comfortably "Live" there. And in doing so I received a few taps, although sudden and quick they weren't as aggressive as they should have been. As I stood on shore Rain and Really Damp snow being pushed into my face by the 15 mph crisp cold wind. I started Realizing how cold the temperature had gotten just within the first 15 minutes of fishing. Turns out the temperature not only dropped 8 degrees but the wind started shifting And not to just one side but Spurts from all around me, really making it uncomfortable to fish. I did end up catching 3 very small bluegill and one white perch. Bluegill coming in 3 feet of water and the white perch A little further out DEAD on the bottom. I really enjoyed what I seen though the fish were still aggressive enough to catch but seemed to be hugging the rocks on the bottom. Although once I got within the vicinity of the structure the bite was quick and aggressive. If I can get out tomorrow after work the pan fish bite is looking to be Very consistent once the fish are located. If your Fishing the discharge like I did today hit the pan fish straight out from shore on light line Using mini-mites or something similar And you'll probably end up catching a bass or crappie to.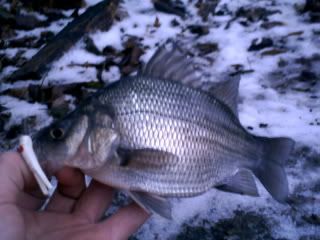 CARP: If your going to be angling for carp, YOU MUST Down size your gear, Light line is a must if you want to hook up. if you have a decent reel with a good drag don't worry about the fish spooling you, they won't give you the runs they did in the summer. As for bait Strawberry has always been a good flavor in the winter. Another option and very deadly option is soaking your corn in coconut milk this will probably be THE Bait for carp this winter season as it has bee the last two years. If your going to soak your corn do it for a day or two but make sure it stays cool and not hot.

BASS: December is always the hardest month to catch bass on the Chicago river, And it's not because there not there. The fish are there and like every winter will follow The warm current flow at the discharge And hug the bottom As the Shad are doing. It's hard to explain but there's a point where the current pushes pretty close to shore and this pushes Most of the fish in the area into a pool Right in front of the tree leaning out into the water. This is the best time for live bait fisherman to throw minnows on jig heads and artificial fisherman to throw small Grubs and small finesse worms.

Get out there and Catch them guys!! no excuses the fish are there.

I tried to throw what I could into this post I'll be working pretty hard to get myself set up for this next fishing season starting January 1, 2009. It will be my best Year ever and I promise To Teach preach And show how easy it is to catch fish every time out!. I've never Loved fishing as much as I've fallen head over heals for it this coming up season.

Last two years were Shit...

And it's time to get back to work. I have two tanks set up for viewing specific species again, Have another separate tank set up to start Tweaking my presentations. And have one more to test Oxygen and water temps to a Few species.

A lot of work... a lot of time...

A LOT OF FISH!!!

Till, Next time.

George