Discussion Starter
·
#1
·
Day 30

Chicago river
Temp: 16
Feels Like: 2
Wind: W 22 Mph
Sky: Cloudy/dark
Water: low
Water color: clear
B. Pressure: 29.96
Fish Caught: 0
09 Fish Count:94
Skunks: 5
Dec.31,2008-Dec.31,2009

Many of you who have been Frequent readers, Are probably viewing in, expecting the tale of me catching a few more fish and getting closer to 100 total on the month :mrgreen: :mrgreen: But.. That didn't happen. Many people Ask me how many did you catch today .. ? I'll respond .. oh just one. And most always they reply back "oh that's it ? ". Yes that's it!! Your not understanding the toll it takes on a person. My brother.. Along time a go this month dropped out. Because physically, how exhausting this goal was that he tried to match me . Everyday trekking through at least 12" of snow most times running 2 1/2 blocks to make most out of your fishing time. :lol: And most times 40 minutes is my outing :? Still... somehow I'll stay consistent.. If we were in ancient times, While you fatties hover in your huts cuddled and warm .. I'd be Out feeding the Village. so yes just 1. I'm not a cocky guy, But will Say You match what I did this month next January. Not just quantity but quality. I know I sure want another shot at it.
--Intended for specific person, Not Frequent readers--
... just a Vent.
Today, While fishing in the usual spot. Not near any warm water discharge water in the high 30's. I did have two opportunity's to hook a fish.. Had the bite, And everything. But I sat and watched. I just wanted to see if he'd hook himself or would he be able to realize what he had. (My hook) ... Well.. they knew about the hook. And both swam away
But i didn't mind.. the goose that's been warming up to me now lets me feed him within 2 feet from me. Also won't move when i cast and everything.. lol.. thinking about filming it soon :wink: :wink:
Got the skunk guys. But it was a dam good one :wink:
really windy though.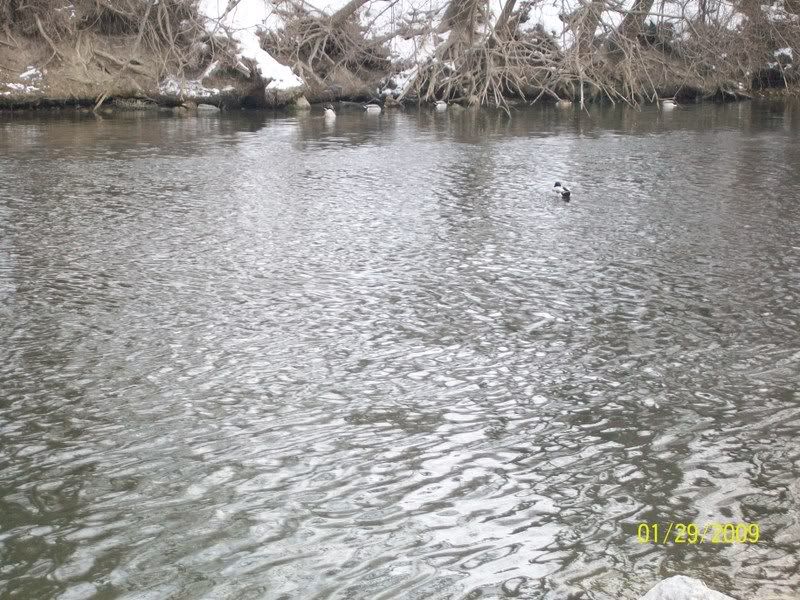 Back in tune.. I set My number to 3 Tomorrow. 8)
Man..
Already a Month
- Geo
Multi-<((><
[email protected]
:mrgreen: