Discussion Starter
·
#1
·
DAY 5

Chicago river
NSC
Temp: 28
Feels Like: 21
Wind: WNW 14 mph
Sky: Cloudy/DAMP
Water: Regular Level
Water color: Murky
B. Pressure: 30.28
Fish Caught: 2
09 fish Count: 48
from Dec.3108-jan12010
some one asked me yesterday, Why Are you fishing everyday for a year. Releasing all the fish, what are you getting out of this ?

And I thought and Said back It's making other people want to fish more..

She said thats it ?

and I told her what I'll tell everyone. You only LIVE Once. So I'm Doing What i LOVE As much as I can.

Fishing.


What a difference a Night makes.. Last night Here in Chicago, And I'm sure same as your areas also, It rained. Nothing Crazy, Just a small amount. but it stayed damp all Night. when I got out And I usually come up with pretty good guesses on what the water will look like and how to approach it before I'm even there. Well That rain came down just enough to Make the river have almost 3 feet of clarity yesterday to being lucky if i had an inch today. So feeling dumb as hell... I went plastics I figured No major weather trends just the rain. And that was enough to effect these fish location. 15 feet from where they previously were yesterday they made home, And man did they hug bottom! I tried a variety of techniques.. not going to name them all... You'd think I'm crazy :shock: But Eventually Came to something... If your all familiar with Shad rap fishing lake Michigan, then You know the rig. Only I used a 2" Bitzy minnow by Strike king and a Bell Sinker About 20" above my crank bait. this allowed my sinker to lay on the bottom while while my crank bait hovered about a foot above it. the Technique was Crank, Crank, Pause count to 10 And Repeat. Each time although I only Landed two today, they Bit While the Crank bait was floating up. Thought process was Murky water... Fishing for a species that typically prefers Clear water.. I had to get to that bottom Layer.. And Had to have a little rattle to get there attention. And it worked Nailed a white perch and a nice White Crappie.!

You Know I love fishing guys..

But you'll see how crazy it gets..
:lol: :lol: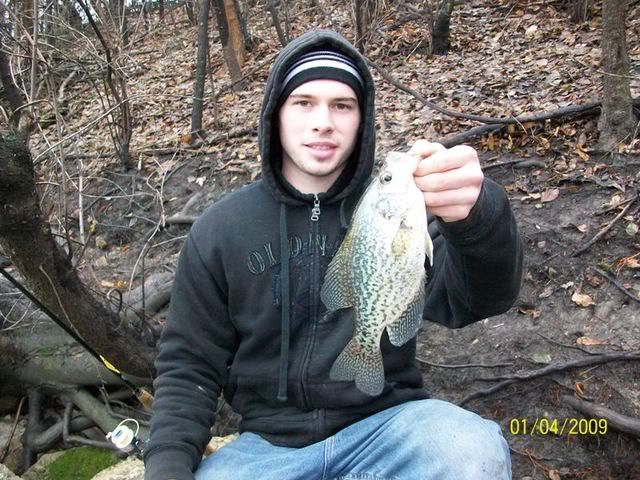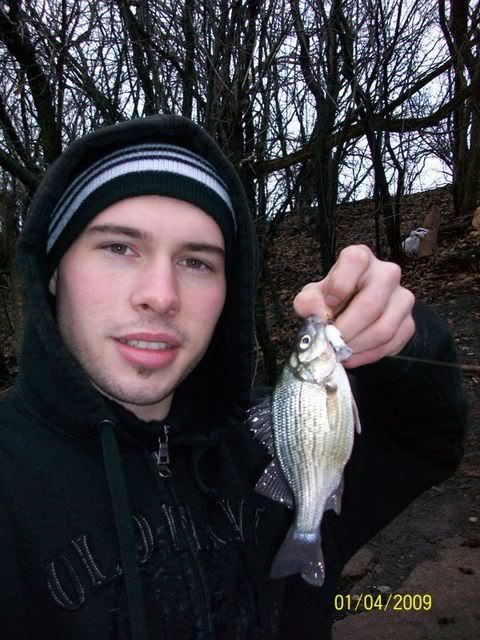 My brother James with a crappie, bluegill and a rock bass to finish the day. Here's his crappie.
See you all tommorow.
Goodnight
George
[email protected]
:arrow: