Discussion Starter
·
#1
·
<(GEO(><

Day 56-57
Date: 2/24/2009 - 2/25/2009

Temp: 48
Feels Like: 45
Wind: W 7 Mph
Sky: sunny
Water: regular level
Water color:clear
B. Pressure: 29.99
Fish Caught: 0 - 1
09 Fish Count: 145
Skunks:14
Dec.31,2008-Dec.31,2009
.. Day 56
My brother and I fished one hour. Neither of us never even getting a bite :shock: :shock: No sign of any carp :?: The bite has been Really light, And Something I haven't experienced.
Now, Today Having the day off finally :mrgreen: :mrgreen: And Actually having time to fish I get on the phone with a buddy Shane, And we head up to The Howard st. Area., Now The plan was originally set at carp the night before But today being such a great Day We decided to target bass. Just getting to the hole Making about 6 or 7 Cast I see a Metro-Politan Vehicle approaches And ask us to leave, Were not authorized to Fish here :?: :!: :!: What! I replied we've fished the spot for 14 Years :mrgreen: She replied I understand but You can't fish here. As soon as I approached they asked me for my Drivers License or id. I asked why to the SGT. Williams. And she responded At that time i was not able to fish the area. Throughout the Argument, We went through several things as to why the fish chose to feed over here, And What GREAT Fishing there is in lemont :shock: I told her this was a close spot, She said I was trespassing. I responded there's no trespassing signs anywhere near the area. :shock: She said There were caution signs though. I replied CAUTION SIGNS? Yes those are to warn us, As a pre-caution. not to keep us out! If anything we were Showing what great work the metropolitan Water reclamation Has been doing, by showcasing the fisherie :!: No matter what point i tried to make She wasn't taking anything. If she Reads this, For what ever weird reason, I didn't APPRECIATE how we were kicked out doing what we love FISH. While the only reason you went there in the first place was to catch The Shore fire starters that are ruining it for all of us!
Now for you Dam Young fisherman That inhabit the area from time to time, Making a fire :shock: To keep warm .one time I saw you do it in 40 degrees :shock: ?? A little bit of a heads up. Your Killin it! And there sending cars around frequently till they catch you :roll: Stupid... officers. Which is keeping me away.. NOTT!
I don't mind going to any other areas if this spot is for whatever reason not fish able I don't fish it but maybe 2 times a week anyway. But to get kicked out ? having are names and car make and all noted so If were spotted again fishing the area we could be arrested on site :shock:
( Now although this is BS, Taking the chance will be risky due to the fact I see one every other Day out there that always ask me how the fishing is, then go on there way.)
\
knowing I had my goal of going fishing everyday i pushed her as Hard as I could. I was Pissed! Even going as far as asking her to tell the gentleman under the bridge to leave... Maybe to far of a walk for her? :lol: @@@@ But I had to leave and re-locate As i did.
you were wrong.
but keep up the great work On the Fisherie.
got this guy, bite still being VERYY Light on a float Slip-sinker Rig. Also hooked into another that pulled my hook... it was a huuge carp For sure my biggest this year made a leap straight out of the water like you see a marlin do :shock: :shock: but again he pulled my hook
1 for 1 on the carp today on 6lb test and size 12 hook. My worst month by far, but who cares I'm having fun :mrgreen: that water is coold :shock: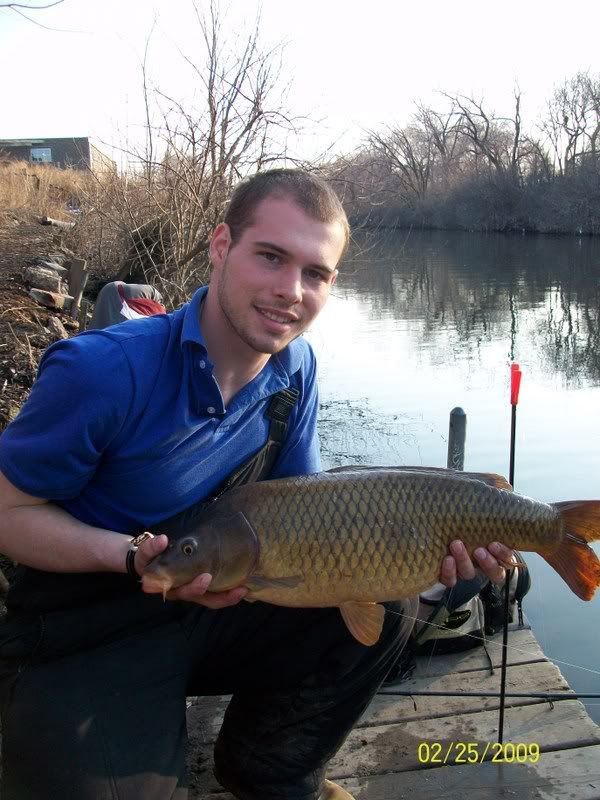 Improvements on it's way, Done with these skunks.
GEO
[email protected]
Multi-<(><
:x