Discussion Starter
·
#1
·
<(GEO(><

Day: 61
Date: 03/01/09

--Chicago's Outing Weather--

Temp: 20
Feels Like: 9
Wind: W 22 Mph
Sky: cloudy
Water: high
Water color:clear
B. Pressure: 30.52
Fish Caught: 7
09 Fish Count: 152
Skunks:17
Dec.31,2008-Dec.31,2009

Got out this morning, Bren Mawr was the location fishing for carp along the narrow stretch of river. We fished 2 hours without a tap, Wind gust up to 25 MPH Straight in the face with heavy snow. It wasn't pleasant fishing Definitely uncomfortable. Five Minutes before we left I did get 2 taps and When I set the hook the fight lasted about 20 seconds then he pulled the hook.
After my brother James and I got home, Neil called and we agreed to go fish Busse's WWD. Upon our arrival I was amazed to see how much the weather was different from Chicago. :shock: No Wind, Sunny, Calm, And really comfortable. Going only artificial And fighting our day's last hours I started casting out with a small Crappie tube Red/white But didn't even getting a tap
(Later finding out old salt ripped some lipz b4 my arrival :mrgreen: )
Eventually Switching to a small 2" White Yum Crappie tube, Catching All my fish 1 Bass, 3 Crappie, 2 bluegill. Also Caught a Carp on a small yellow grub :mrgreen: :mrgreen: had another look at a crayfish plastic but he wouldn't hit it.
Neil Using a small white grub i believe from last glance landed a Bluegill and also a nice crappie :mrgreen:
We did are best with artificial's Although I liked a lot of the reactions I seen with the bass I'll definitely better approach it next time, Hopefully soon. Great time out, A lot of fun.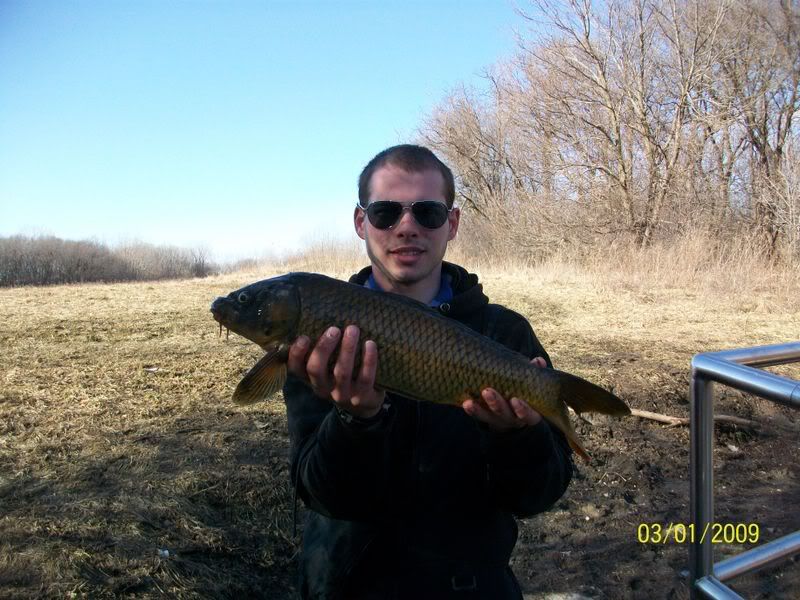 Nice time out Neil
- Geo
Multi-<((><
[email protected]
:mrgreen: