Discussion Starter
·
#1
·
DAY 8
Chicago river
NSC
Temp:
24
Feels Like:
11
Wind:
W 15 MPH
Sky:
Cloudy/SNOWING
Water: Regular Level
Water color: clear
B. Pressure:
29.36
Fish Caught: 5
09 fish Count:59from Dec.3108-jan12010
Carp, A Species That MANY Anglers Choose to harass. When first introduced, as another food option here in the states, A long time ago Before ANY OF YOU WERE BORN, Anglers and Biologist started to realize Carp tear up what are to believed to be Sport fish such as bass,musky,walleye"s Nest. When the fish was bedding, carp would swoop in, feeding on all the fish's eggs. Ultimately making the water dirty.. Etc. Etc. It got so bad people Were Catching carp, Leaving them on the bank and letting them die. Which is why when I started Carp fishing in 2004, I wanted to figure out if these Fish were bad. I fished for them everyday in 2005. I've Watched videos on them bedding, feeding And just swimming all through this time. but it wasn't until I Bed fished Small mouth bass at lake Michigan last year when i realized how many carp Surrounded there bed. And did i see one carp attempt to go near a bed when I was there 11 hours a day for a week? Nope.. see a carp swim by and Damage the nest ?... nope. I seen the carp There feeding on all the algae And weeds that had grown by coincidence where all the bass chose to bed.. A Rocky shallow flat, With a Heavy weed line and a drop off near by. And When you think about it, when Carp were first introduced 1831 i believe again
Way before Any of you were born
And as long as it's been.. Predator Fish records are being broken, Fishing is still Pretty Dam good. Because as much people think they know about carp, They truly are a remarkable species. Although they lay eggs by the hundreds of thousands And can spawn multiple times a year if conditions Suit, there population pretty much balances out And remains the same. All the predator fish feeding on the juvenile carp Balances Everything else out. All the aquatic life has balanced out! And they also have adapted.. I'm sorry for going into a big thing here.. But until you understand.. :mrgreen:
Stop leaving carp out to Die.... :roll:
.. Alright guys Today My brother James and I brought out the Carp setups And went Strictly for them. Fun indeed Although It started off slow for me. My Brother James Almost instantly nailed a Carp Using Corn. Which gae me optimism but also Gae me a little worry As I just prayed for mine So I could Avoid The skunk.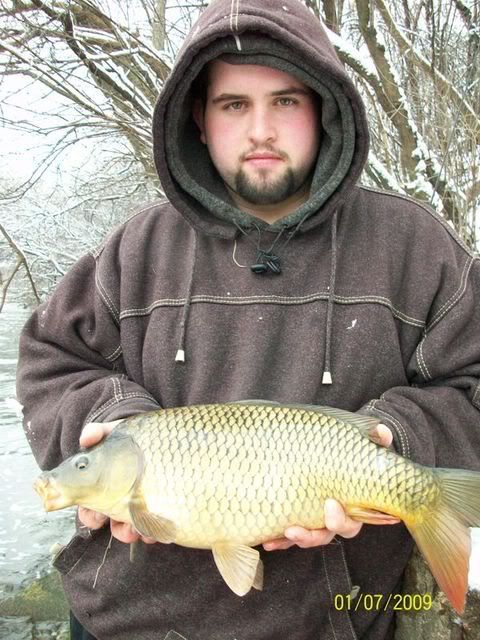 Then I Shortened my Leader Using my usual slip Sinker rig. I shortened it from about 12" to 6" My Reasoning I had none, It's just worked in the past when fishing tough And I'm fishing current. If there were no Current My leader of Vanish fluro-carbon 6lb Test would be about 14".
I Then Kept My finger on my Line Aiming my rod Towards the Line that's going in the water, I kept My line Tight And Anything that didn't feel like a white perch or shad nibbling I set the Hook! usually My line would get a little loose I'd Tighten it Then I'd start to feel slow steady pulls.... that's when I started RIPPIN LIPZ :mrgreen: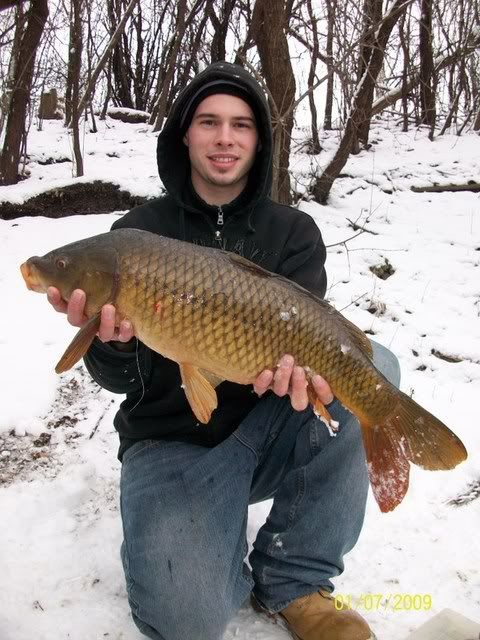 .. starting this year As I previously stated I have the Goal of Fishing Everyday this year. But I had a few small ones to. one of them was catching a carp Pushing 25lbs... today I Missed that by 4 Pounds With this 21 lb 1oz Common Carp Caught on 6lb test and Whole Kernal Sweet Corn.
The Blood Under The Fish Near my thumb Is Actually Mine.. :lol: Got excited When I yanked that hook out :mrgreen: :mrgreen:
See you all tommorow :mrgreen:
George
Multi-species Enthusiast
[email protected]
:mrgreen: