Discussion Starter
·
#1
·
Took me a bit to gettin' around to post this but thought it was worthy :wink:
I've been doing a bit of mapquesting ponds in the general vicinity and driving on out to see if they are worth consideration. With the temps we've been having, to say the bite has been on is inaccurate. I headed out anyway...I've been doing best with the bite on or after 830pm which leaves little time to enjoy. But we must do what we must do!
I've been a big fan of the zoom ring worms and have been working them weedless with some Charlie Brewer sliders. Excellent combo I might add. I've also tried similar soft plastics such as Rhino's hardheads I believe their called. Those things are tougher then S***. I've thrown them into heavy brush and they don't get stripped down the gauged hook like other soft plastics. Plus one will last ya a long time, very sturdy!
Anyway, I worked the edges of a pond off of Diehl Rd. with very little to show for it and I was ready to pack it in when I got the one below. At first I thought I had snagged a cat or carp but as I saw the tail flip over on the surface of the water I knew I was in for a treat. Took my time getting him in didn't want to lose him at the lippin'.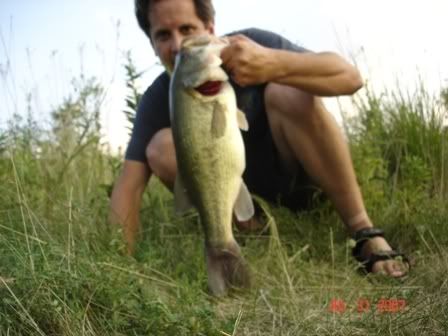 I only managed one smaller bass shortly there after but I still drove off with a grin on my face.
I can't wait til the next cool front just to give the fish and us a break....I have alot of down time that isn't being applied the way I like....
.....fishing!!
JB