Discussion Starter
·
#1
·
Well went with my bro and my buddy to the big shaky green bridge in Riverside or Lyons area. Was hoping to get some pike walleye or carp. Got 2 dozen night crawlers from jjs and then went to the area. At the area there was a little creek \ stream here is a pic
The stream was very overflooded and filled with logs and other vegetation perfect condiotions for spawning pike.
Was tossin spinners for pike and i did actually get a hit near a collapesd tree in the overflodded stream. Felt really good to get that hard hit of a pike for the first time this year.
Now for carp i used a sturdy rod with twenty pound test and a nightcrawler. The rig i used was simple. an egg sinker with a slip shot stoppin it. And god damnit i got snagged 5 times. after the 5th time i said screw it ill use a bobber. So i did. And i let it go down stream. And BAM!!!!!!!. A carp took it it came up and broke water and jumped off the damn line. :evil: :x
I was so pissed off. Then i just stopped fishin for carp. And tossed the ol spinner bait around.
This is the area were i fished for carp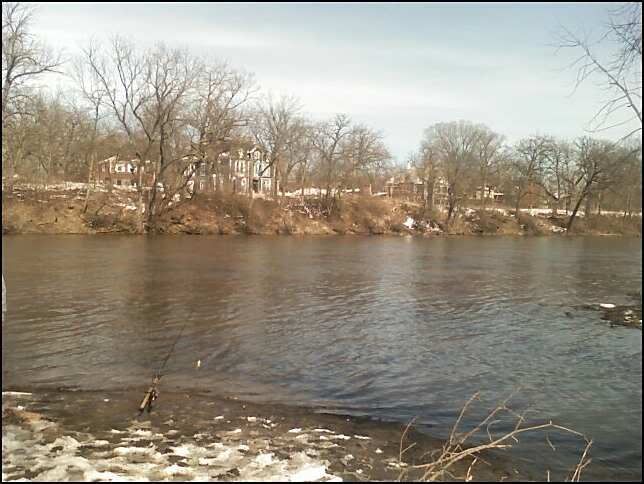 Logs and more logs.
Im going to take a break from the des plaines. I feel like an idiot everytime i leave the place. I just do not know how to river fish yet. I will learn when the condiiotns get better.
My questiion to all of you people who fish for the carp at the dpr.
How do you cast without getting snagged at the river. What kinds of weights do you use and what kinds of hooks. Bobber mayb.
I also went to maple lake please see maple lake report March 22 under other lakes or waters to read up on that.
Thanks
Dom