Discussion Starter
·
#1
·
Headed up to Fremont for a few days of fishing... We were sort of inbetween the walleye run and White bass run... The walleye bite just dwindeled down and white bass were just starting up...
Most fisherman at the resort were reporting an occsional walleye or 3 to 8 whites for the day... This didnt sound too good...
Hit the water about 2pm Wed afternoon checking spots close to the resort with limited sucess .. It was rough so why not start with some rough fish...
As the day went on we decided to focus on the White Bass bite.. We ended up with about a dozen which was one of the better reports for the day.
Thursday we decided to run and gun checking on spots way up stream and down stream.. We were rewarded with a better day totaling in the mid thirties but never found a hot spot taking 1 to 4 in various locations
Here's a few pic's of the same cooler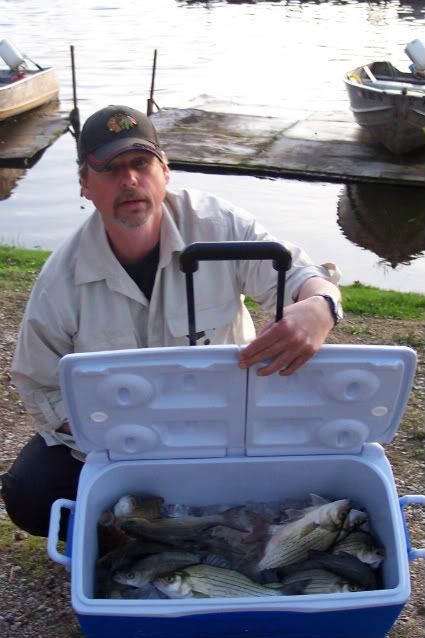 My partner Don with same cooler...
Friday we felt a little more confident as it was sunny out and we figuared we could find some hot pockets of whities in the warmer shallow flats...
By 3pm we were scratching our heads with only 4 fish all day..
Around then we picked a spot we had some success the day before and decided to end the day there... In the few hours we had left we managed to fill the cooler and the were literly opening the cooler lid and jumping out of the cooler. one made it into the bait well and another popped out as we were walking the cooler down the dock. ROFL
The NIFTY 50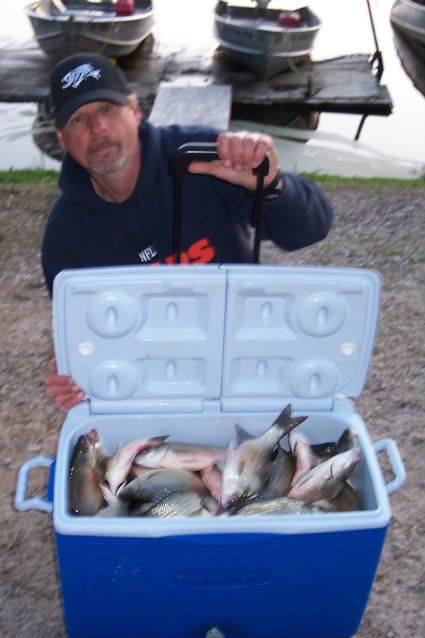 Don with a Bonus Smallie
With renewed faith we set our goal of 100 for Saturday but the winds were brutal and kept increasing making it difficult to hold anchored on our spots and we couldn't cast our jigs into areas we wanted.. We had to make some adjustments to our presentation we tied our jigs to slipbobbers and were able to get in tight to spots while the wind fought with the current leaving our setups in the strike zone longer...
We managed hitting the daily double again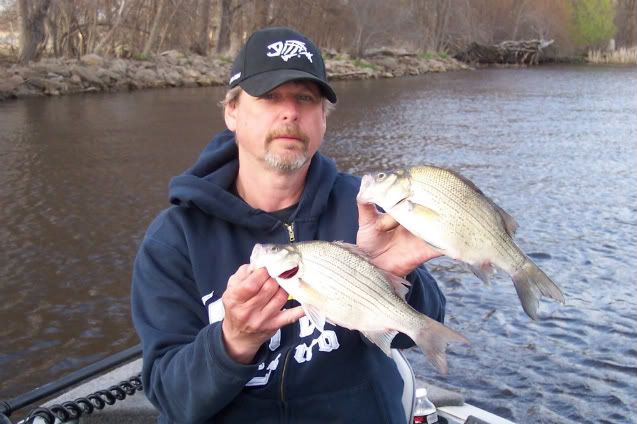 And Don once again got on board with the bonus fish of the day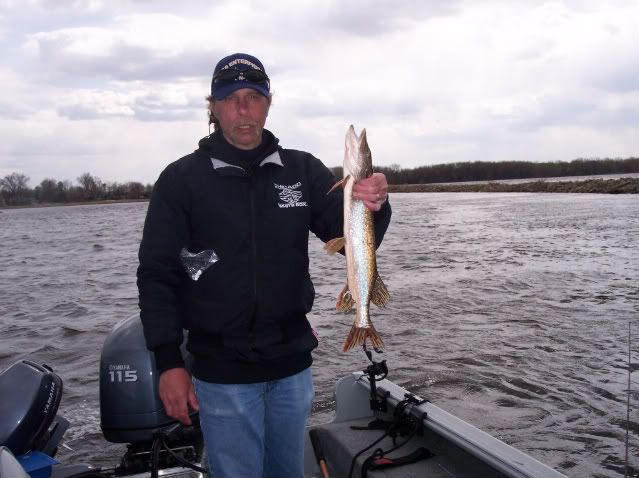 We only managed 25 whities that day but That it gave us an excuse to wrap it up early and hit the local bar and watch an exciting come from behind Black Hawk Playoff Victory.. Every TV in the place was set to the game and place was packed with Rabbid Hawks fans.. Who would have thought this a few years ago...
The fishing wasn't lights out yet but we managed 125 total on the trip and pretty much did better than most we talked too at the resort.
That is except of course Larry the resort owner who made it out friday afternoon and schooled every one boating 100 in a mere 3 to 4 hr window.. WTF
Most of our success came off red and white hair jigs about 1/4 oz tipped with minnow or fly rigs..casting the shore flats and timber..
In hind site we should have fished heavy river rigs in the early part of the day deeper and as temps warmed up the water gone with our lighter jigs shallow at the end of the day.
Water temps were just under 55 and water level was a little high with a nice current this should make for a good peak run in about 2 weeks.... If anybodys getting out that way for the run....
NPIKE