Discussion Starter
·
#1
·
I got out on the Chain of Lakes with Captain Darrell Baker on Friday. It didn't look to be a good day as a cold front pushed in through the night. Winds in the 20mph range were going to be accompanying us on our trip today.
We started out on Lake Marie working in 12 to 15 FOW in search of Crappie. The high pressure system had fish holding tight to the bottom and in a negative mode. Using ultra-light cubby and grant rods we tried to finesse the fish using a rig with a mini-mite on the bottom and a single hook drop-shotted 18" above the jig. We managed a ½ dozen crappie and a mix of a few gills and white bass. While we located schools they were not as aggressive as the day before when Darrell got his clients on over 200 fish.
We decided to move to Bluff where we worked a few docks and picked up some of our better crappie for the day. After picking off a few fish the rest would spooked out of there. We moved back deeper and worked 12' to 17' range. Even using ultra-lights the bite light most fish were dropping the bait before you could set the hook. But over the course of a several hours we caught about 40 fish. While we weren't targeting Gills Darrell suggested we move into about 8ft outside a weed edge and get into some active gill action where we nailed about 30 in ½ hr.
Darrell had said with the front that came thru the walleye would be a tough nut to crack. He suggested we troll for them that way we could get into some stripper action and maybe get some bonus Walleye. We moved back to Lake Marie and Trolled the center bar with weighted Meeps and Zip baits. Every time Darrell marked a school he would say get ready and seconds later 2 poles would have fish on. We got into about 30 white bass and had a few heaver fish that got off.
We didn't get any walleye for the day but got well over 100 fish most a mix of Crappie, Gills and White bass I kept about 20 of each. Darrell maintained great boat control in windy and gusty conditions he had us hovering over spots like we were anchored and finessed that T dock while working a pole himself. (with the winds I would have hit the dock 5 times without a pole in my hand).
We had a good day under some adverse conditions and I felt I learned a lot.
Sorry for the long winded report. Here's a few pic's
Some Crappie and Gills letting things SINK-IN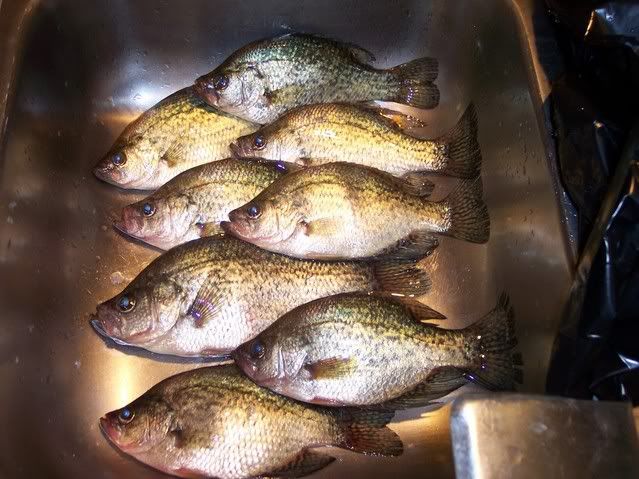 Some whitebass and crappie CHILLIN-OUT.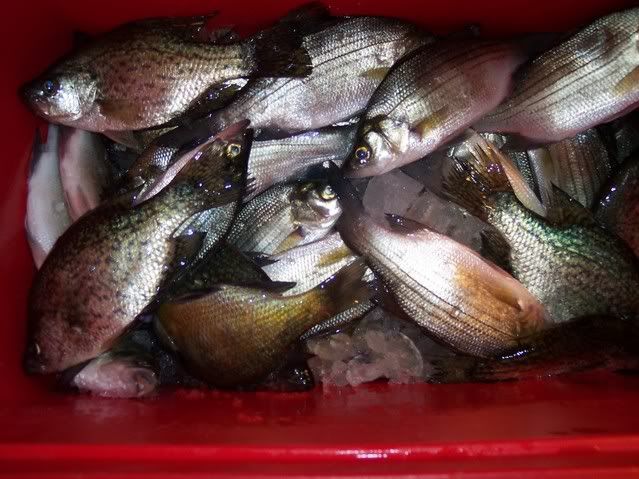 NPIKE