Discussion Starter
·
#1
·
This trip has been in the works since last October, so Yami Master and I were excited when the day finally came. Yami and I both worked Friday, but that did not stop us from being on the water at 3A with no sleep. We had to break in the new motor, and it was slow going but we got her done. The weather was a balmy 35 degrees at launch time 8
My new baby
2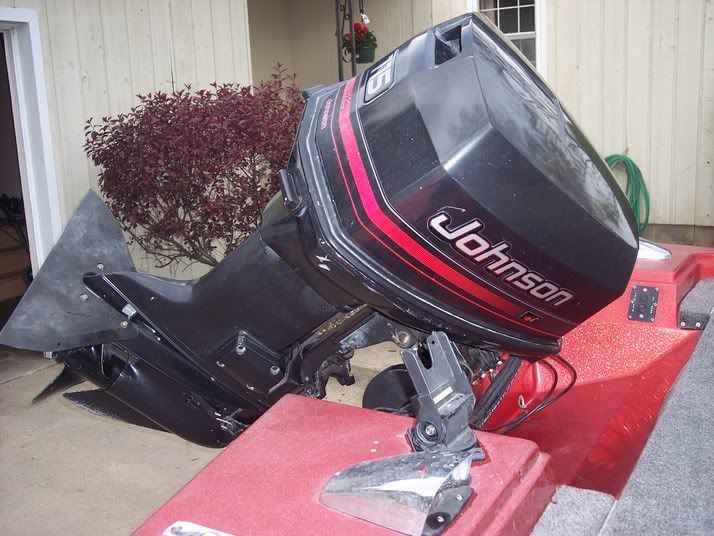 With a little TLC, the boat almost feels like new
2
Around 4:30 Yami and I decide to jig until the sun comes up. We each had one bite and Yami got the skunk out of the boat right before the sunrise.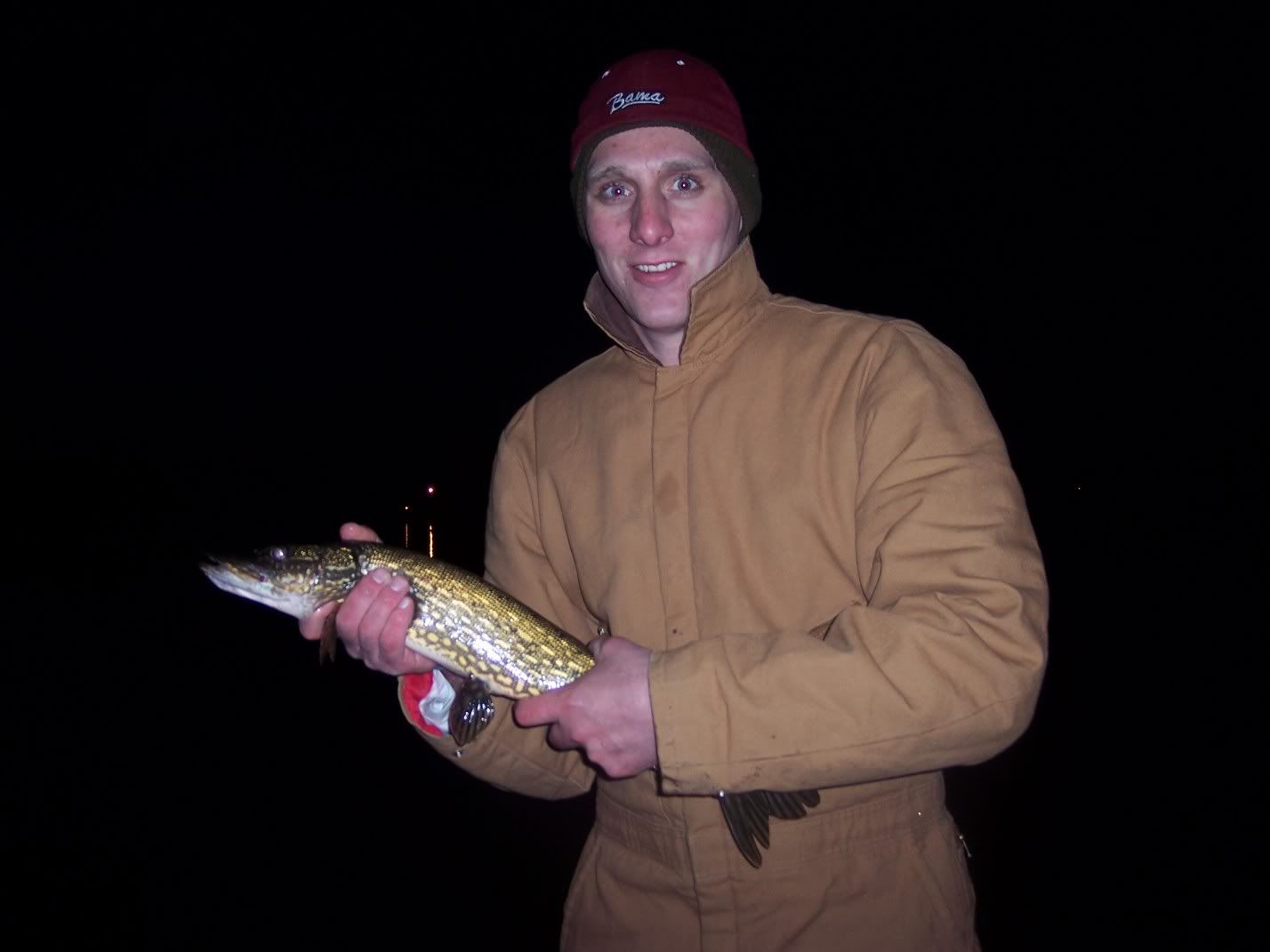 After the sun came up we made a trolling pass in front of Lake Lawn pulling stickbaits in 6-8 feet of water. That was the hot ticket last year but we came up empty. We then tried casting the weedline and could only come up with a follow. There was tons of other boats out in front of Lake Lawn and we saw no fish boated so we decided to change it up. We pulled into Lake Lawn Marina and Yami lived up to his name by pulling a bass off the dock on a Yami right away.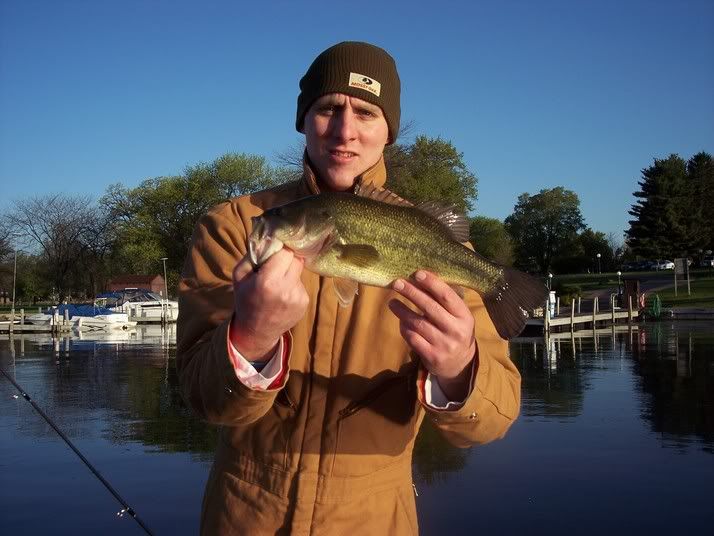 We were seeing lots of bass cruising so I decided to make some long casts with some Jumbo Leeches courtesy of the Outback Baitshop in Sandwich, IL.
I finally got my skunk off......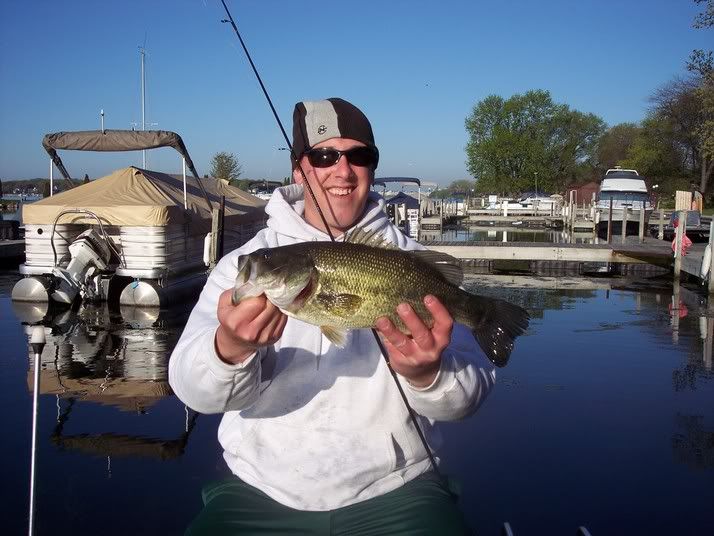 .....and while on the phone with Walleye71 decided I'd like another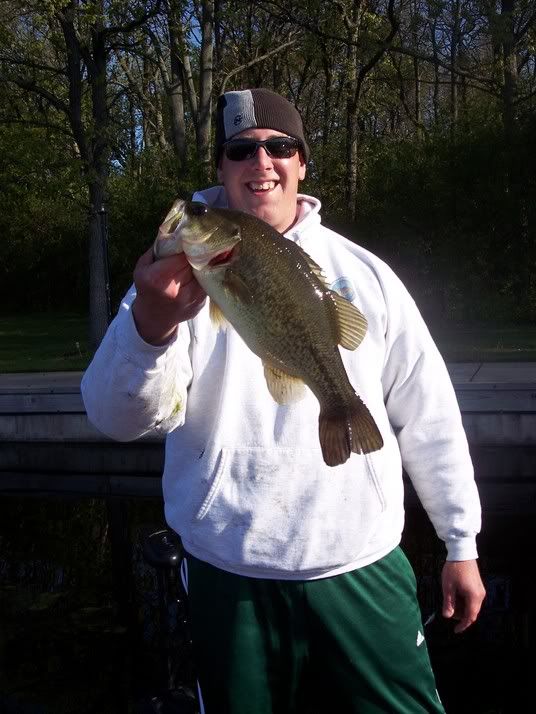 We then decided to look for some similar water, but only came up with a small bass on a chatterbait. Low and behold we ran into Walleye71 and his partner working the same area. After chatting it up, Walleye71 decided to head back across the lake. We were going to join him, but we got some weeds clogging the intake and decided to clean it up and let the motor cool down for awhile.
We came up to a murky, shallow point with a sand bottom in about 3-4 feet of water. I threw a 1/2 ounnce orange and yellow Northland Reed Runner across it and immediately lost a big largemouth on the jump. Yami throws across it and has another big one boil at the boat. We recognize that we are on to something and slow it down and really start working it.
A few casts later and a 20'' pig smallie graces the boat
A couple more casts and another 18''+
After a few more casts with no bites I switched to a LuckyCraft Pointer and #3 checked in a 18.5''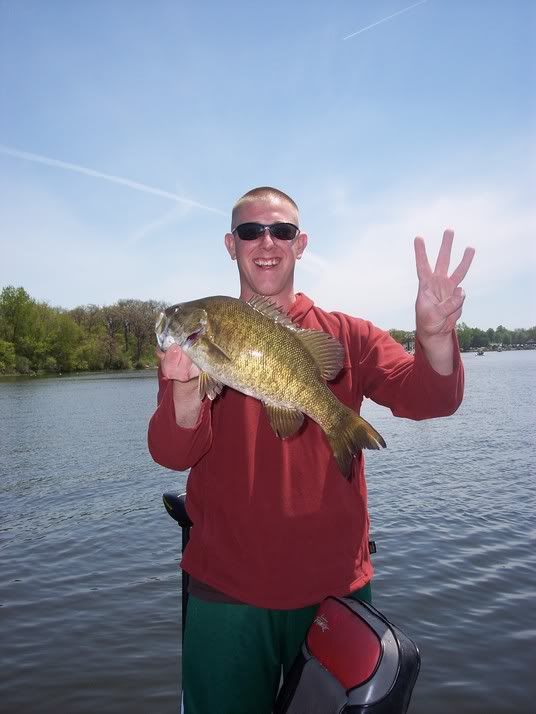 The spot slowed down and Walleye71 called and stated he was getting some pigs. He was leaving for the day so we decided to get in on the action.
3 inch Yum Dingers and leeches took a few of these. They were all nice so some went back quickly with no pics.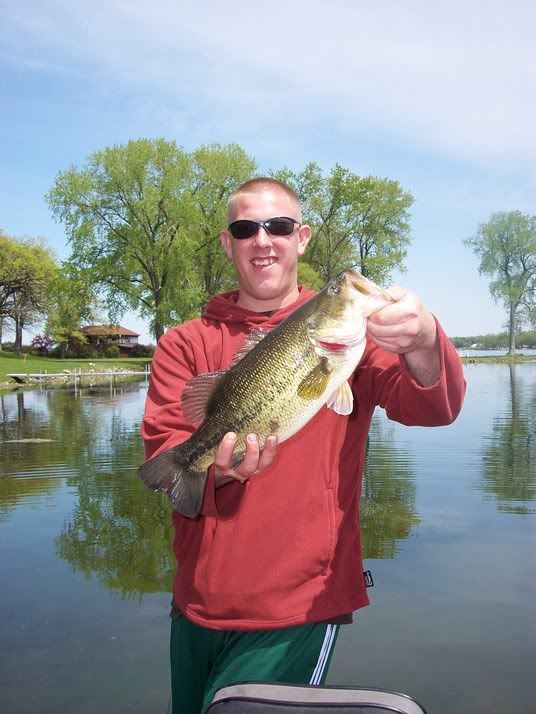 Walleye71 had graciously donated some large suckers to us so we decided to cast for some pike and drop the suckers under the boat at one of my favorite stretches of shoreline.
This 33'' pike followed my spinnerbait in and then made a mad dash under the boat and T-boned the sucker on the other side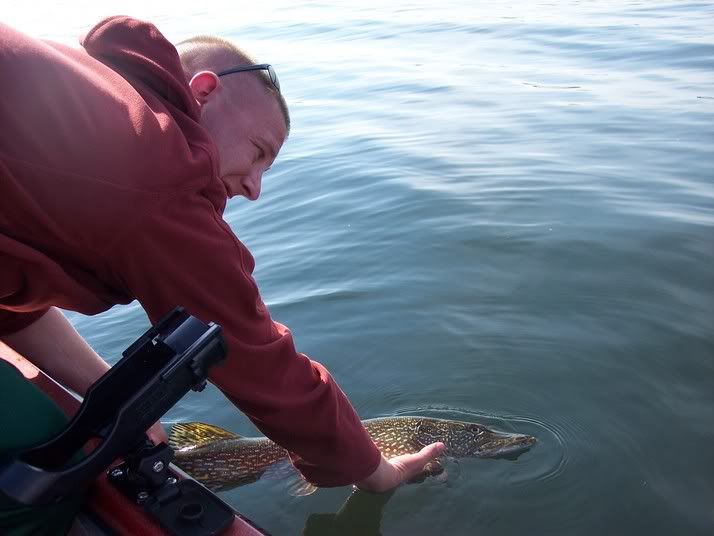 Yami's sucker got slammed and he picked up his first sucker pike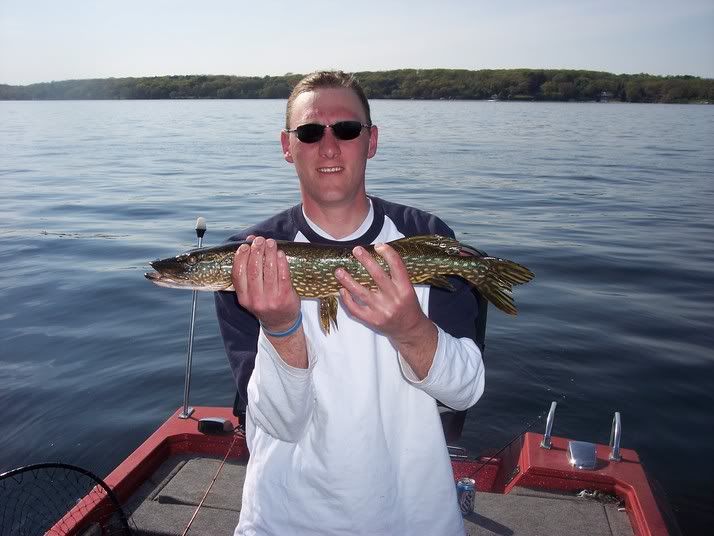 Mike called for a fishing report, but I had to end it short when this 32'' made lunch out of the sucker.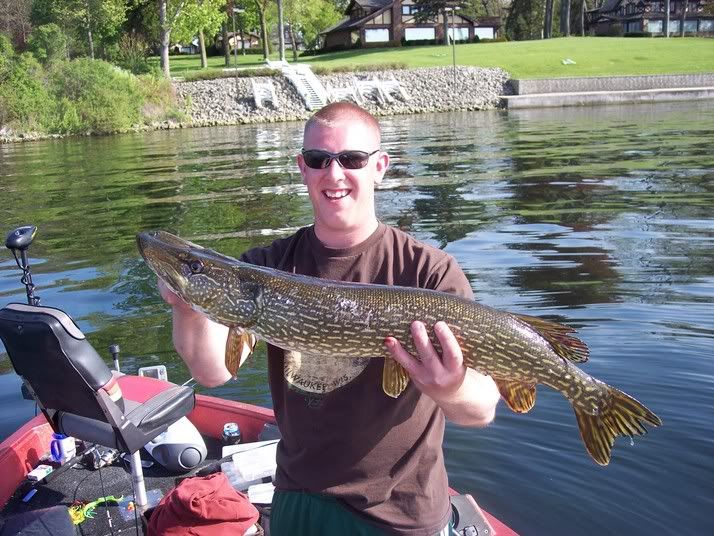 \
We drifted for awhile with no action and decided to run to another spot to end the day.
Yami picked up another bass on a crank...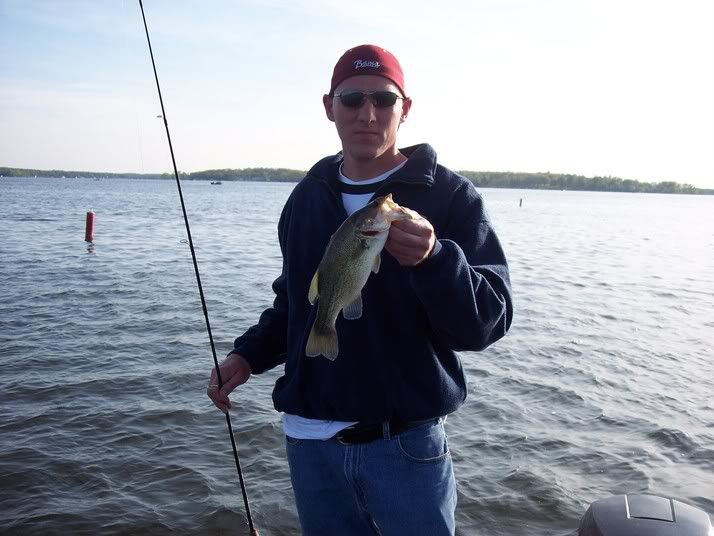 and I ended the day with a pike
After a fun evening of boozin and 5 for $5 Dominos pizza the alarm went off WAY too early at our deluxe accomodations at the beautiful EconoLodge in Delavan, WI. We persisted and were on the water before 6A.
After an hour or so of no action a pike finally graced the boat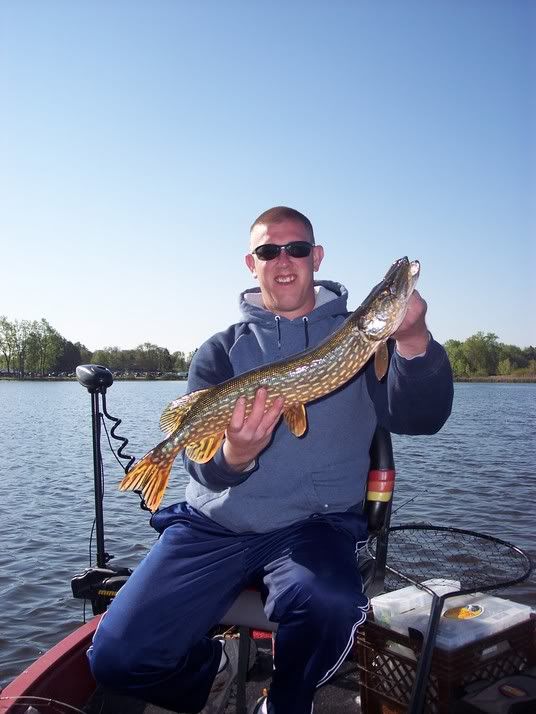 Yami nails a bass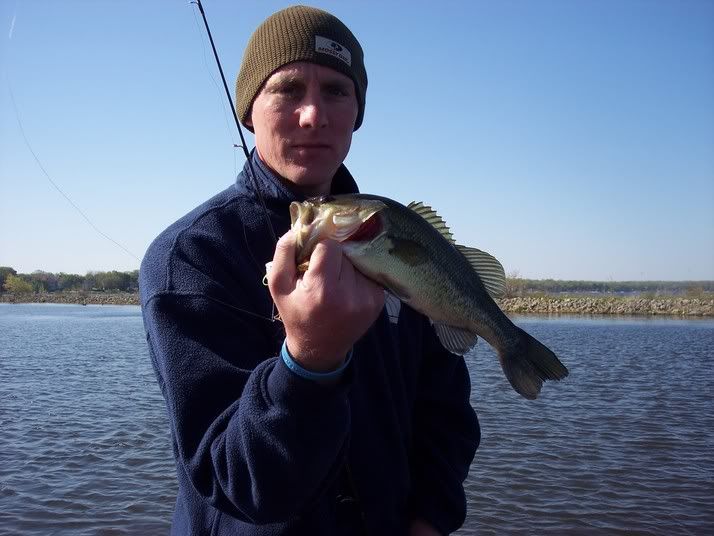 With the day starting so slow and the weather being so cool we headed back into a channel to find some warmer water and hopefully more active fish.
This hog smoked an X-Rap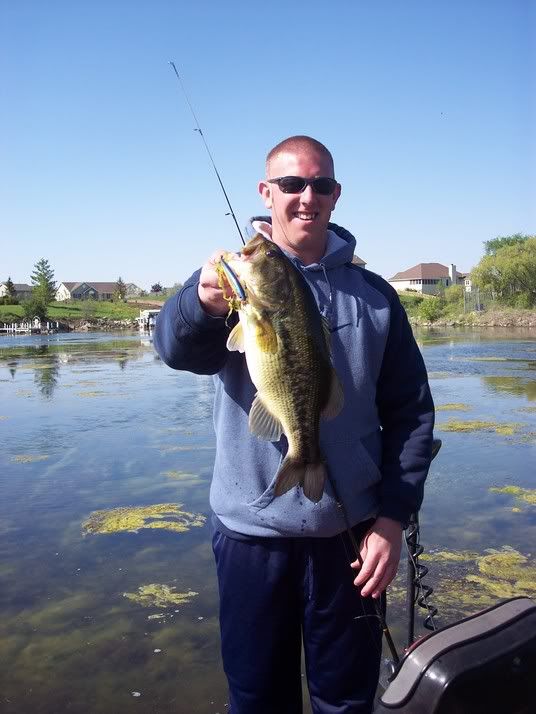 Another nice smallie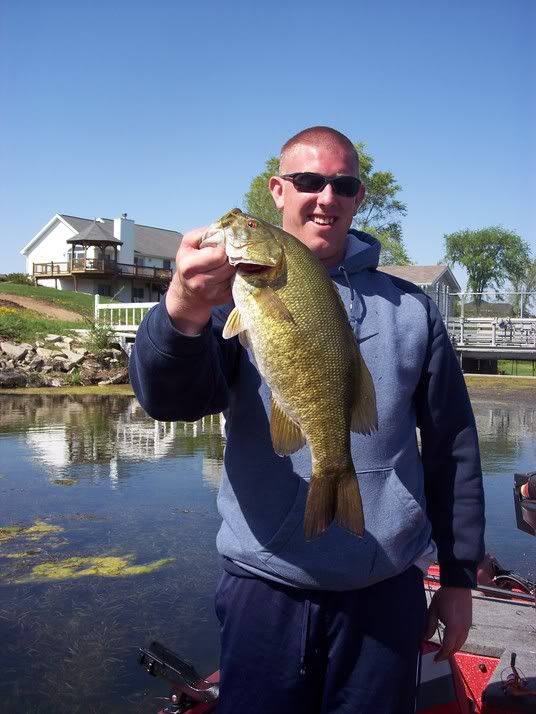 We decide to play around a bit while waiting for Coyote to meet us at the launch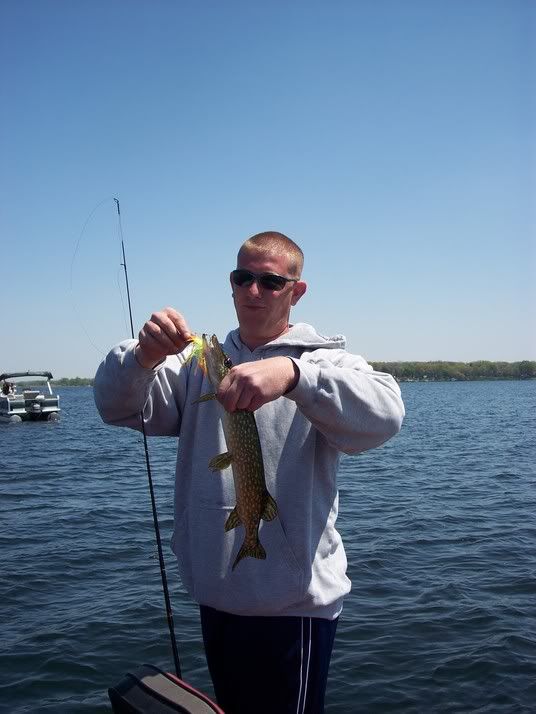 Mike makes it out at about 1 and we immediately tried for some bass but came up dry. We headed over to a pike spot and started dragging suckers and casting baits. Yami and I really wanted Mike to catch that first fish so we watched our suckers poles as Mike cast a spinnerbait over the newly emerging weeds. He was getting plenty of follows but no hookups. After awhile I got bored and made a cast out with the same spinnerbait Coyote was using. You can guess what happened next
It was just that kind of lucky weekend for me I guess
We worked that particular shoreline for a few hours and got so many follows we lost count, but the pike would just not trigger.
With the day ending we motored over to another spot hoping to end the day right.
Another bass falls victim to the spinnerbait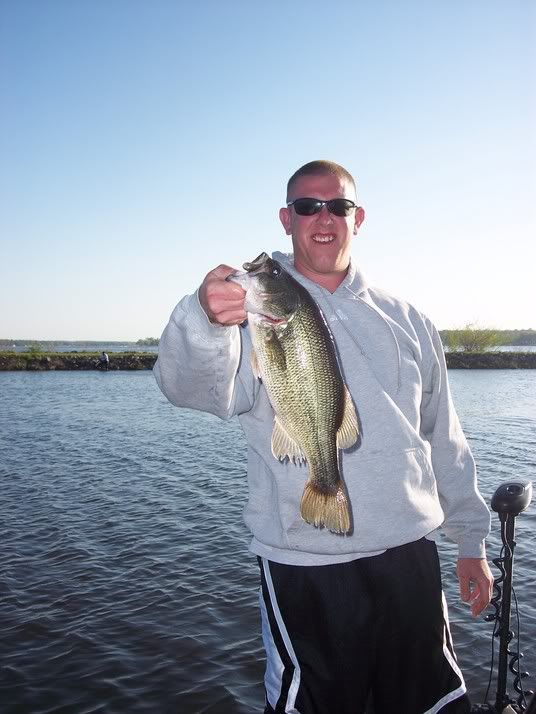 Yami with another Yami Bass. He also had a nice fish saw him off right at the boat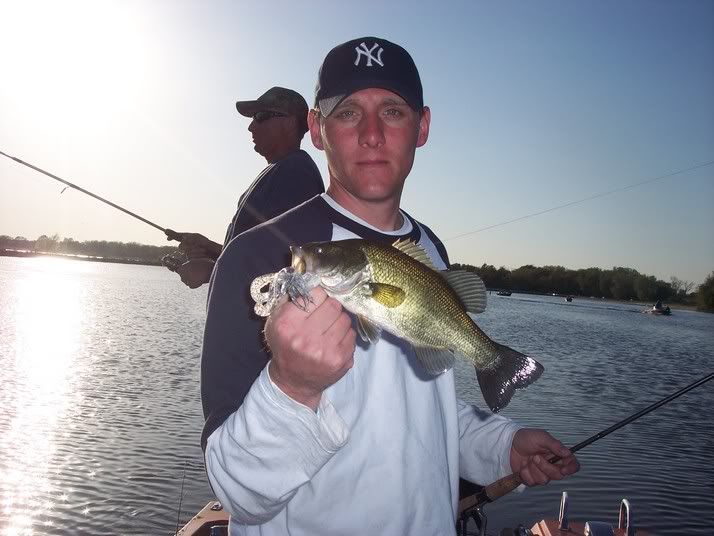 Unfortunately Mike did not get on the board, but as usual he was in great spirits and we decided to drown some beers and have some grub at Lake Lawn Lounge.
Although Yami seemed to be Eyeing Coyote all night, no spooning took place (that I am aware of
)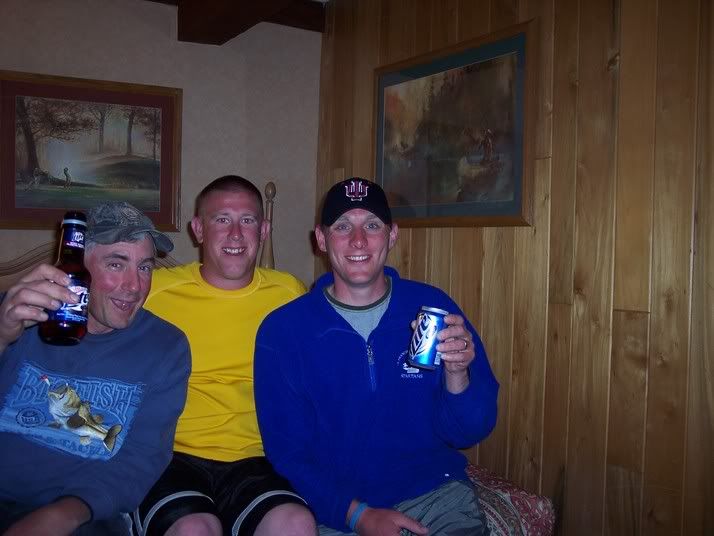 Monday dawned with hopes of more nice fish. The weather was warmer and the wind had picked up. I started the day by having a nice boil on a perch X-Rap. I followed up with another cast and it was bye-bye X-Rap.
We made a quick trolling pass which netted a few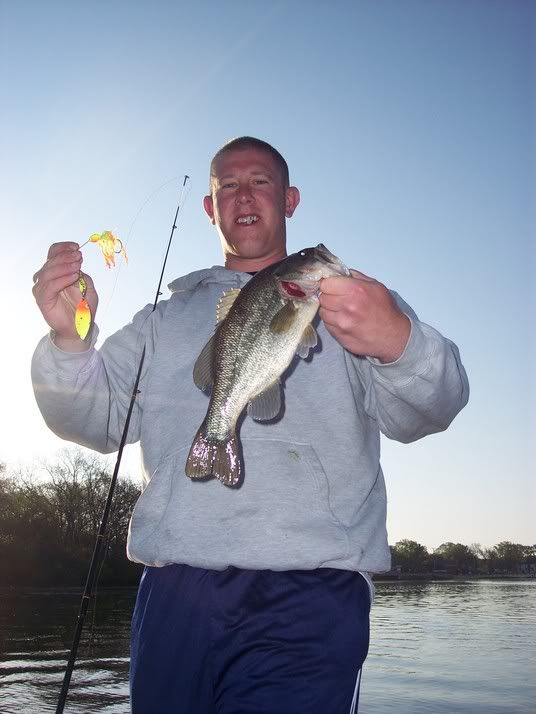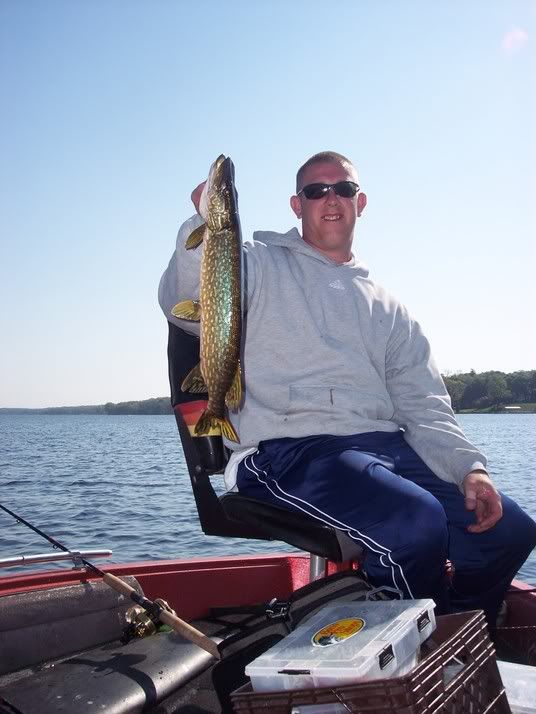 With Mike still not on the board we took him to one of his favorite spots. I got a small snake which stole my favorite spinnerbait as I foolishly tried to lift it into the boat
Coyote ties on an orange and black Grim Reaper and hooks a moster smallie on his first cast. 3/4 of the way to the boat the fish breaks his trailer hook and is gone :evil: The pike were following like crazy and in a few stretches I was getting more casts with follows then without, but unfortunately no more fish.
With Mike STILL not on the board
we headed to another pike spot. I got another little guy and Mike finally decided it was time catch a fish and he broke through with this beauty
You can put it on the board.......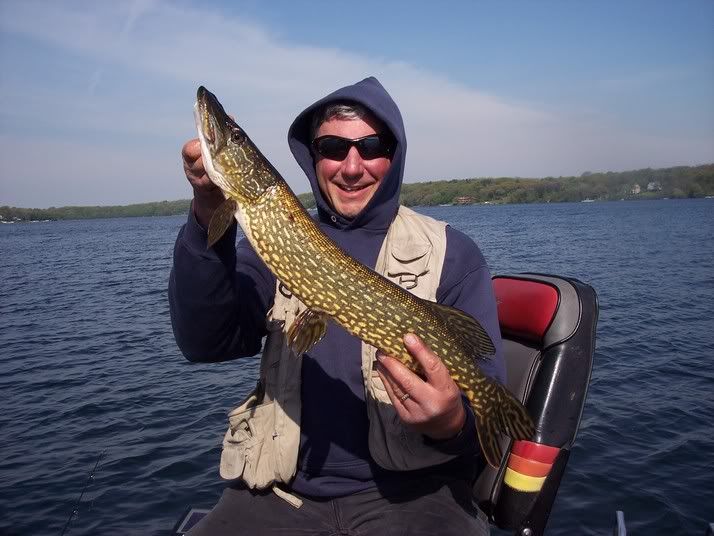 YES!!!!!!!!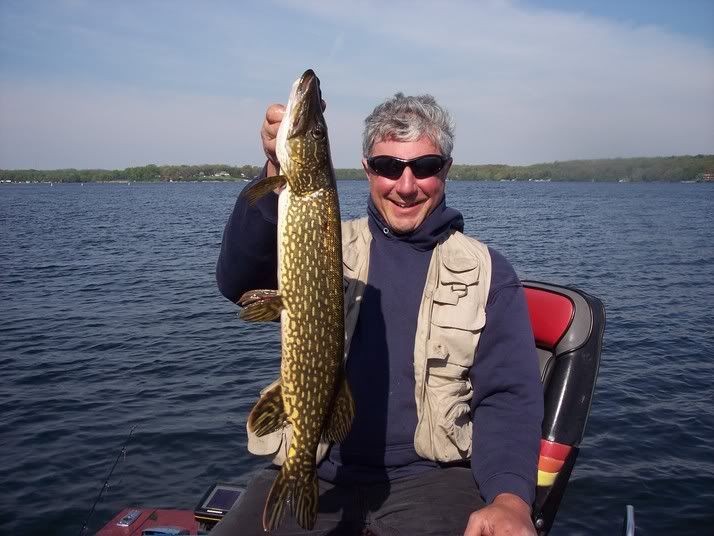 With Mikes skunk finally out of the boat it was a relief for all
I picked up another snake on a black Hot Head and buzzed over to another area looking to end the short day on a postive note. I tied on a custom black crappie swimbait and for about the first 10 minutes had a follow or bump on every cast. We could not get the fish to trigger so I switched to an X-rap hoping to change that.
I tied into a few snake pike before getting this butterball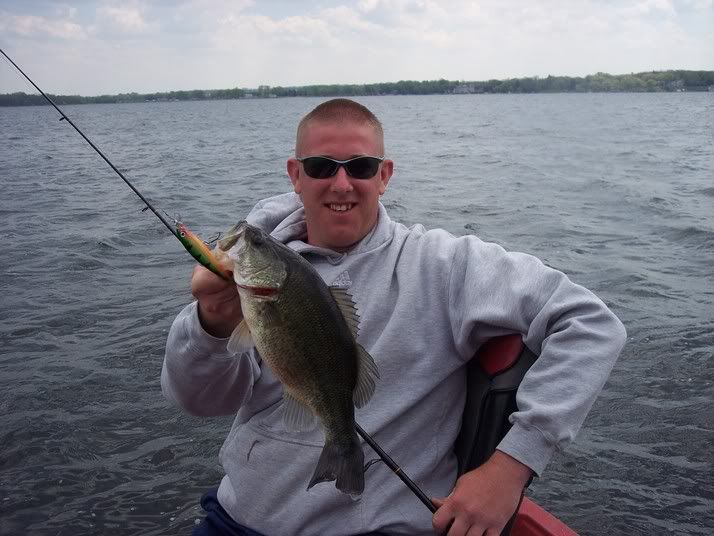 We drifted into a point that the wind was pounding and things got interesting.
Yami switched to a jerkbait and caught FIRE. Pike after pike fell victim to the Rattlin Rouge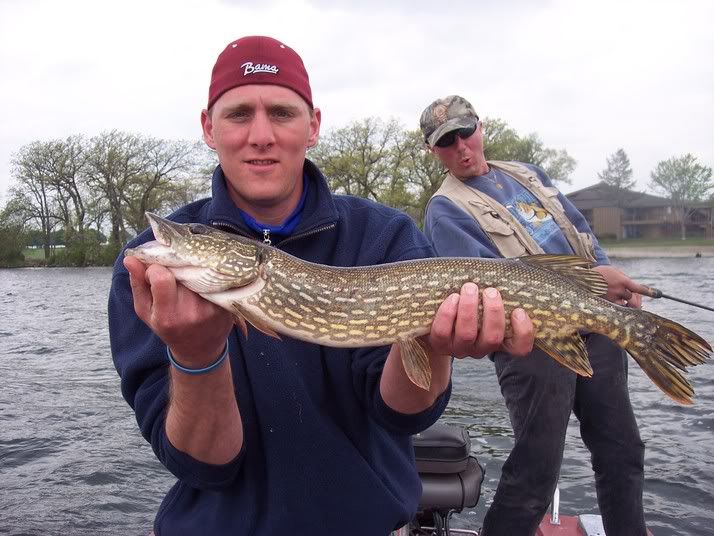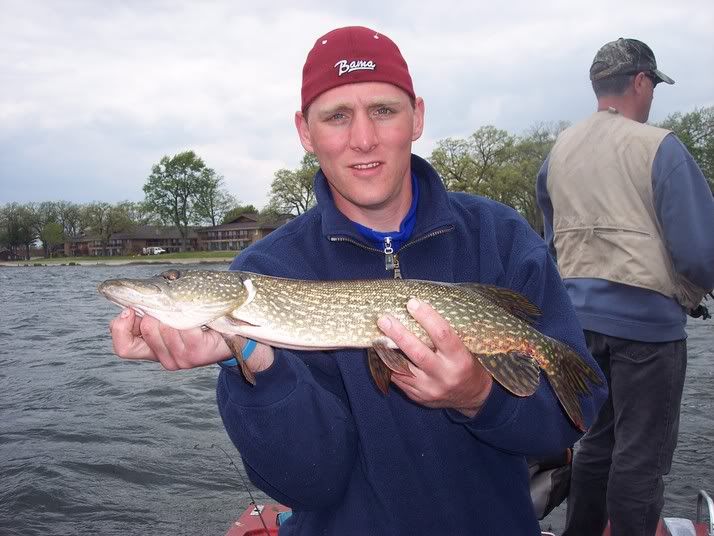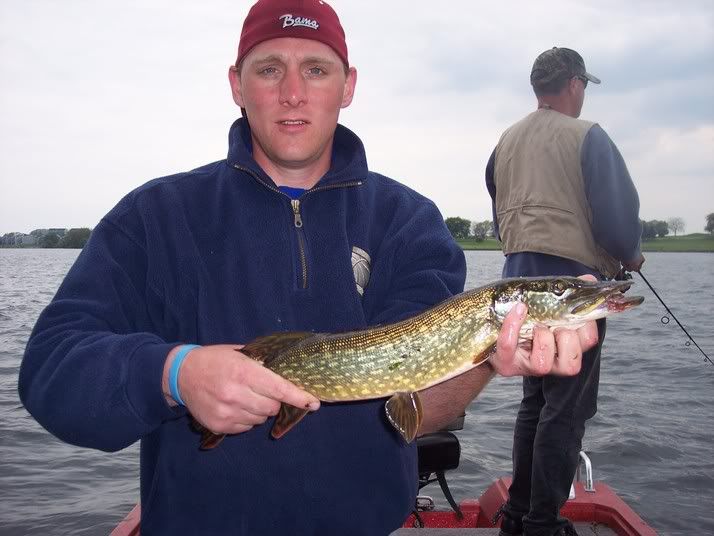 Yami caught so many we stopped snapping pictures. He even nailed one while on the phone with his wife. Now that is talent
2
Mike had some fun too.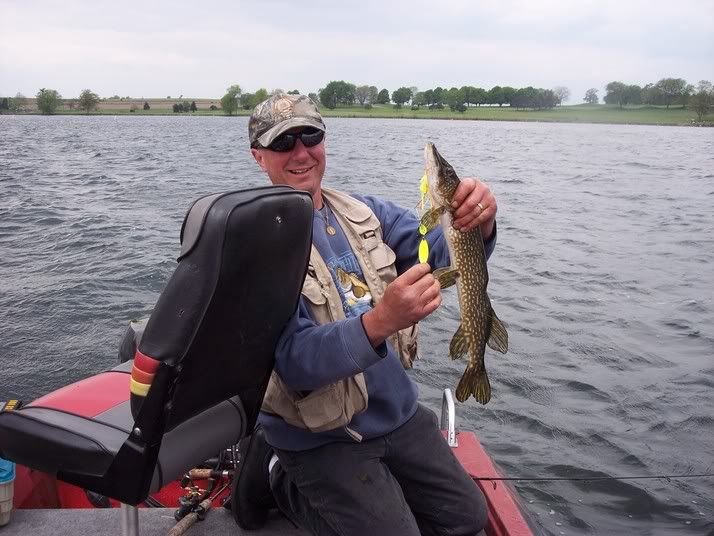 ....and was finally convinced that a stick bait may work!!!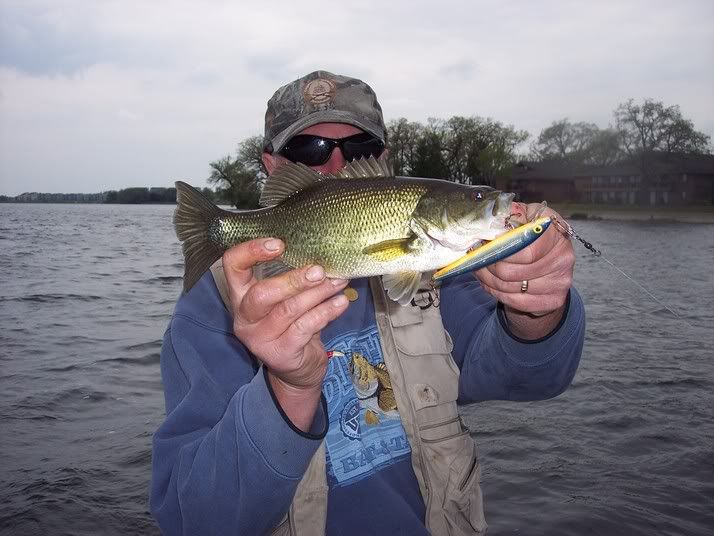 I lost another X-Rap when an unseen hog pulled the lure right out of the 50 Lb. rated snap swivel
I tied another one and after wading through some snakes Mr. Walleye finally said hello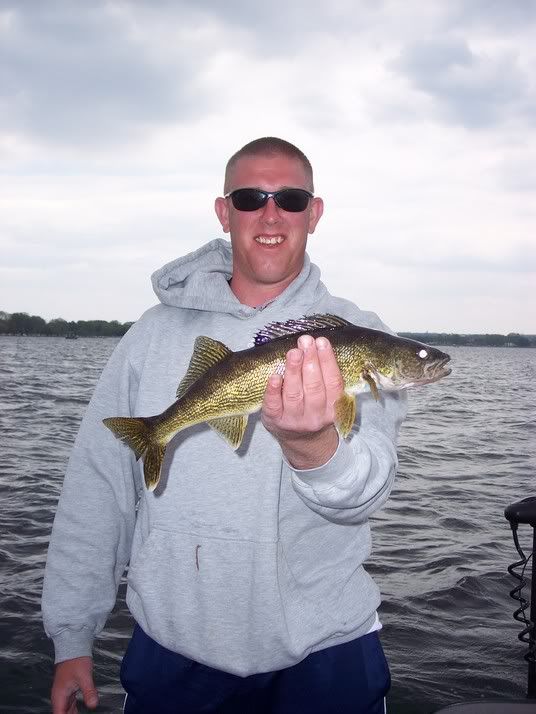 After the walleye I lost another X-Rap on a hit and run breakoff and Yami suggested I quit crying and put the LuckyCraft Pointer back on
Thanks for the suggestion Yami
2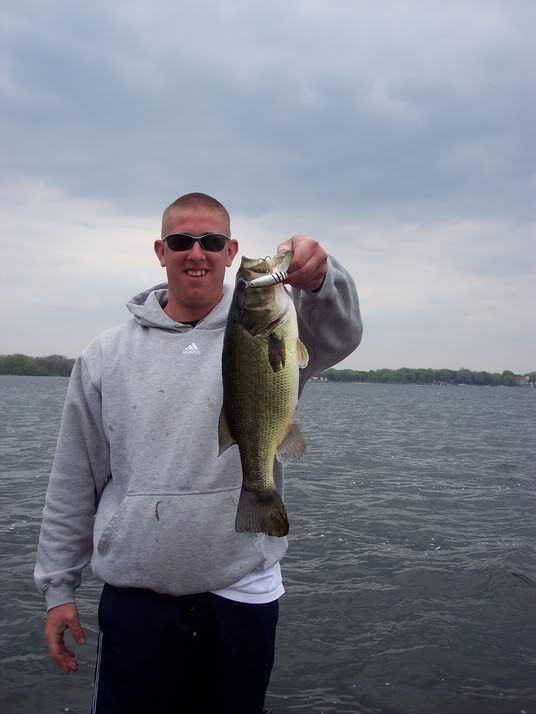 Wow, what a trip. Yami and I figured out that we spent 38 of the 56 hours we were there on the water. We definilty got our fishing in. Thank you Yami and Coyote for a great time. We all caught some fish and will have some fond memories. The best part about it is that this is only the first weekend. We put the fish "on notice" for the rest of the season. Hopefully we can make Delavan Opening Weekend a tradition for years to come :-D