Discussion Starter
·
#1
·
Since I'm a noobie I thought I would break the ice with a recent outing on the Kankakee. Looking forward to future outings/postings!!
Headed out to the State Park area on the Mighty Kankakee River with storm clouds a plenty over head. I was hoping that the forecast was wrong as it was the day before. Got down to about Joliet and it started to pour down in the early afternoon. Hell I was already on my way and I could see broken clouds with blue sky ahead. Got on down to the state park area and although there were some huge clouds in the sky the rain had subsided. Got on the river which was at normal levels, accessible for wading.
As a couple of friends and I worked the river we didn't nearly get the response that the prespawn period provided. This was probably. due to the front moving thru and, I suspect, the area being picked over since it was a Sunday. Still we managed to nab a few smallies...the one below being one of them.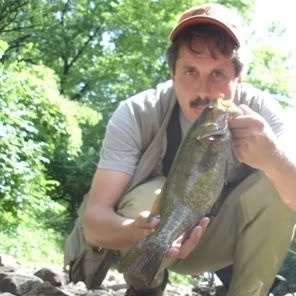 Had the slip bobber working to land him on a bass minnow. Since it continued to be a bit slower then expected we moved on to the next area. I had a couple of helgies with me so I broke out a fresh one for the smallies to have at. I was expecting a frantic surge of smallies to rip this sucker apart...that never happened. I did get a couple shown in the pics below.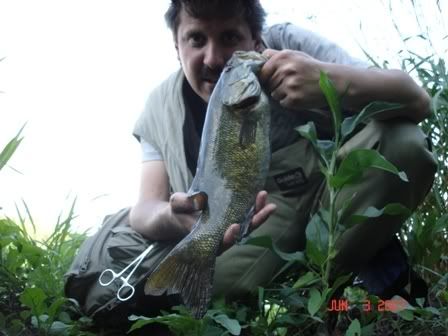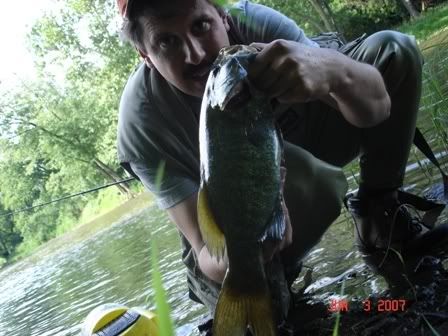 I tell ya, where's a tripod when ya need one!
As far as the others that were fishing with me, they faired about the same with fish being taken on a double tail grub(black). The other one was breaking in the fly fishing rod and managed to land a few fish while perfecting the casting technique.
Water clarity was about 2 ft. with temps fluctuating as the clouds moved in and out blocking the sun. Beautiful day on the Kank with the sun's rays bringing out the deep, vibrant colors of the scenery around us. I could just sit there and soak in the view and save that memory for a rainy day.