Discussion Starter
·
#1
·
I got to fish beck lake labor day morning with TGE and I'm sure glad we did. We got out around 6:15 a.m. and fished till 9:30a.m. The bite was o.k. it was just a matter of getting them hooked they weren't grabbing the whole bait only the tips of them. That is until I casted to a spot that i saw a fish swirl in. Then is when the action got intense, i felt a big hit on the line, reeled in a little slack, then SET THE HOOK!!!! The first words out of my mouth were oh my god this is a huge fish. The completely bent in half and the drag just screaming. Finally the fish makes a run out of the weeds and straight for the boat the only problem is im having trouble pulling this fish up from the deep he just wont budge. then finally right next to the boat me and Rudy see this huge fish and we were in just awe.
Rudy grabbed the net and with one scoop landed this beauty for me. The fish measured just under 21" and on my shitty scale the fish weighed 4.6lbs but i can bet that fish was around the 5# range. Heres the only pic I have but Rudy has couple others im sure he'll post.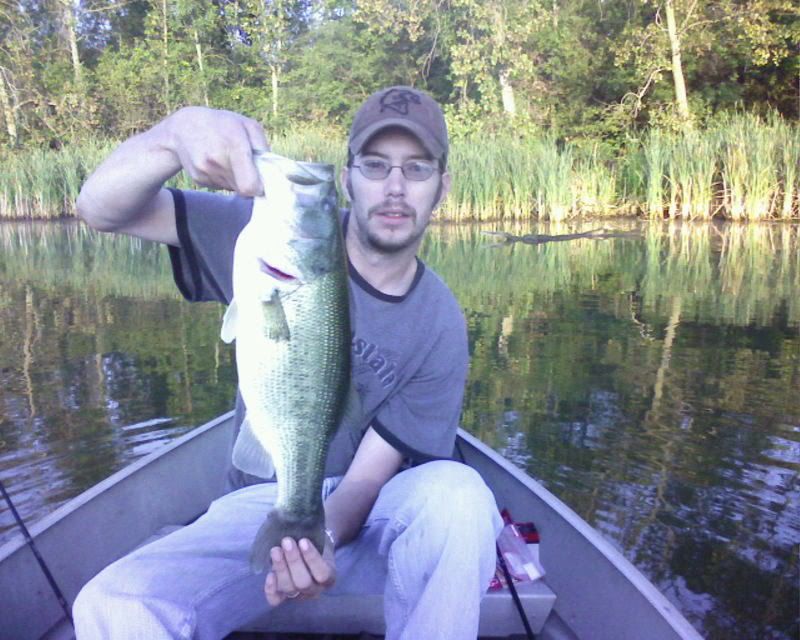 By the way this happens to be my personal best also. first bass over 20" too. fianlly broke that 20 mark i've had tons of 19"s. really truely feels great i can still feel that fish fighting.