Discussion Starter
·
#1
·
Headed up to one of my favorite spots to fish last week for a family vacation with my father(in from NorCal), my kids and girlfriend. Stay in a cabin on the water so I had pretty quick access to fishing when we weren't swimming and doing other family things. Probably fished 4-5 hours a day mostly in the early morning and early evening. We intended to fish for Esox and smallmouth. But, ended up fishing mainly smallmouth because the bite was so good. Up until this trip I had only caught one smallmouth in my life. Now I know what I was missing. They are very tough fighters and in my opinion better fighters than the largies.
We started fishing Sunday on our home lake. Not to much success that night. But, Monday we went to another lake that I had picked out a few areas that might hold my now favorite brown bass. I hit the nail right on the head. This spot produced all 5 days. The only question everyday was what depth they were at. One day they were shallow and hiding under docks. The next day they were in 10 feet of water. On another day they were holding up in structure in 15 feet of water.But everyday the spot produced. The only downfall was the long run we had to make from our home lake. We decided to fish our home lake at night just before dark and found a few spots that were productive. Same thing as the other lake though. We had to experiment to figure the depth out. We weren't sure if they were prespawn or post-spawn. When we got there the water was 62-63 degrees and when we left it was in the upper 60's. These fish were pretty aggressive.
Here are a few pics of my fish.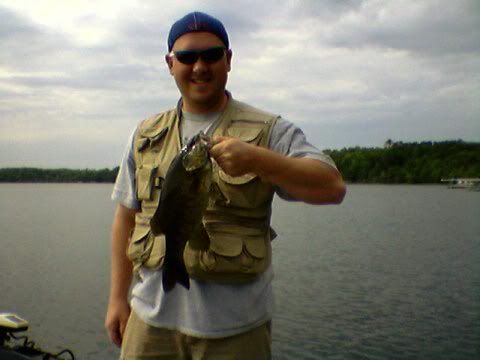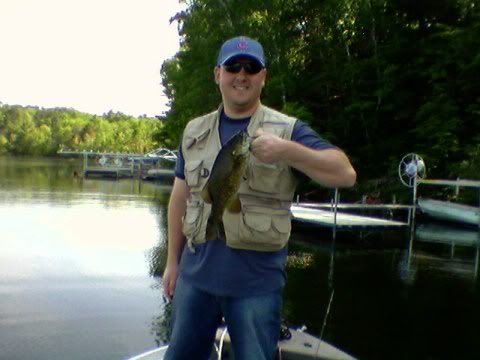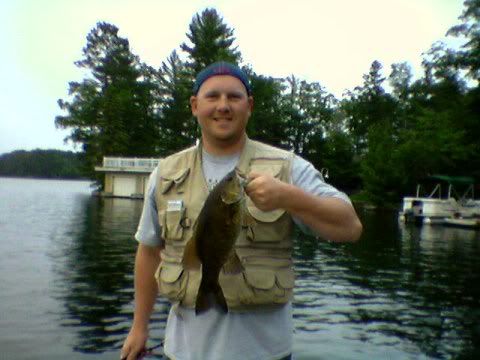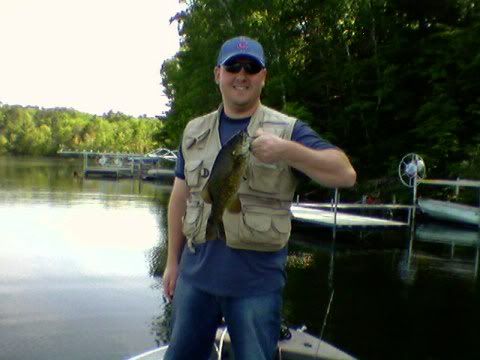 This was my biggest smallie at 3 lbs. 8 oz. Had to boat flip this one (which I hate doing) because she hammered my Super Pop R and it was lodged in sideways with both trebles in each corner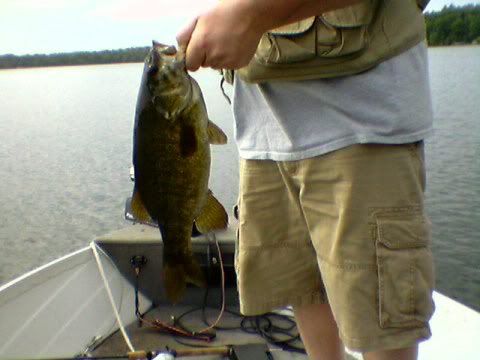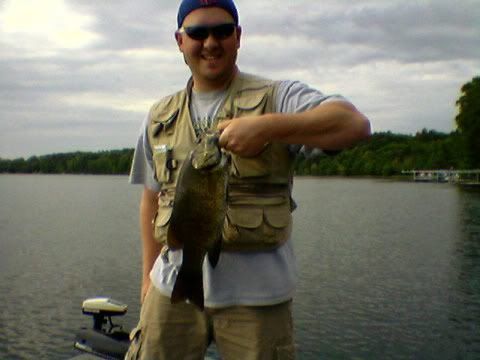 These are few picks of my father and some of his fish. He outfished me because the first day I lost quite a few fish and he kept telling me to change rods. Of course I only listened after loosing 10 out of 20 fish. The last picture is of his very first pike. Being from NorCal he does't really get a chance to fish for them.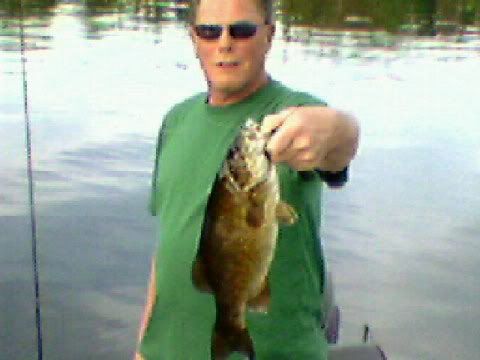 Swimbait Snake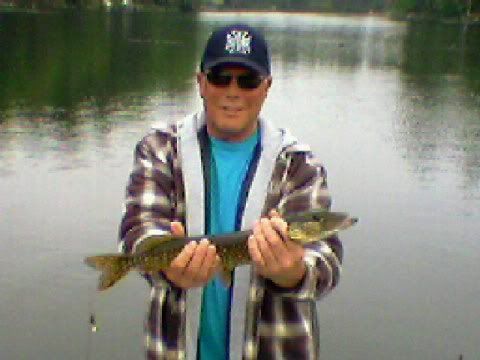 Trip Totals
Smallmouth Bass=60+ (lost count one day)
Rockbass=2 (slammed 6"senkos :shock: )
Northern Pike=1
Walleye=1 (nailed a Super Pop R :shock: )
Most of the Smallmouth were 2-3 lbs which made for quite a few carbon copy fish. Had 10 fish 3 lbs and over up to the 3.5 lber. We concentrated on 3 ways to catch them. 5 and 6 inch senkos in darker colors with brighter flake, Drop-shotting roboworms, and Super Pop R's. The Pop R's were the funnest of all. We caught a fair number of them on those. Pop, Pop, SLAM :lol: They even hit the poppers in 15 feet of water which is where I got the biggest one. We switched baits when the bite went dead.
My father said this is the best smallie fishing he has ever had. Wants to go back next year. I don't have anything to compare it to. But, that is just fine by me.