Discussion Starter
·
#1
·
Let me start out by saying that Minnesota is the s*** when it comes to fishing!
This last week I took a trip up to the Brainerd Lakes area for some dynamite fishing. One thing I did notice in going up there was that the weathermen had it all wrong. The forecast indicated a decent weather pattern with the sun showing itself daily. In reality we encountered a nice little front that brought with it overcast conditions with 15-20 mph winds for 4 days straight. Talk about being off the mark!
The fact that we still managed to pull off a pretty decent trip speaks volumes for the quality of fishing to be had up there. We spent a couple days on Mille Lacs where we took on some white water that could have been used to film " The Perfect Storm 2". A true test in keeping my lunch down. At times, this forced us to find smaller lakes where cover could provide a calmer water condition. The smaller lakes paid off in decent largemouth and pike with a few crappie in the mix. The days we found the courage to hit Mille Lacs paid off in some decent smallmouth fishing capped off by my PB walleye and smallie. This could not have happened with out the skilled boatmanship of my buddy and a little something called GPS.
Considering we were half hour away from Mille Lacs...it would be short of a felony to not fish it.
My friend kept us on the fish by doing alot of drifting and strategic placement on and around the reef that holds fish up there. The preferred bait up there turned out to be tubes and jig and leeches. On one day we caught our fair share of smallmouth, some that rivaled the fishing shows we drool over on Saturday mornings. While chasing the smallies we managed to land a good number of jumbo rock bass. They grow the rockies big up there and the fight can be compared to fight of the smallmouth that we see here in Illinois.
Well enough with the rambling, lets move on to the pictures that tell the true story. The dates are a bit out of order but I wanted to start slow and end up with a big bang.
Here we go.
The smaller lakes provided alot of good largies that took to the senko like white to rice.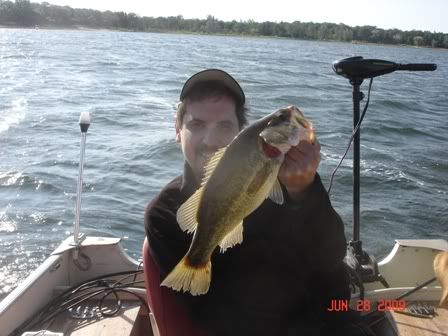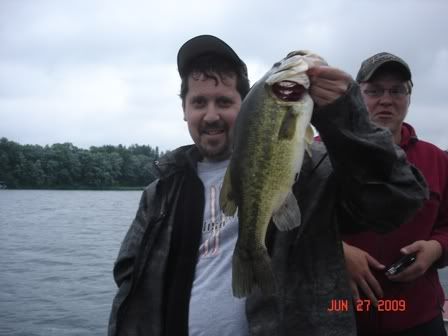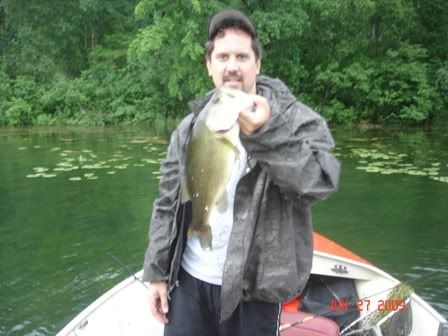 We fished close to shore along the weedline and lilly pads, the fish also were to be found in deeper weed lines. I don't find myself in boats often so I found it interesting slaying bass on an outside weedline that could easily extend a couple hundred yards from shore.
The next pic was taken at the lake I stayed at with the friend that is fortunate to live up there. I was just casting off the dock and in short order caught crappie, rock bass, gills, small pike and this guy here.
What made it interesting was that I was using my 48" ultralight with twister tail.
On to the Mighty Mille Lacs: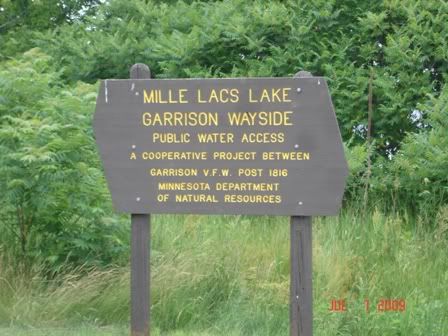 Both days welcomed us there with a strong wind and healthy chop to the water. Even with these challenges ahead my friend put us on some fish like this beaut.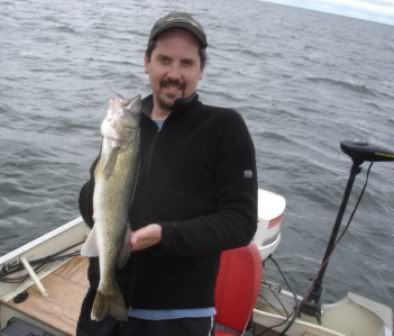 Along with the rock bass we managed some smallmouth. The very last day I was there I found a fish with a big appetite that was only shadowed by it's bigger girth. This was my highlight of the day and the others in the boat found themselves on similar bounty. A testament to what this lake has to offer.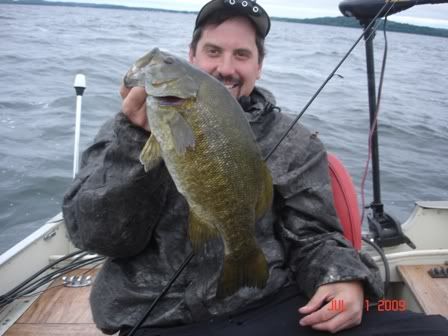 The best part was that I happened to be rolling the video when this catch took place. I was checking out of the many loons we saw while up there. The video lacks a steady hand but the outcome captures a memory that may last a lifetime for me. Check it out.
http://s16.photobucket.com/albums/b10/j ... V029_1.flv
Let's hope they are biting this fall since I've already indicated that I may darken my friend's doorstep for another adventure.
JB