Discussion Starter
·
#1
·
So I've been scouting my area (around the U. of I campus) and I've found atleast 5-6 different lakes/ponds to fish.
Today I found one residential lake and I was heart-broken at this dead bass I found on shore........ I was fishing and almost stepped on it and freaked out thinking it was a dead carp, but I looked at its mouth and it was certainly a freaking monster largemouth bass. I put my sandal right next to it to show you how big the bass was (my sandal is 12" long) so you can do the math on how big it was.... I'm guessing it was 5-6 lb + ?!?!? (I realize that it doesn't look that big in the picture the angle makes it not look that long... but I could have put my fist in its mouth!!!!)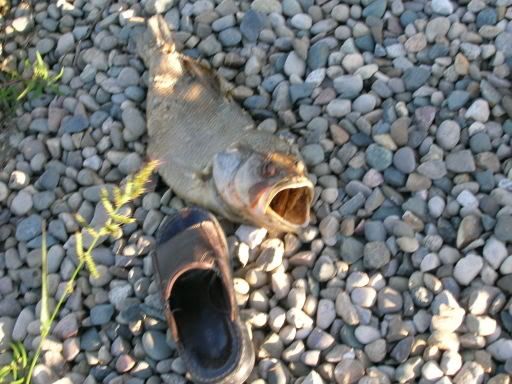 Here's one of the guys I pulled out on one of my new favorite baits -- a texas-rigged black/blue 3-4" tube dragged along the rocky shoreline.
I'm definitely going back to this lake..... catch me a 5-6lber!!!!