Discussion Starter
·
#1
·
Since we have been having a touch of warm weather lately I've noticed that the bite has diminished a bit. I've had to work harder for the few fish that I've been catching. It's an oven out there during the day and I can't say, for as much of a fishaholic that I am, that I wanna get out on the water. So my interests are limited to sunset and the nightbite.
Last night I went out to a pond in the Joliet area to try my luck at a bit of nightfishing. I didn't hit the water til about 11 pm due to other restraints and so it was already later then desired.
Anyway I took the old school approach and bought a couple of those little glow sticks that you can attach to the slip bobber and started casting in the general vicinity of the deeper hole in this pond. I'm still working on the nite fishing with artificials but for now I'm going to the tried and true.
On the first cast I was shocked to get a nice strike with some pulling power. After a short battle I managed to land this guy: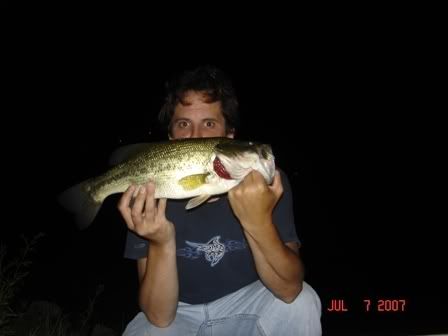 That got me a bit excited so I didn't hesitate to toss out the line again...during which time I continued to get an exceptional number of bites. There are a fair number of gills out there so I had to kind of work my way around them. It took awhile to get the next decent hit which burned my drag running several times before ultimately busting the line.
After a bit of frustration and excitement I moved down a bit and worked the hole from that viewpoint(actually no viewpoint since it was freakin' dark out there). Another drag burner grabs on and this time I'm not going to let it get the best of me. This sucker ran several times and I was almost giddy thinking it was a hawg! Played him out and landed the fish which turned out to be this guy:
He came in around 1245am......so we got cats and bass...and gills. Not a bad assortment. Of course I got the line back out there and things slowed a bit. Still some action but not as much as between 11pm and 1am.
I was getting a bit tuckered out so I moved around a bit to see what else might be biting and busted this guy at the end.
He came around at about 140am.....so the bass were still biting just not as consistent. On the other hand, I don't think bluegills take a break...they were a guaranteed strike throughout the whole time I was there. Why couldn't they be crappie, I probably would have never gone home if that were the case!
Looking forward to the next night bite!