Discussion Starter
·
#1
·
Hey guys!
I signed up and am starting to fish these Northern Illinois Bassmasters Tournaments with my High school partner james. We had our first tournaments today, a morning tournament and an evening tournament. We have guys from the Wisconsin Bass Federation donate their time to come out and take us on their boats, the plus for them is they also get to fish but they aren't in any tournament or anything.
To the fishing, today was surpringly TOUGH. We had about 8 guys in our 15-18 year division. Morning session went from 7-1130am. Since delevan is an 18+ inch 1 fish limit, we could only weigh our biggest fish and the other keepers are 14inches or more but they are measured by inches and you record how many inches caught on a chart each boat gets. In the morning i landed a toad that weighed 5lbs 5 ounces. This is all it took in the morning for me to win 1st
4 other kids in our division caught 1 fish but nothing over 18inches.
In the evening tournament we switch boats. Evening was extremely tough too! I finished 2nd in this tournament with a 16.5 incher that "they" estimated to be 2lbs 9ounces which looking at this picture looks pretty accurate.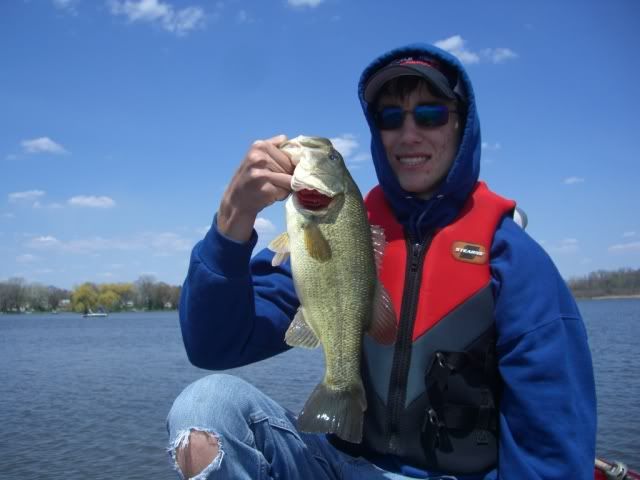 So all in all in was a fun first two tournaments. Also like I said our boaters could fish, my boater was just trying to find us fish and not stick them, but he had no choice as this 5lb 14ounce SLAB nailed him.