Discussion Starter
·
#1
·
I decided to go out and do some fishing so i gave angel a call.And in thirty minutes we were out. We only fished alittle while because we needed to get back for the bears game. Angel unfortunently had no luck.
I ended up with two Blue gill and another green sunfish which fell off when I tried to lift him up.
Here's some pictures of are outing.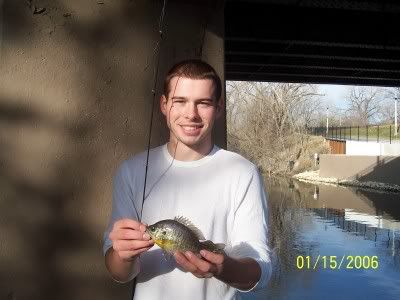 Temp: 41
Sky: Partly Cloudy
Wind: SSE 15 mph
Water: Clear
Water Temp: 38
Water vis.: 1/2 ft.
Rod: 6'0 Berkley Lightning stick Med/light
Reel: Rapala Size 20
Line: 4 lb Trilene Sensation
Lure: 1/62oz white nail tail
Technique: Let current take down stream and brought jig slowly up through weeds. Bites were very lite, If I was able to down size my presentaion would of pulled in a lot more fish. But was a last minute thing today.
George
Perch Guy
Angling 101
Chicago Il.