Don't Forget about my Blog, It's Come along way since most of you have previously Looked at it.

www.Landingthebigone.blogspot.com

I Apologies for the Late post, As I had a very Long Sunday. This Morning I hit the Same Bridge I hit On Saturday morning but this Time I hit it with Sara. Sara did well hooking up with 8 Bluegill on Her Light out fit as well as myself on mine. The Fishing was a little harder for me today as There is New structure in the Surrounding area and the water Was only 5 " of clarity. so we were very careful on not losing our jigs in which we were already short supply on. I did end up catching 15 Fish total including Another crappie and Large Mouth bass. But the fish were suspending in 3 Feet of water While we were fishing about 6" above there head maybe a little more. But I did have a great time out with Sara today. We had a few laughs, Hugs, And Kisses Including Fish So Overall I think anyone would call that a success.

Here's Pictures of our outing, Sara Didn't want any of her today (Bad hair day I guess) So It'll Just be My Ugly Mug once again :aaathumbsup:

This is me Posing With the Large Mouth Bass I caught Jigging For Blue Gills.




Here's a Blue Gill I Took a Few Pictures of, Really Getting me Excited... He Was a jumper :aaasecret:



And Here is Me Posing with My Crappie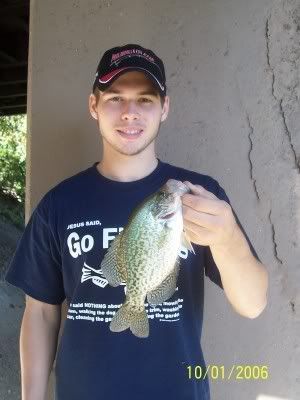 ~Conditions~

Temperature: 65

Sky: Mostly Sunny

wind Range: Light 0-10MPH

Wind Direction: west

weather trends: Stable
Barometer: Rising

Water temp: 64

Water Color: Brimey green

Water Visibility: 5-7"

Current Conditions: Slow

Bottom Conditions: Sheet Rock/Gravel

* Georges Out Come*

Caught: 15

Lost: 0

Released: 15

*Sara's Outcome*

Caught: 8

Lost: 0

Released: 8

Fish Health: healthy

*Equipment/Supplies*

Bait/Lure Presentation: Slow

Rod Used: Berkley Lightning stick 6'0 med/lite

Reel used: Rapala Size 20

Line used: 6lb Trilene XT

Lure/Hook: White

Bait used: ----

Beverage: Gatorage Grape

Flasher- ---

snack:Beef Jerkey

Repellant: ---

*Season Tally*

Season Skunks: 2

Season Fish: 815

Season Outings: 61

George

N.W. Chicago Illinois



[email protected]



Multi-Species Fisherman
:aaasunsmile: