Discussion Starter
·
#1
·
This Report and Post is Dedicated to Angel Duran who is in surgery as we speak their operating on his right leg. Have a safe and speedy recovery so we can get back out there 2thumbsup
James and I arrived at 1:00pm And Fished untill 5:15pm.
Feeling good from my first bowling match the previous day in which I bowled a 132 and second game a 143 We won versus Lake veiw High school. This was only my fifth time bowling in my life and first competition.
Fishing started ok... I hooked into about an 8 inch Greenie then my brother followed right after with a bull head. After that I hooked and landed a carp and he hooked into a nice channel cat that came un hooked close to shore
OH: The Rest of the day was ok My brother ended up hooking a HUGE carp and I managed to get the opportunity for a huge caro 16+ Pounds and the hook came flying at me after about a 5 minute battle aarg Today we fished sumerged Stumps We Were fishing right on top of them Right after the stump was a steep drop off and these fish seemed to have all congergated to this area.
Here's Pictures To tell the rest of my story :LOUD: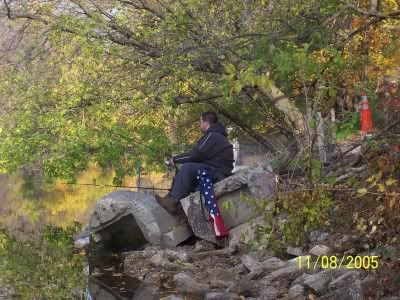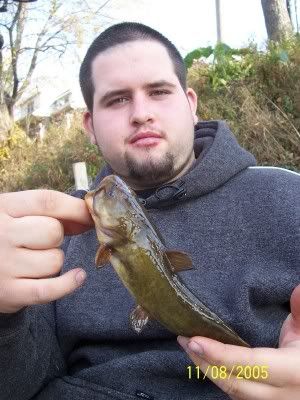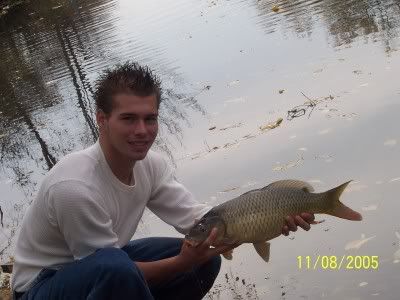 James's Carp Caught on White Bread 20lbs 6oz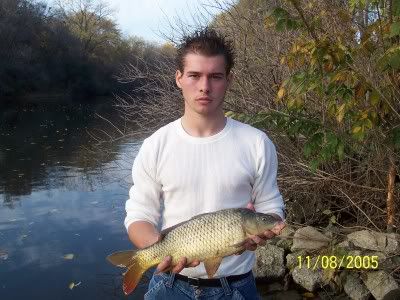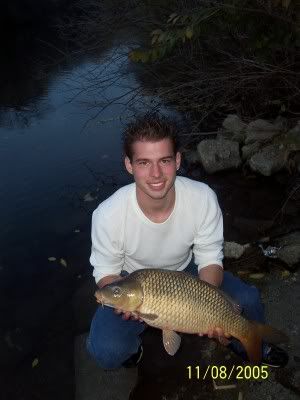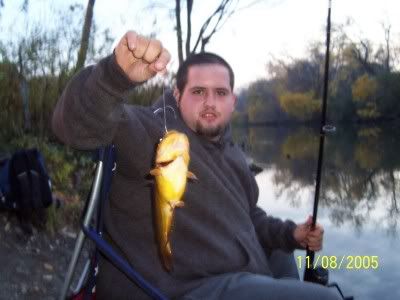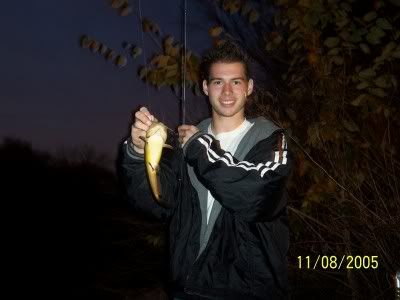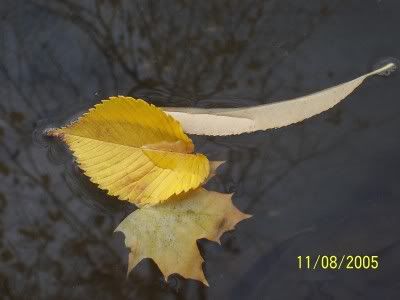 Total Catch:
James 2 Common Carp, 2 bullhead
George 3 Common Carp, 1 Bullhead, 1 Green Sunfish
Temp: 59
Wind:ESE 8 mph
Sky: Overcast
Water: Clear
Water Temp: 62
Water Vis: 2 1/2 Feet
Rod: Diawia Fire Wolf 10'6 Med/Lite
Reel: pFlueger Trion 7 ball bearings
Hook: Size 6 Bronze Bait holder
Line: 8lb Tielen XT
Presentation: 3/4 oz Egg Sinker Attached to barrel swivel on main line able to slide free. Lleader then attached to swivel and size 6 hook. Leader was 11 inches long.
George
Perch Guy
**********
Chicago Il.
19-6
woot