Discussion Starter
·
#1
·
. ALL SPECIES RELEASED SUCCESFULLY !! .
ON THIS VERY, VERY CHILLY MORNING I DECIDED LAST NIGHT TO HIT SOME COLD WATER CARP.... BUT AS THE GIRLFRIED INSISTED ON GOING I CHANGED MY MIND TO HIT SOME PANFISH. WE ARRIVED AT THE RIVER AROUND 8:00AM AND FISHED UNTILL 10:00AM AS SARA, MY BROTHER AND I BRAVED THE ELEMENTS THERE WERE FEW FISH CAUGHT.
I TOKK ABOUT 10-15 MINUTES LOCATING THE FISH AND AT WHAT DEPTHS ETC. THEN TOOK A LITTLE WHILE TO TEACH SARA THE BASICS SHE LEARNED VERY QUICK AND WAS JIGGING HERSELF. SHE CAUGHT HER FIRST FISH A BLUEGILL ON A PINK/WHITE RATSO ICE FISHING JIG WITH A SMALL PIECE OF PORK PLASTIC ATTACHED TO THE BACK. THEN THEY SLOWED ALITTLE. MY BROTHER JAMES TRYING HIS LUCK FOR CARP (EURO STYLE WHICH WE ARE GETTING INTO) HAD ONE BUT PULLED THE HOOK. I ENDED THE MORNING WITH 9 BLUEGILL THE BITE WAS REALLY LITE AND FISH VERY TIGHT TO STRUCTURE AFTER THAT VERY GOOD DROP IN TEMPERATURE THE LAST 2 DAYS.
HERES PICTURES OF THE OUTING, WITH THE NEW HUNTING/FISHING VEST I'LL BE SPORTING THIS FISHING SEASON
NORMALLY YOU'LL NEVER SEE ME COVERING UP A FISH WITH MY FINGERS.... SO WE MAY ADD THIS TO THE BLOOPERS.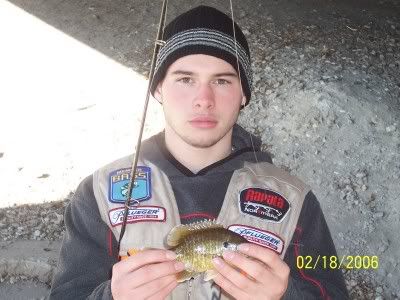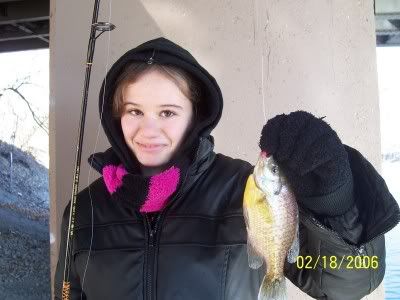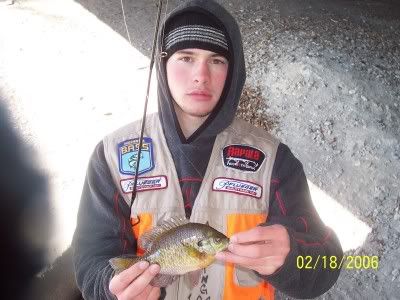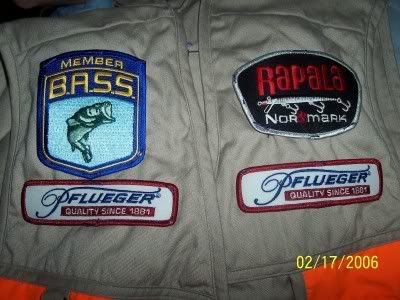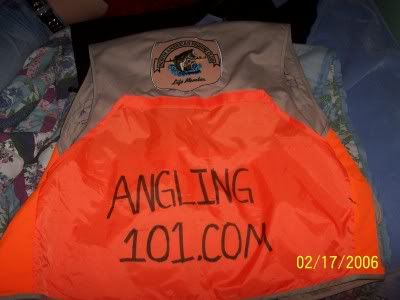 TOTAL CAUGHT:
JAMES: 0
SARA: 1 BLUEGILL
GEORGE: 9 BLUEGILL
LOOK FOR CARP REPORT TOMMOROW MOST LIKELY I'LL HEAD OUT !!
TEMP: 5
WIND CHILL: -10
SKY: MOSTLY SUNNY
WIND: W 15 MPH
WATER: SLIGHTLY STAINED
WATER TEMP: 43
WATER VIS: 2 1/2 FEET
ROD: UGLY STICK LITE MED/LITE 6'0
REEL: PfLUEGER TRION 5 BALL BEARINGS
LURE: 1/62 OZ LEAD HEAD JIG WITH GREEN TROUT MAGNET PLASTIC
TECHNIQUE: LET HIT STRUCTURE AND SLOWLY DRAG IT UP AGAINST IT STIRRING ALITTLE DIRT OFF THE BOTTOM.. THEN LETTING IT DROP FISH HIT WHILE PULLING IT ALONG STRUCTURE
APRECIATION:
SPECIAL THANKS TO
NAFC FOR SUPPLYING LINE AS WELL AS ROD
GEORGE
CHICAGO IL.
PERCH GUY
**********
MULTI- <((><