Discussion Starter
·
#1
·
This Morning From James And i woke up, I was Called to Make The Breakfast. After a nice Warm Breakfast consisting of Corned beed Hash, Bacon, Eggs, And Biscuits We Set out to a Local Spot on the River With the Want of a Few Common Carp. We Arrived at 10am and Fished till 1pm. the Fishing was Slow at first After I finally Located some Vegetation Near the Right Current Break We Qucikly Baited and Fished the Area. the Carp were There and After a Few Minutes started feeding pretty heavily. the Freaky thing is Right when My Line hit the water and Sank to the Right depth I was getting hits, But i only landed one Carp today. Using 6lb Fluro-Leader i had 3 Common carp snap on the hook set and one pulled the hook out on the run, thats 4 Carp missed. James Also had the similar problem but also did land one. Thats a Good Sign, And Can't wait to get out again For whatever it is We decide to go after.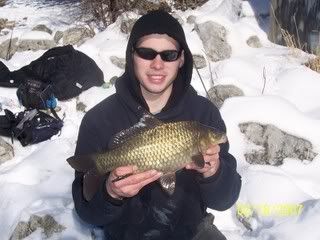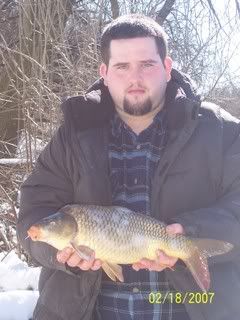 ~Conditions~
Temperature: 21
Sky: Mostly Sunny
Wind Range: Light ( 0-10MPH)
Wind Direction: SOUTH
Weather trends: Stable
Barometer: Lowering
Water temp: 45
Water Color: Slightly Stained
Water Visibility: 1 Feet
Current Conditions: Moderate
Bottom Conditions: Rock/Weeds
* Georges Out Come*
Caught: 1
Lost: 4
Released: 1
*James OutCome*
Caught: 1
Lost: 3
Released: 1
Fish Health: healthy
*Equipment/Supplies*
Bait/Lure Presentation: Slow
Rod Used: Ugly Stick Light 6'0 Medium/light
Reel used: pFlueger Trion 7 ball bearing
Line used: 6lb Fluro Carbon
Lure/Hook: Size 12
Bait used: Special Preperation
Beverage: ---
Snack: ---
Repellant: ---
*Season Tally*
Season Skunks: 0
Season Fish: 37
Season Outings: 4
George
Perch Guy
Chicago il.
Multi-Species Fisherman
:aaasunsmile: