Discussion Starter
·
#1
·
HIT THE RIVER WITH THE BIG BROTHER JAMES IN THE HOPES OF CATCHING SOME COLD WATER CARP. WE BOTH SETUP AND FISHED THE SAME AREA TRYING EVERYTHING FROM WHOLE KERNAL CORN, TO BREAD, TO VANILLLA CARP BAIT WITH MINIMAL SUCCESS. AFTER ALITTLE WHILE WE SWITCHED TO A FRESH BATCH OF SPECIAL PREPERATION BAIT THAT MY BROTHER JAMES HAD MADE. JAMES AND I BOTH ENDED THE AFTERNOON WITH ONE A PIECE. THE FISH WERE THERE BUT VERY PICKY,15-20 FEET OUT FROM SHORE IN 5-7 FEET OF WATER HOLDING REALLY TIGHT TO THE BOTTOM. BITES WERE REALLY, REALLY LITE BUT JAMES AND I MANAGED TO PULL THESE WARM WATER SPECIES ONTO THE SHORE IN VERY COLD WATER WHICH IS VERY DIFFICULT TO DO.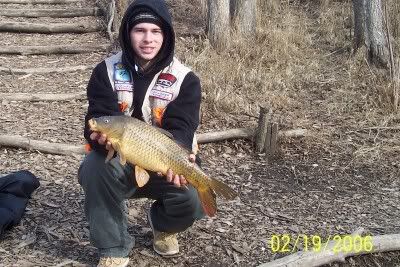 JAMES DECLINED TO TAKE A PICTURE WITH HIS, BUT WILL DO NEXT TIME :aaathumbsup:
TOTAL CATCH:
JAMES 1 COMMON CARP 2-3 LBS
GEORGE 1 COMMON CARP 4-5LBS
TEMP: 19
SKY: MOSTLY SUNNY
WIND: SW 13 MPH
WATER: STAINED
WATER TEMP: 43
WATER VISIBILITY: 1 1/2 FEET
ROD: DAIWA FIREWOLF 10'6 LITE
REEL: pFLUEGER TRION 5 BALL BEARINGS
LINE: 8LB TRILENE XT
LEADER: BERKLEY VANISH FLURO 6LB 15 INCH. LONG
HOOK: SIZE 8 BRONSE BAIT HOLDER
SINKER: 1/2 OZ EGG SINKER
BAIT: SPECIAL PREPERATION
ATTRACTANT: SPECIAL PREPERATION
SPECIAL THANKS TO:
NAFC/ICA/BERKLEY
GEORGE
CHICAGO IL.
**********
PERCH GUY
MULTI-<((><