Discussion Starter
·
#1
·
AFTER GOING AND GETTING MY DRIVERS LICENSE.. AND INSURANCE I QUCKLY HEADED OVER TO THE RIVER IN HOPES OF FINESSING A FEW LARGE MOUTH BASS. A GUY FISHING, JIMMI WHO GUIDES FOR WALLEYE AND MUSKIE ON THE WISCONSIN RIVER HAD CAUGHT TWO PREVIOUS TO MY ARRIVAL. HE WAS THROWING A 5" GREEN TUBE ON A SIZE 3/0 WIDE GAP RED HOOK. SO AFTER I STARTED FISHING 15-20 MINUTES LATER HE LEFT. I STARTED THROWING A BLACK/RED STORM FINESSING WORM WITH A SIZE 2/0 WIDE GAP EAGLE CLAW LAZER SHARP HOOK. I CAUGHT TWO AND MISSED A THRID ON A LINE SNAP... A NICE ONE BUT NOTHING GREAT THE LINE SNAPPED ON THE HOOK SET, FIRST TIME I FORGET TO RE TIE MY KNOT :aaathumbsdown:
HERE'S PICTURES OF THE OUTING !!
2LB 6OZ ( WEIGHED ON BERKLEY 50LB DIGITAL SCALE)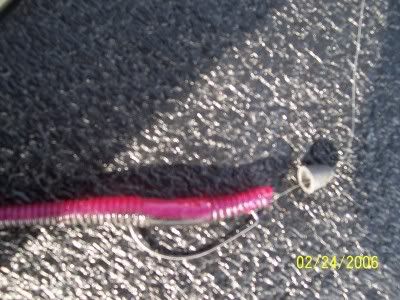 TOTAL CATCH:
JAMES: 0
GEORGE: 2 LARGE MOUTH BASS
TEMP: 35
SKY: MOSLTY CLOUDY
WIND: 15-25 MPH SW
WATER: CLEAR
WATER TEMP: 43
WATER VISIBILITY: 2 1/2 FEET
ROD: BERKLEY LIGHTNING SERIES 6'0 MED. LITE
REEL: RAPALA SIZE 20
LINE: 4LB TRILENE XT
LEADER: 4 LB VANISH
PLASTIC: STORM PORPLE/BLACK FINESSING WORM 4.5"
HOOK: 2/0 WIDE GAP EAGLE CLAW LAZER SHARP
SINKER: ///
TECHNIQUE:
LET SIT IN PLACE AND MOVE ENOUGH WHERE TAIL WIGGLES BUT LURE DOESN'T MOVE... THEN A LONG SLOW RISE... THEN DROP.. REPEAT.
SLOW..SLOW..SLOW
SPECIAL THANKS:
///
GEORGE
PERCH GUY
A101/WCF
CHICAGO IL.
MULTI-SPECIES FISHERMAN