Discussion Starter
·
#1
·
TODAY BEFORE THE GIRLFRIEND CAME OVER I DECIDED TO HIT THE RIVER, GRABBED THE HUNTING/FISHING VEST AND HEADED OUT .. WITH LAYERS OF CLOTHING ON. I FISHED AN OPEN BANK AND WAS RIGHT IN THE WIND CAUGHT TWO OUT OF THE AREA AND HEADED FOR SOME COVER CAME UPON A BRIDGE AND FISHED IT SHEILDED FROM THE WIND, ALTHOUGH STILL VERY CHILLY. I WAS THROWING OUT PRETTY MUCH MY USUAL FOR MY CHICAGO RIVER PANFISH.. OTHER THEN THE PLASTIC I USED A WHITE NAIL TAIL ON A 1/62 OZ TROUT MAGNET JIG. WITH 6LB TRILENE XT WITH A 32 INCH 4 LB VANISH LEADER. THE FISH WERE HODING VERY TIGHT TO STRUCTURE, ONLY HAD GOTTON SNAGGED ONCE BUT THEY WERE HOLDING RIGHT ON STRUCTURE.

HERE'S PICTURES OF MY OUTING THE CRAPPIE WAS A NICE THING, ONLY DISAPOINTMENT OF THE OUTING IS ME UNABLE TO LAND A LARGE MOUTH BASS, WASN'T OF MUCH SIZE BUT REALY BOTHERS ME IF I MISS ANY TYPE OF FISH. A FEW SHAKES OF THE HEAD AND HE WAS OFF.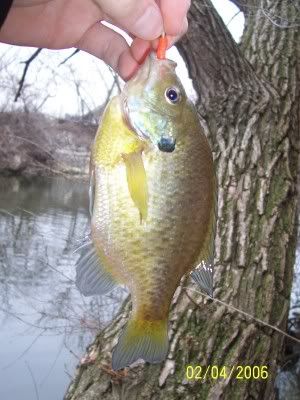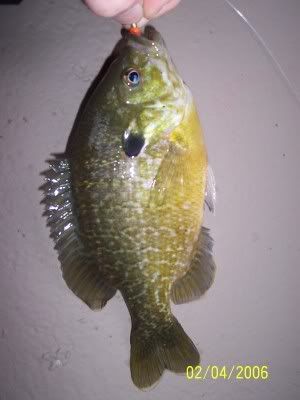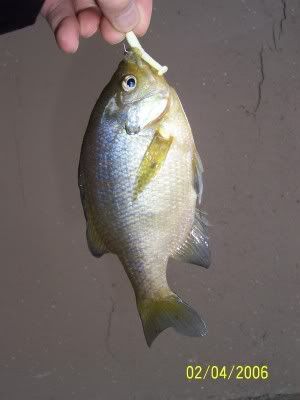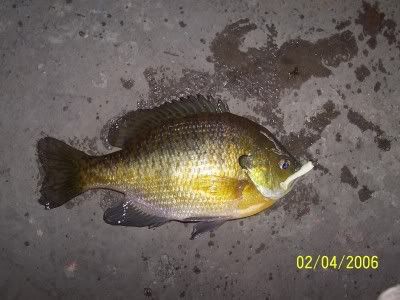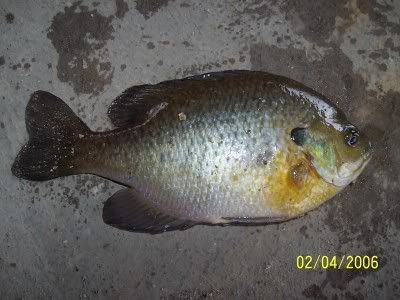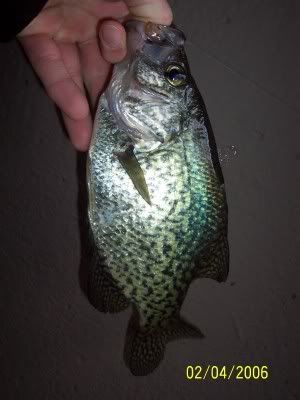 OH AND.. THURSDAY I WAS DARED BY TWO FRIENDS FOR $20.00 TO WEAR MY GIRLFRIENDS HOODIE TO SCHOOL....
HERE'S THE PICTURE... KEEP THE JOKES CLEAN GUYS AND LETS FOCUS MORE ON THE REPORT.
:aaathumbsup:
TOTAL FISH:
PANFISH (BLUEGLLS,GREENIES) = 26
CRAPPIE = 1

TEMP: 28

SKY: CLOUDY/ LIGHT SNOW

WATER TEMP: 42

WATER: STAINED

WATER VIS: 1 1/2 FEET

WIND:WNW 14 MPH

ROD: BERKLEY LIGHTNING SERIES 6'0 MED. LIGHT

REEL: RAPALA SIZE 20

LINE: 6 LB TRILENE XT

LEADER: 4 LB BERKLEY VANISH 32 INCHES

JIG: 1/62 OZ TROUT MAGNET PACKAGED JIG

LURE: WHITE NAIL TAIL PLASTIC

TECHNIQUE: LET CURRENT TAKE UNDER STRUCTURE AND TWO MODERATE SPEED JIGS AND LET DROP AGAIN... MOST FISH HIT ON THE SECOND DROP

ARRIVED: 9:32AM

LEFT: 11:10AM

GEORGE
CHICAGO IL.
PERCH_GUY
**********

:USA: :aaathumbsup: :USA: