Discussion Starter
·
#1
·
PG Report: 3/2/07 .... Pan-Extravaganza
Neil And I Hit one of Our Favorite highly Admired Wintering holes today. With the expectations of a few Large Mouth bass, Now Going in Both Neil and I Knew About the Cold front that came threw, and We also knew because of it the fish would be Holding tight to structure near the bottom. Well, The Bass We weren't exactly able to trigger a strike from, And From shore after a cold front it's to hard to do so Because you'll basically have to jig the lure in a much smaller strike zone, And continue to jig it on its head until it triggers a strike. So to make the outing a fun success we Started jigging for Pan Fish. While doing so we quickly came upon a school of White perch that lasted awhile, with the down side being we had to move a lot to find them. The Depth they were in was about 8 feet of water, The water level being raised from the melted snow and rain. They were suspended in 6 Feet of water above a small weed bed, Near some fallen brush. The fishing was considerably good, both of us Throwing light out fits with 2lb Test. We Were jigging small 14 Sized hooks with two small split shots 15" above that, And YUM Green Tube tentacles ripped off the tube and squeezed onto the hook.
Here's a Few Pictures of our Outing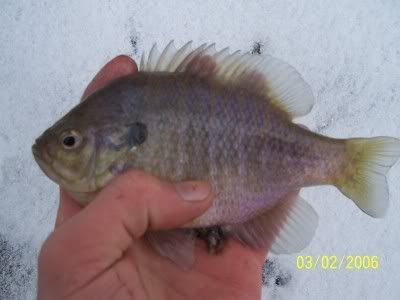 The biggest white Perch we managed Was 8" and was Really Fat. It was a great time. With a Fast bite !
~Conditions~
Temperature: 27
Sky: Cloudy/Heavy Snow
Wind Range: moderate ( 10-20MPH)
Wind Direction: East
Weather trends: Cooling
Barometer: Rising
Water temp: 47
Water Color: Slightly Stained
Water Visibility: 1/2 Feet
Current Conditions: Moderate
Bottom Conditions: Weeds
* Georges Out Come*
Caught: 25
Lost: 0
Released: 25
*Neil's Out Come*
Caught: 23
Lost: 0
Released: 23
Fish Health: healthy
*Equipment/Supplies*
Bait/Lure Presentation: Slow
Rod Used: Berkley lightning series light/ 6'0
Reel used: pFlueger Trion
Line used: 2lb Trilene XL
Lure/Hook: 2 bb Split Shots/ Size 14 Hook
Bait used: ---
Beverage: ---
Snack: ---
Repellant: ---
Special Thanks/Sponsors: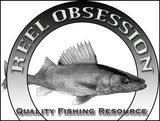 George
Perch Guy
Chicago il.
Multi-Species Fisherman
Reel Obsession