Discussion Starter
·
#1
·
Today After school Went to My Beautiful Girlfriend's House.. We wen't to alittle hispanic food joint And I had myself a Steak Burrito ... Man did that hit the spot DELICIOUS ~~!!~~ Sara Had Two steak Tacos With just cheese... And I ate 3 Jalepeanos Really tasty

:
aaahungry:

After wards we took the bus to my house.. Grabbed the Fishing Rods and hit the River My third cast I hooked into a small Large Mouth Bass .. Neil Called Asked where I was Told him and he was fishing beside me 15 minutes later... He caught two while I was there but When I left He Stayed alittle longer I think He'll update you on his catch. I was jigging Tubes once again this time switched to a light green color because the water was slightly clearer and the sun was shining.

I fished from 4:00p.m. to 5:30p.m. Here's what we managed today...Here's My Bass of the Day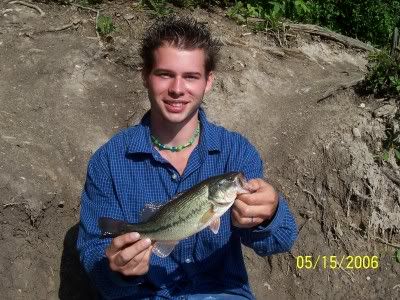 Here's one of Neil's 2 Bass While I was there




And Here's My beautiful girlfriend Sara with her 32" ....



<((><

<((><

<((><

<((><


Sara with about a 32" peice of Sea Weed ( Personal Record :aaathumbsup: )
This is what was in todays chicago tribune.. It didn't display my name or anyhting but just had my picture.. Feels good none the less.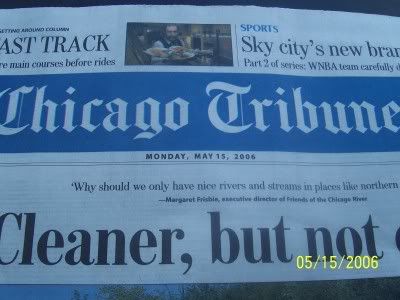 Total Catch:

Sara: 32" weed
Neil: 2 Large Mouth Bass
George: 5 Large Mouth Bass

Temp:59

Wind: N 8 mph

Sky: Mostly Sunny

Water: Slightly stained

Water Temp: 61

Water Visibility: 1 1/2 ft.

Rod: Ugly stick Med/heavy 6'0

Reel: pFlueger Trion 5 ball Bearring

Line: 10 lb Trilene Sensation ( Clear)

Lure: Light green tube

George
Perch Guy
Chicago Il.
Multi-<((><

:arrow: