8

PG Report: 5/20/06 ... PINK SLIPS (P.M.)

Arrived about 1:30p.m. And fished to about 3:50p.m. With My Beautiful Girlfriend Sara, And Brother James. Before we left though My Brother James went to pick up some tackle. He came back with a new rod, lures, scent, and line... And seemed really confident. Telling me He wants a tournament I said Fine with me. What do you want to go by? ? He says the Two Biggest Fish win! I agree... then he continues total me he wants to put something on the line. And after awhile of bickering we come to an agreement. The winner gets The Losers rod that he's fishing with with reel.etc. And gets to choose one lure in the other angler's arsenal... Now This isn't just a little friendly competition. He means business have in idea what he is trying to prove... built Knowing I can afford to lose both... I agreed... And also told myself if I win I'd let him keep everything he had. I was just thinking what if he didn't do the same. :thinking:
OH: Well... We Started and it started really slowly. I worked Under Water Structure such as a small Ditch... Sheet rock Drop offs... Weeds, And a log in 4 ft. of water. But not a dam tap. So I Casted in open water about 5 ft. deep let my jig slowly sink and felt a tap. BAM! Set the hook and first fish on... After wards the fish came a lot easier... I ended the day with 6 Total Large Mouth (14 counting this morning also). I won the Tournament... And Let him keep all he has. It felt good to get into some bass on a very slow after noon. Adjusting colors. And weights to finally find what worked for these fish. It was a very good day with some knowledge and experience gained.

Sara ended the day with 2 Large Mouth bass, And my Very Cocky Brother jambs had one fish on that jumped and spat his hook so James unfortunately got the skunk for today...

Here's Pictures of our outing
This is sarasFirst bass Caught Jigging with a tube
this is a differant bass.. A lot were about the same size,, GREAT Job BABY !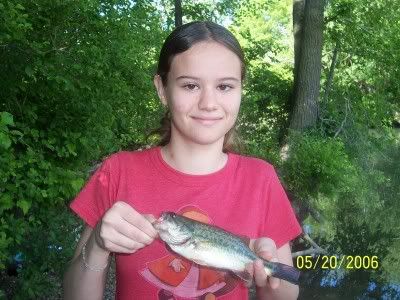 This is my First bass After Returning to the river :aaasunsmile:
Just a Picture of The clouds.. over The Chicago river Bank
Another Lage Mouth Caught inside The river taken on self timer because sara wasn't close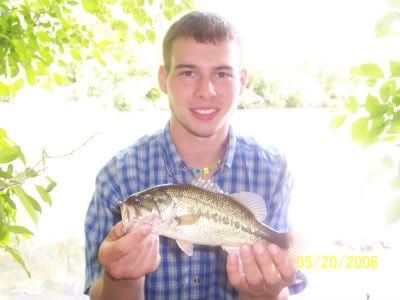 Here's my biggest of the afternoon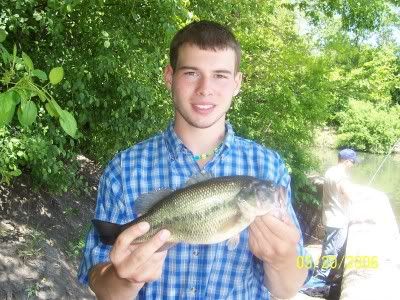 Here's another Self Timed Photo... 1 of My 6 Large Mouthog the afternoon
another fine healthy large mouth bass

Total Catch:
James: 0
Sara: 2 Large Mouth Bass
George: 6 Large Mouth Bass

Temp: 70

Sky: Sunny

Wind: WNW 4 mph

Water: Murky

Water Temp: 62

Water Vis: 1/2 ft.

Rod: Ugly stick Lite Medium/Heavy

Reel: pFlueger Trion 5 Ball Bearing

Line: 10 lb Trilene Sensation (Clear)

Technique: Threw into open water Most all Fish hit after the first Lift of the rod after it had laid on the ground motionless for about 5 seconds. The fish were there but not as active. They were very picky as to color. And size. I switched several jig heads finally finding the one that suited best with the line. Water etc. It sank at moderate speed. And laid motionless really triggered my strikes.

George
Perch Guy

TM


Chicago IL.
Multi-<((><

:aaapartyc: