Discussion Starter
·
#1
·
PG Report: 7/31/06.... Break Through (2)

Today after Football Practice Decided to head down to the Local spot I fished yesterday. Only to Fish The opposite side do to easier access with the bike, I did fish The spot I did in the last report but First two Fish were Small so I moved to try and Find a Few bigger ones. I fished from 3:30p.m. To 5:00p.m. I used the Same Preparation bait But With a Few more adjustments. Yesterday Evening I spent 5 Hours Making different Kind of Mixtures and Tank Testing it Then testing it through Running Bath Water. I Found Really Good Bait. Its more of a Chum And Bait Combination When it Gets into the water After about two minutes Particles From the bait Breaks up Sending It to the Surface And Releasing more Of the Scent, Which Attracts Carp to the Area, So While I'm Fishing I'm Also Attracting Carp. I'm fairly Confident This Special Dough bait Can Work in Every Kind of Body of Water. It can be stored in any temperature and stays on the hook well. The Carp eat some of the bait off or it breaks up and they go for the next bite and get hooked. Its Fairly Simple not complex at all. I'm Really Confident in this new Carp bait, I'm Very pleased And I think I've Found a Break Through in my secret Recipes A Bait and Chum Combination. !

Today while Fishing there was a Kayaker who had decided to go over the water falls... As soon as he went over The water fall Sucked him straight in and for a good 60 seconds nothing then his Kayak pops out and 30 seconds later he lays two finger on rocks close by to bring himself up to safety. He was very lucky. Every one watching including myself was amazed at his stupidity. I'm sure now He learned. Two other kayakers came and helped him to shore and helped retrieve his kayak and paddel.

Here's pictures of the outing, Two of the pictures The Camera was facing the sun and flashed so all you can see is pure white with an outline of me and the fish so Only posting the Pictures that came out good. All pictures were taken by myself on self-Timer.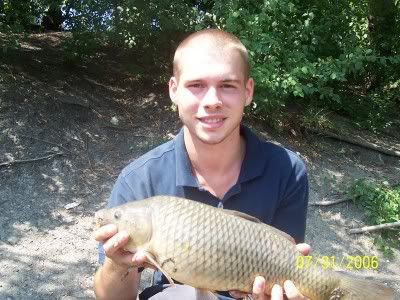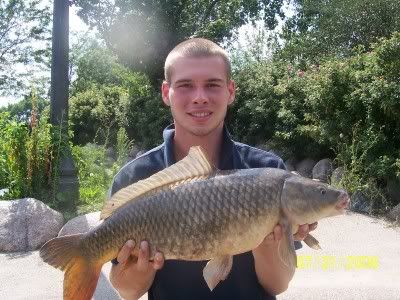 *Conditions*

Temperature: 92

Sky: Partly Cloudy

Wind Range: Light (0-10mph)

Wind Direction: South

Weather Trends: Cooling

Barometer: Rising

Water temp: 71- 75

Water Color: Muddy Brown

Water Visibility: 1 Feet

Current Conditions: Fast

Bottom Conditions: Mud

* Out Come*

Caught: 8

Lost: 0

Released: 8

Fish Health: Healthy

*Equipment/Supplies*

Bait/Lure Presentation: Slow

Rod Used: Dawia Fire Wolf 10'6 Light

Reel used: pFlueger Trion 7 Ball Bearings

Line used: 10 Lb Trilene XT (CLEAR)

Lure/Hook: Size 8 Treble

Bait used: Special Preparation Dough Bait

*Season Tally*

Season Skunks: 1

Season Fish: 537

Season Outings: 35

Avg. Fish per Outing: 15.3

George



[email protected]



N.W. Chicago Illinois

Avid Multi-Species Fisherman

<8><