Discussion Starter
·
#1
·
PG Report: 8/17/06 .... GEM

This Evening Like most Evenings Neil and I set out For Some Large Mouth Bass action. We Hit the Discharge Around 7:15p.m. only to Nail three Together Neil Caught two And I caught one on my first cast. So Since only three we decided to fish My Favorite Local spot about 5 Minutes away From my house We set out to my "GEM" Spot as Usually on Overcast/Rainy days The large Mouth Get Stacked up here. There's no Discharge just a Shallow Flat 2-3 feet with a lot of Submerged Brush and Trees with a vast amount of bait Fish including Gizzard shad, Golden Shiners, And Tons of Minnows. Usually this spot Produces very nice Crappie but Mostly in the fall and spring. After a Self Struggle Through all the brush and Thorns just getting to the spot. I started tossing out a Personal Bait of Choice for the Chicago River Catching a Bass on every two to three cast. It was Great Catching bass at night Neil unfortunately had no success at this spot but will next time !!

Tomorrow we are trying are luck else were.... Look for the Report !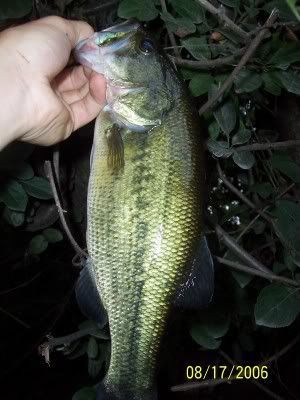 ~Conditions~

Temperature: 82

Sky: Overcast/Drizzle

Wind Range: Moderate (10-20mph)

Wind Direction: South

Weather Trends: Stable

Barometer: Dropping

Water temp: 75

Water Color: Brimey green

Water Visibility: 1 feet

Current Conditions: Still

Bottom Conditions: Mud/Submerged Brush

* Georges Out Come*

Caught: 7

Lost: 0

Released: 7

*Neil's outcome*

Caught: 2

Lost:0

Released: 2

Fish Health: Normal

*Equipment/Supplies*

Bait/Lure Presentation: Fast

Rod Used: Ugly Stick Lite 6'0 Med/Heavy

Reel used: pFlueger Trion 7 ball bearings

Line used: 10lb Trilene XT

Lure/Hook: Plastics/Special

Bait used: ----

Beverage: Powerade Fruit punch

Snack: -----

Repellant: OFF Deep woods sports man

*Season Tally*

Season Skunks: 2

Season Fish: 695

Season Outings: 51

George

N.W. Chicago Illinois



[email protected]



Multi-Species Fisherman