Discussion Starter
·
#1
·
PG Report: 8/5/06 .... With All My Heart

My Beautiful girlfriend Sara and I arrived late This evening hoping for a few Carp We fished for 2 hours 6pm-8pm The plan was to Let Sara get the First fish i get the second She gets the third and so on. She Started off with a decent common carp I followed it with a channel Catfish then She Got another carp witch had snapped the line I told her it was ok gave her a kiss and a hug and said there's plenty more out there. I quickly rebated the hook and Wanted to get one quick so she can rebound from her misfortune the next fish hit not far from the time it hit the water about 60 seconds to be exact and she did well Reeling it in and then the smile that made it all worth it. I love you Sara with all my heart. After wards I didn't get a chance at another fish but will head out tomorrow morning on a combination outing for both carp and large mouth bass.

LOOK FOR THE REPORT !!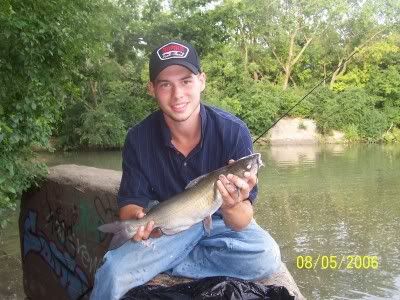 ~Conditions~

Temperature: 89

Sky: Partly Cloudy

Wind Range: Light (0-10mph)

Wind Direction: South

Weather Trends: Cooling

Barometer: Stable

Water temp: 71- 75

Water Color: Muddy Brown

Water Visibility: 8"

Current Conditions: Moderate

Bottom Conditions: Rock

* Georges Out Come*

Caught: 1

Lost: 0

Released: 1

*Sara's Outcome*

Caught: 2

Lost: 1

Released: 2

Fish Health: Healthy

*Equipment/Supplies*

Bait/Lure Presentation: Moderate

Rod Used: ---------- 9'6 Med/light

Reel used: Quantum

Line used: 12lbTrilene XT

Lure/Hook: Size 6 Bronze Bait Holder hook

Bait used: Special Preparation

*Season Tally*

Season Skunks: 1

Season Fish: 561

Season Outings: 38

Avg. Fish per Outing: 14.7

George

N.W. Chicago Illinois

Avid Multi-Species Fisherman

<8><