Discussion Starter
·
#1
·
PG Report: 9/30/06 .... Crunch Time
Good Evening Fishing Fans ! First Off I'd Really Like to Thank you For Your Continuous Views and Replies on my reports. Those reply's are what motivate me to Keep Reporting. With Plans of hitting the Chain Today Neil called and Said it was Pushed to Sunday because of "Bad Weather" So I wont be able to go tomorrow. But Instead This morning I decided to hit the River. Since Tomorrow will Be October 1, I planned on hitting my Late Fall-All Winter open water Holes. And they proved to be very successful I hit Two bridges Catching a Total of 33 Fish. 3 Crappie, 3 Large Mouth Bass, And 24 Bluegill and Green Sunfish (Mixed). The First bridge I fished I caught the Nice Crappie and Large Mouth bass (Only 5 Minutes away from the House) The Second bridge, is my Pan fish Hole. Both Bridges Are about 3 Feet Deep next to the wall With Moderate Structure, Mostly Fallen Timber. The Bridge That REALLY Produces in the Winter and Caught the Nice Crappie and Large Mouth QUICKLY Drops into 6 Feet of Water, With Tons Of Timber of the Drop off.
Here's Few Pictures of My Day ( Fished 9-11a.m.)
First Fish Caught... Black Plastic
A Common sight by all Anglers, That Heavy Glare from the Sun...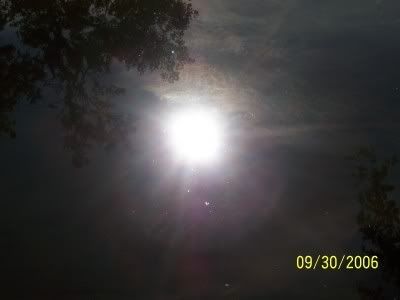 Got Part of The Cray Fish Just as He Tried to swim off... We Had Some laughs .. CRAW BUG.. lol
(Inside Joke )
Then Hit under the Bridge... And Switched to a White Plastic
First Fish was a Decent Crappie That Hit HARD !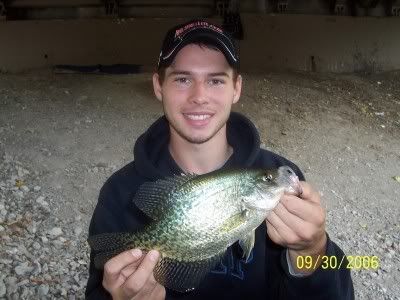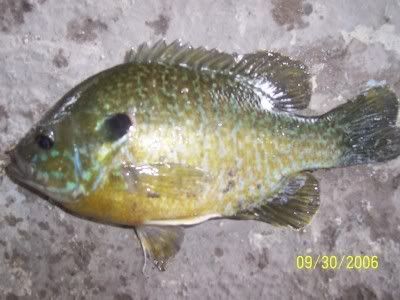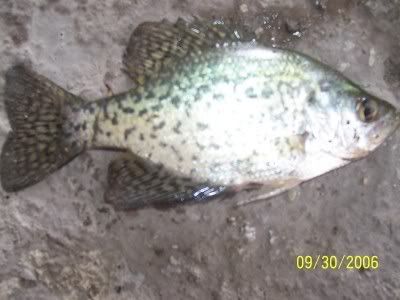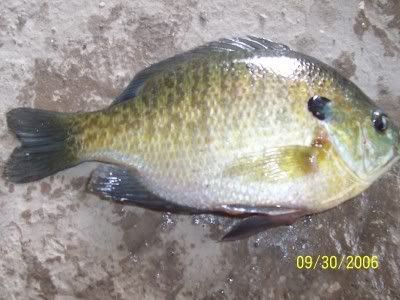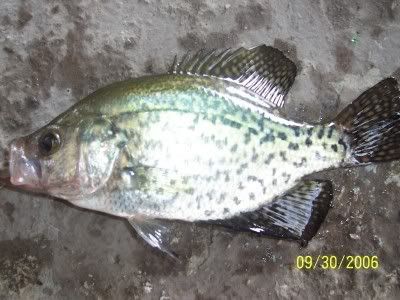 Then After pounding the Gills And Smaller Crappie.. I Decided to Set my Drag .. no apparent reason
Good Thing I did, Because This guy Made a Couple good Runs on my Light Outfit.
When I got home, Went to purchase a Few things.. I'm sure you know what these two will be used for...
finally Got to sit and talk to Sara, And Sophie about my outing. Sara enjoyed it... Sophie.. Not as Much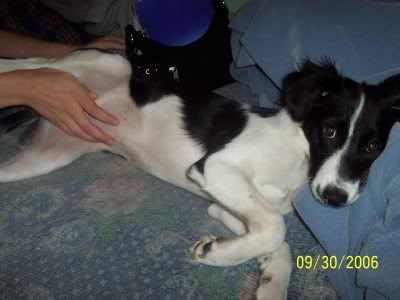 .. Maybe a Long day... For her to...
~Conditions~
Temperature: 62
Sky: Mostly Partly Cloudy
Wind Range: Light (0-10mph)
Wind Direction: NORTH
Weather Trends: Stable
Barometer: Rising
Water temp: 65
Water Color: Brimey green
Water Visibility: 3 1/2 feet
Current Conditions: Slow
Bottom Conditions: Sheet Rock/Gravel
* Georges Out Come*
Caught: 33
Lost: 0
Released: 33
Fish Health: healthy
*Equipment/Supplies*
Bait/Lure Presentation: Slow
Rod Used: Berkley Lightning stick 6'0 med/lite
Reel used: Rapala Size 20
Line used: 6lb Trilene XT
Lure/Hook: White
Bait used: ----
Beverage: ---
Flasher- ---
snack:-----
Repellant: ---
*Season Tally*
Season Skunks: 2
Season Fish: 800
Season Outings: 60
George
N.W. Chicago Illinois
[email protected]
Multi-Species Fisherman
George
Perch Guy
Chicago illinois
Multi-Species Fisherman :arrow: