Discussion Starter
·
#1
·
Hey Guys,
Yesterday's outing was superb we arrived at the pond with the starting temp being 51 Degrees at 9:24a.m. My Game plan was I'll walk the whole pond with a Diamond Shad To determine how aggressive the fish really were this bait was a small Lip less weighing 1/4oz. After i made one lap around obviously I realized The fish weren't going to be as aggressive as I thought So I changed to a small Pins minnow (these are DEADLY Pond baits) One more lap around with not even a tap. So there we have it What next? Ahhh.. A worm I Texas rigged a 6" Black/red flake worm Casted it out a few times And then tick..tick.. Is this a fish ?? Better be safe then sorry! BAM! Set the hook and pull out bass number 1 and it being a nice keeper bass too! After that I Re-tied my presentation While both Neil and john landed two Bass themselves on white grubs. So I throw on my head phones and start to use my worm once more further down, The first few cast nothing.. Then my next I feel Tick..Tick.. And I was most certain I had another bass on the end of my line.... And Boy Did I whale on him! I Set the hook Threw him up on the bank dropped to my knees to prevent him from sliding back in the water and had my second nice fish of the day!
It was a fantastic day out there We all caught a few fish And I had a Great time!
Here's The pictures guys.
Here's the pond (No background to prevent anyone recognizing it.
:wink:
Here's My First bass
Here's Neil's Two
And My Second
Nice Fish buddy - johns Two Bass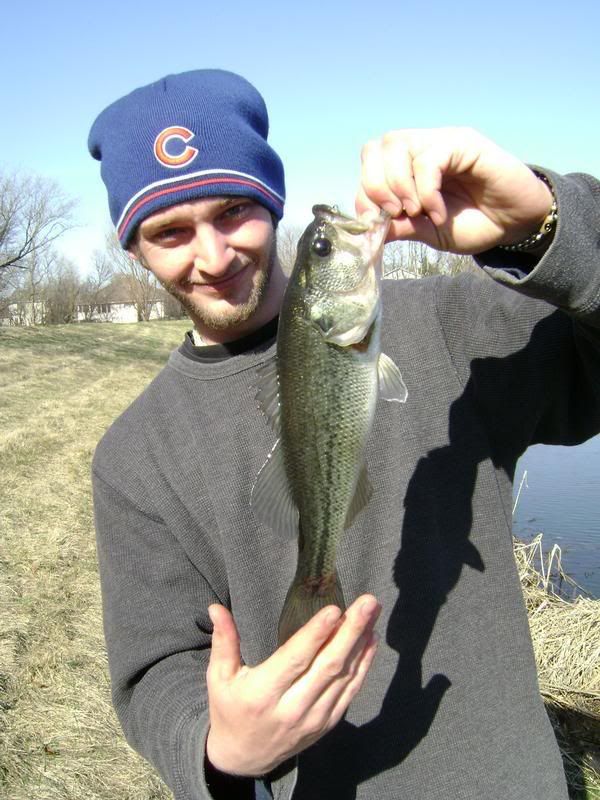 ~Conditions~
Temperature: 60
Sky: partly Cloudy
Wind Range: high ( 15-20MPH)
Wind Direction: South West
Weather trends: Fairly stable
Barometer: Lowering 29.97
Water temp: 50
Water Color: slightly stained
Water Level:Slightly High
Water Visibility: 1/2ft
Current Conditions: none
Bottom Conditions: Weedy/Rocky
* Georges Out Come*
Caught: 2
Lost: 0
Released: 2
Fish Health: healthy
*Equipment/Supplies*
Bait/Lure Presentation: Slow
Rod Used: G-Loomis 7'6
Reel used: Dawaii TD
Line used: 10lb Suffix
Lure/Hook: Plastic Worms.
Bait used:---
Beverage: Arizona Green Tea
Snack: ------
Repellent: ---
*Season Tally*
Season Skunks: 2
Season Fish: 149
Bass: 74
Season Outings: 24
Multi-Species Fisherman
[email protected]
Chicago Ill.