Discussion Starter
·
#1
·
Well since the weekend was a total wash.....(pun intended) I have been jonesin' to get out on the water. I wasn't too excited about the potential skunking to be had but I needed to cast a few times just to say I got on the water.
I have a couple of ponds that I've been frequenting lately between rainpours and these ponds have some drainage pipes that flow with the runoff during/after these rains.
Run off= tasty morsels for bass.
So as the rain broke this afternoon and the clouds went away for a bit I went on over to said drainage pipes. The water was way up with alot of gills swimming in the newly expanded shoreline....always something to keep in mind. Where there's baitfish there's bass.
I would just cast along the shoreline and run it thru the areas with baitfish and managed a couple of smaller bass picking up on an easy meal. I headed on over to the drainage pipe and picked up a couple more including this guy: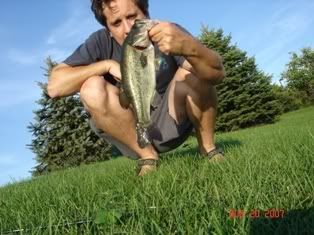 Worked my way around the pond and caught a couple more, mostly dinks.
On my way back to the car I hit the same drain pipe and managed 2 more bass, one a bit bigger then the one in the pic. By that time I was sweating like nobody's business and thought I would spare you all the pic.
Anyway....with very little expectations I surpassed what was thought to be an unproductive evening. Don't overlook the areas where water is rushing in due to excessive rains. These may be the most promising areas in lakes, rivers, ponds when the fishing is "disturbed" by inconsistent weather.
With the forecast ahead of us I'm moving on to the next drain pipe. See ya on the water!
JB